by Rodrigo Carvalhedo
REDONDO BEACH, CALIF.
I'd "discovered" I was gay in 2013, at 19, when a friend told me he liked me and asked if I felt the same. "No" was on the tip of my tongue, but it never came out. 
"Do you feel the same?" Such a simple question, but it took me weeks to come up with the answer: yes.
I realized that all my life I'd been denying certain feelings. Growing up in Brazil, I'd heard, seen and sensed things that warned me it was not OK, or at least not preferable, to be gay. Several years after I "discovered" I was, I shared the news with some family. But the people I was closest to—my mother, father and grandmother—didn't know, and I didn't know how I could tell them. 
In 2017, I left Brazil for Los Angeles to pursue a career in filmmaking. There, I met an animator whose work I admired very much. Discussing what he'd learned from his long career, he said: "I hope all of this is of use to you. But the thing I want to share with you, the one thing above all else that's kept me going when things have gotten rough, is my Buddhist practice of chanting Nam-myoho-renge-kyo."
I began chanting, studying Buddhism and engaging with the SGI community, which fully embraced me. As I did so, an idea began to take shape to create a film about my experience as a gay man split between two cultures, two identities. As I wrote and filmed, I felt a roller coaster of emotion—pain, anger, sadness, joy. They were my true feelings though, and I summoned the courage each day to allow myself to feel them. And I prayed each day for my happiness and for the happiness of my family. 
Throughout, I felt I was building a bridge to my true self, walking it one step, one day at a time. My prayer for my parents was for them to walk that bridge with me with open hearts.
I visited family in Brazil in September 2022 with the plan to rent out a venue and give them a private screening. 
I wanted my family's experience of the film to be as big as the feelings contained in it.
"A theater?" my mother asked. "You rented out a theater?" 
The day arrived. I'd been up the whole night dealing with technical issues. On little sleep, my mind raced: What will they think? How will they respond? When will they be here? This is happening, this is happening…
My phone lit up—a text from my mom: "We're outside!" With my heart in my throat, I opened the theater and walked them to their seats. 
"This is a story I wrote last year," I told them, "but it's been in the making for decades. It's very personal. We made it with our hearts and hope you can watch it with your hearts."
Then I left and pressed play.
The film is about 20 minutes. I watched it from the theater's wing, by the swinging doors, out of sight of my parents.
I didn't know all that they were feeling, but I heard them laugh at the parts where I'd cracked a joke and cry at the parts where I'd cried.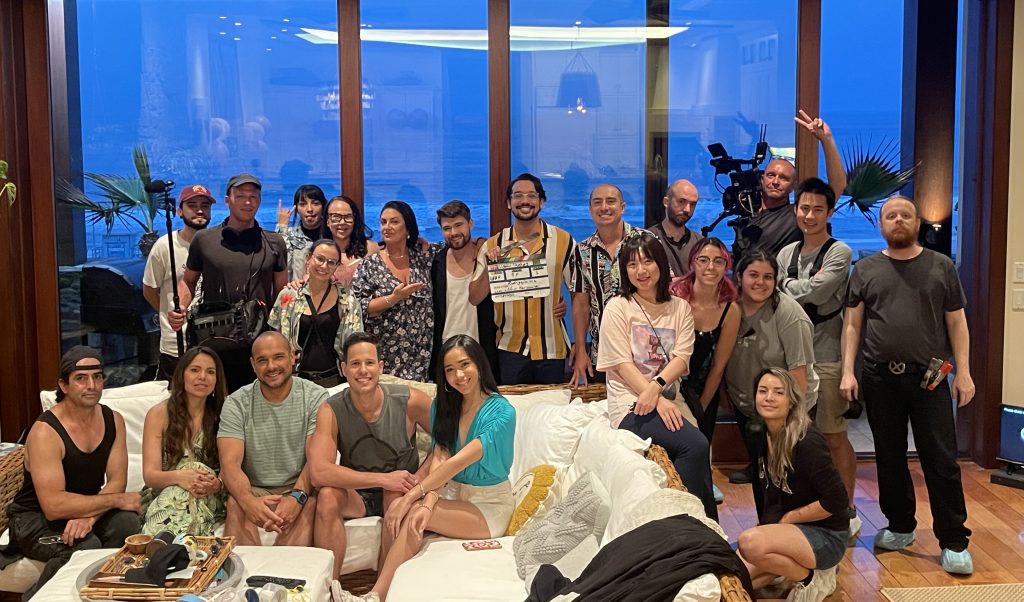 I'm both the film's co-director and lead actor. The closing scene is a monologue, a direct, wholehearted address to the camera that begins, "Family is everything to me…" As the credits rolled, I walked out to them. They were crying, too, and I hugged them in turn, moving in from the aisle—first my grandma, then my mother and father. Through tears, they told me they loved me no matter what.
It was tender the last few days of the trip, but we didn't talk much about the film. I knew they'd need time to process and respected that. A few days later, I flew back to the States. 
Once home, things picked up again as normal. I continued to speak with my parents every day, about little things—everything under the sun—but no one once mentioned the film. Things had returned to normal, but they weren't at all. I was living a double life again, only now, everyone knew. 
I practiced Buddhism with the spirit that every cause I made for kosen-rufu was the training ground for my life, for a breakthrough in my family. 
In winter 2022, I again visited my family. One day I told my father, "This film is the bridge I built for me and you to walk together. It is there, and it always will be."
Back in LA, I threw myself with greater intensity into my Buddhist practice and my prayer for a harmonious family. I soon arrived at this wisdom: I could not make anyone cross the bridge I'd built. I could only fortify it and demonstrate each day the joy of walking it. Morning and evening, I walked that bridge to reach myself, my true self.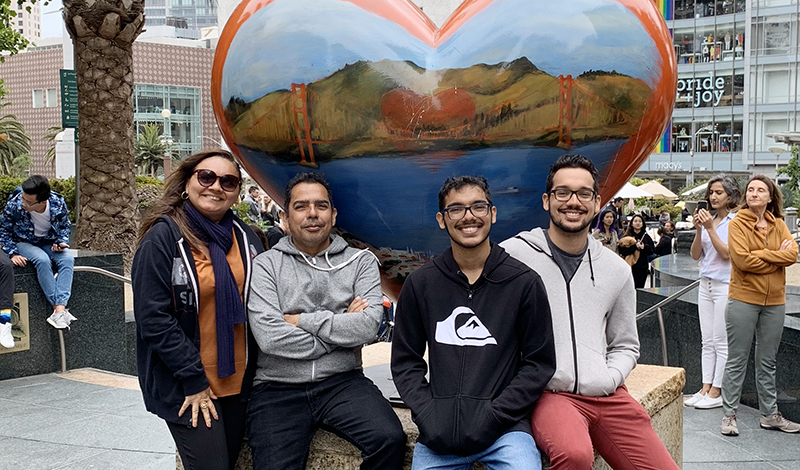 A few weeks later, on a call with my mother, she unexpectedly crossed the bridge. As if it were the most normal thing in the world, she asked about my boyfriend. "He's well," I said. "You want to ask him?" 
Since then, my father's also spoken with him. My grandma, of a generation with a reputation for hard-line traditionalism, has been the most open. "I'm so happy," she likes to say. "I've gained another grandson."
In July, my film had its world premiere. My prayer has been, and continues to be, that it will lend courage to those young people torn between two realities, who feel they cannot reveal their true selves to the people they love most. 
Many times I second-guessed myself, confronting waves of insecurities, fears of sharing the film with my family and the public. I learned so much about film and the film industry. But what has kept me going, above all, without a doubt is my Buddhist practice. Often now, I tell my friends how Buddhism is at the core of my journey of turning the poison of shame into the medicine of pride.
You are reading {{ meterCount }} of {{ meterMax }} free premium articles
Subscribe for unlimited access