This month, we celebrate the founding of the high school division in 1964. Ikeda Sensei, who is deeply committed to the development of youth, often shares his hopes and dreams with the future division, which is composed of the elementary school, junior high and high school divisions.
Living Buddhism interviewed six junior high and high school division members to hear about how they are using Sensei's guidance to give hope to others in this time of crisis. These interviews were conducted in April.
Living Buddhism: Thank you so much for taking time to talk to us about how you are encouraging others during these difficult times. As a result of the coronavirus, students have been distance learning from March. This is a dramatic change. How have you been handling the quarantine?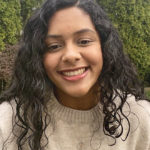 Aastha Das: Thank you for this opportunity! This year was my final year in high school, so more than anything, I'm sad I'm not able to see my friends and create memories with them. It's been a big change, but our teachers have been responsive, and we have Zoom class meetings for moral support.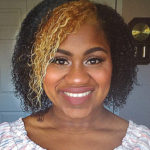 Tai'lyn Green: I'm also a senior in high school. I realize I took many things for granted, especially extracurricular activities. I'm involved in my school's Poms and Robotics teams, but we couldn't compete this year because of COVID-19.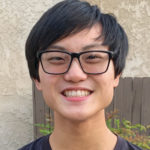 Brandon Lin: I agree. Being at home has affected my work ethic since there are more distractions. But I'm challenging to win over myself. Both my parents are working so I have been caring for my little brother. My sister and I wake him up, help him with his homework and keep him entertained. I also try to keep the house clean for my mom.
How else are you keeping yourself busy?
Aastha: I've been chanting Nam-myoho-renge-kyo with my family a lot and cooking for them. I love cooking. When I'm not doing that, I connect with others through FaceTime.
In February, I was appointed a district young women's leader. We have six active young women who are mostly in middle school so I have been reaching out to them. I'll be leaving for college next year, so my goal is to ensure that we have 15 active young women before I leave!
That's great! There is no shortage of things to do! When you think about what people are going through, what are you most appreciative of?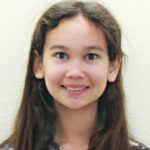 Sophie Wan: I'm appreciative of my mom for taking care of me and my school district for providing free breakfast and lunch for the students. Also, every morning, I get to read Ikeda Sensei's encouragement on my district's encouragement call.
My mom and I joined the SGI in November 2018. I was 10 years old then. My afterschool club driver is an SGI member, and she invited me and my mom to a barbecue where she introduced us to Nam-myoho-renge-kyo. I get to meet many very nice people in the SGI, and I'm grateful. They really encourage me.
While the coronavirus is undoubtedly a major challenge, from your perspective, what do you think are the underlying issues facing our world today?
Tai'lyn: Figuring out how to work together is a major challenge. Many of the things we are facing in the world come from our inability to work together to solve problems that affect everyone. I try to understand where people are coming from regardless of background or religion or whether we agree or disagree, so that we can communicate better.
I'm on a school robotics team and being a part of this team has helped me learn how to work with others toward a common objective. On this team, we unite to design the best robot. Every person has a unique mission and role in the robotics family. I think if a bunch of kids can work together, anyone can.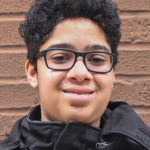 Alex Chuck: I completely agree. Staying united is a big challenge. People become self-absorbed when they're struggling. People are getting greedy with supplies, while other people need them more. In times when we should band together, we do the opposite.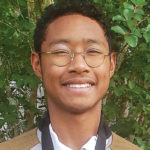 Romeo Cauthen: That's true. My dad is in the military so I work at the commissary multiple times a week with my brother. Most of the customers are very happy that I'm working there, but some of them get angry when we don't have things in stock, such as toilet paper and hand sanitizer. I try to talk to all of the customers, ask them how they are doing and cheer them up. Some people are harder to get through to than others, but I believe that being kinder to others will help the world as a whole.
Wow, those are wise words. What guidance have you been using to overcome your own challenges and help others?
Tai'lyn: One of my favorite quotes is, "Winter always turns to spring" ("Winter Always Turns to Spring," The Writings of Nichiren Daishonin, vol. 1, p. 536). Sensei quotes this a lot. Yes, we are going through hard times right now, but I know everything is going to get better. We are in winter, but it will definitely turn into spring.
I like finding Sensei's guidance on social media and sharing it with my SGI friends. They are some of my closest friends in the world because we are connected by faith. We often talk to and encourage one another through social media.
Alex: My mom and I challenge ourselves to read from The Writings of Nichiren Daishonin daily. The other day we read "The Eight Winds" together. I've been trying to keep up with it. Sometimes I close my door when my mom asks. But lately, I'm opening up myself more because I know that I shouldn't isolate myself.
Romeo: There is one book I have been reading by Sensei called Victorious Teen. In the book, he says: "Buddhism teaches us that the individual writes and performs the script for his or her own life. Neither chance nor a divine being writes the script for us. We write it, and we are the actors who play it" (p. 44). I like the fact that we write our own play. Our choices are our own. If we want to achieve something, we have to take action.
Sometimes I share these quotes with my friends. I don't say that it is Buddhist, but when they ask where it came from, I share that it is from my Buddhist practice, and that it makes me who I am.
Before this coronavirus, I had a friend who wanted to come to an SGI meeting, but it was cancelled. Although they are practicing another religion, they like the kind of person I am, so they want to come to a meeting. After all of this, I'm going to try to get my friends to swing by.
Sophie: I also introduced a friend in January, but they haven't joined yet. They couldn't come to a meeting because of other activities. But I'll keep trying!
I try to read the World Tribune and Living Buddhism. I especially like reading the experiences. There is one quote I really like from the August 2019 Living Buddhism. Sensei says: "Words are like light. A single kind word can shine a ray of hope into a person's heart" (p. 26). We really need that right now. It's something that I try to do.
For example, the other weekend, I called four members to check in on them and see how they were doing. Three of them were my young women's leaders and one was a women's member in my district. I think they were happy that I called.
How encouraging! How else are you giving hope to others?
Brandon: My family just joined the SGI in the summer of 2019, and I have been immersing myself in Sensei's writings. One thing that I appreciate is that I now have something to believe in, so I can encourage others.
As a high school student, there are pressures to get into a good university and get good grades. I see my friends fall into a state of self-deprecation, and they put themselves down. But I've been reading Discussions on Youth. In it, Sensei says that grades don't determine our future. So I try to encourage my friends when they say, "Oh I'm dumb." I reassure them that high school is just a steppingstone in life. Instead of getting down on ourselves, we have to keep climbing mountains. Obstacles should be seen as learning opportunities, and we shouldn't lose hope in ourselves.
Alex: That's cool. For me, I use humor to bring up the morale of my friends. I send memes and puns to my friends as well as Sensei's guidance. I've also been making an effort to chant more than I used to. I appreciate my parents because I know they chant for all of us. My mom takes leadership in the organization, and I watch her encouraging the members. Last time, she was encouraging a member to take action. My mom has a lot of good quotes. She's the smartest one.
Recently, my friend's aunt passed away, and he hasn't been texting me back as much, so I chant for him. I chant for everyone going through struggles. I learned that from watching my parents.
I think we should all be doing that. I think about the quote, "If teacher and disciple are of different minds, they will never accomplish anything" ("Flowering and Bearing Grain," WND-1, 909). We should be chanting to make things better, and when I'm doing the silent prayers in gongyo, I think about the people suffering.
All of you are great examples of how to give courage and inspiration to others. Since June is future division month in the SGI-USA, what do you feel is Sensei's expectation for you and your generation?
Brandon: I believe our generation can be a source of hope. We can create a new world and impact the next generation. When was the last time we saw good news? The younger generation, my generation, has the ability to make a change.
In Discussions on Youth, Sensei says: "In life there are sunny days and there are cloudy days. But even on cloudy days, the sun is still the sun. The same is true for people. Even if we are suffering, it is vital that we strive to keep the sun shining brightly in our hearts" (p. 14).
When I read that, I realized that even in the darkest times, we can't let the negativity get to us. We have to be a positive light even more for others. Even if things seem hopeless, we should channel our inner positivity and spread it to others. We can't fight fire with fire. We have to bring hope to others.
Alex: Recently, I received encouragement from my future division leader. He sent me a quote from Sensei that says, "Those living in an age of crisis must become pioneers of a better age" (April 3, 2020, World Tribune, p. 3). I know world peace may seem difficult, but I hope my generation can move us toward peace. I'm not sure how I will contribute to peace, yet, but I know making friends can help. I think meeting all kinds of people is important.
Aastha: Yes. Also, I think Sensei wants the future division members to be courageous and keep striving to be pillars of society. He wants us to charge forward, and be leaders who will enlighten those around us and create further unity and happiness in the world. That's what I hope to do!
Tai'lyn: I share the same understanding. I really want to thank the SGI members and leaders who are encouraging others and giving guidance at this time. Because of them, members around the world are able to receive care. Thank you for letting us share!
You are reading {{ meterCount }} of {{ meterMax }} free premium articles
Subscribe for unlimited access