In June 1981, Ikeda Sensei made his first visit to New York in six years. It was there that he crystallized his hopes for the SGI-USA youth in the form of a poem. In "To My Beloved Young American Friends: Youthful Bodhisattvas of the Earth," Sensei encouraged the youth to become the very essence of conviction as they worked for the happiness of the people. He described the power source for accomplishing that mission with the single word faith:
Faith is—
to fear nothing
to stand unswayed
the power to surmount any obstacle.
Faith is the source from which all solutions flow.[1]
Sensei's poem made its debut in the June 29, 1981, World Tribune, during a time of deep uncertainty. Two years before, on April 24, 1979, he had stepped down as the third Soka Gakkai president to shield the members from the machinations of the Nichiren Shoshu priesthood.
Sensei, together with countless Soka Gakkai members throughout the world, had inspired millions of ordinary people to transform their destinies through the practice of Nichiren Buddhism.
The priesthood, which viewed Sensei's relationship with the members through the prism of its hunger for power, callously forbade the Seikyo Shimbun, the Soka Gakkai's daily newspaper, from printing his encouragement, or even his photos, in its pages for a time.
While his activities in Japan continued to be curtailed by the priesthood, as SGI president, he turned his focus to opening the path of worldwide kosen-rufu, starting from the U.S.
In October 1980, Sensei traveled to Chicago, where he attended the "Capture the Spirit" culture festival, with some 5,000 participants.
Al Hogan, of Maywood, Illinois, supported the festival behind the scenes as a stage crew manager. He recalls determining deep in his heart to transform both his life and his family's destiny. Soon after, Mr. Hogan attended a training course in Japan, where the Chicago members sat near Sensei during a meeting at Soka University in Tokyo.
Afterward, he locked eyes and shook hands with his mentor—the humanity of the moment affirming deeply for him that he was on the right path.
"Those events seemed so surreal back then, but only now, after 46 years of practice, I realize that this is the feeling you should get every day from your Buddhist practice," he said.
Sensei would visit the U.S. nine times in this decade, meeting with and encouraging members in places from Dallas, New York and Miami to San Diego, Washington, D.C., and Anchorage, Alaska. During this pioneering era, the emphasis on expansion and culture festivals sometimes overshadowed members' personal lives and careers—a point that Sensei addressed after the Blue Hawaii Convention in 1985.
In February 1987, at the end of his month-long visit to the U.S. and looking ahead to the 30th anniversary of the kosen-rufu movement in America, Sensei penned "Arise, the Sun of the Century."
In the poem, he praised the pioneering fathers and "mothers above all," who, with their sweat and tears, constructed the early stages of kosen-rufu here.
He then encouraged the members to never deviate from this course of Buddhism being "reflected in life, living and society"[2] with the aim of becoming trustworthy, persevering and forward-looking.
It is through the certain steps we take in daily life
that a magnificent future
of peace and kosen-rufu
is brought closer.
It is the light of your humanity that gives it its brilliance.
Do not forget that Buddhism is reflected in life, living and society.
Take compassionate action for others; manifest proof as a person valued at work; be the foundation for happiness and harmony at home
and the light of good sense in society.[3]
Among the pioneering fathers of kosen-rufu is Albert Agibinik, of Henderson, Nevada, who performed a native dance for Sensei when he visited Alaska in May 1983. He recalls Sensei being quite interested in the native people of Alaska and how they survived the harsh arctic winters.
"We shared with Sensei that the Alaskan winter is a true struggle," he recalled. "Without the support of others, you can't survive. The hardship of winter pulls Alaskan members together. We encourage one another to press on until spring comes again."
Mr. Agibinik, who received the Gohonzon just before deploying to Vietnam, said that Sensei taught him to rely on the Gohonzon and chant Nam-myoho-renge-kyo with his whole heart. "Because Sensei spread Nichiren Buddhism to the United States, I was able to survive the battlefields of Vietnam and the hard winters of Alaska. Whenever things got tough, I persevered because of my vow to support kosen-rufu alongside my mentor."
In February 1987, Sensei's final visit of the decade, he met with the journalist and humanist Norman Cousins, who was dubbed "the conscience of America" for speaking out tirelessly for nuclear abolition.
In his 2018 commencement message to Soka University of America, Sensei referred to his two meetings with Mr. Cousins, which took place at the former Calabasas, California, campus, providing this insight from their dialogue: "Life is a constant succession of struggles. The loftier your goals, the rougher and more challenging will be the peaks and ridges that you must scale. There will also be times when you meet with despair and disappointment.
"Please be convinced, however, that the boundless powers of revival are inherent within your youthful life. It is precisely at the most difficult of times, when things are hardest, that I would like you to strive to take a step forward with a never-defeated spirit."[4]
Mr. Hogan said his goal now is to greet the 100th anniversary of the Soka Gakkai with his family. "More than anything," he said, "the amazing part is that this religious movement has taken place in my lifetime."
---
Believing in Myself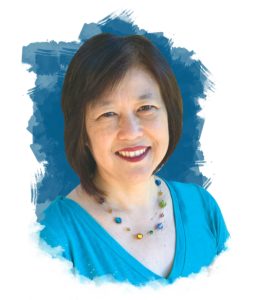 Lynn Muramoto
Winnetka, Calif.
The 1987 Fife and Drum Corps performance in Santa Monica, California, was very significant for me. My role was to support the performance, overseeing instruments and music. At the time, I was extremely insecure and unsure of what I wanted to do with my life. But after chanting Nam-myoho-renge-kyo, I just decided to fully support behind the scenes so that the other Fife and Drum Corps members could connect with Ikeda Sensei.
It was life changing because, although my focus was on supporting others, I personally developed a connection with Sensei. When he came into the room, he looked at us, and I spontaneously waved at him. In the Fife and Drum Corps, we were trained not to bring attention to ourselves, since our focus as performers was to encourage the members. So, I thought to myself, Oh my gosh, I hope nobody saw me! Sensei later looked at me and warmly waved back.
That day, I also had the opportunity to attend a small gathering with Sensei and Mrs. Ikeda. He asked me about many things, including my parents, and gave me prayer beads for them. Then, he asked the dreaded question, "What are you doing?" Nothing came out of my mouth, and I almost died inside. Sensei simply responded, "Oh, OK," and made the conversation light.
Through these interactions with Sensei, I sensed that he felt my lack of confidence, and it was as if he were reaching right in, pulling me out of my own disbelief and warmly telling me that I was going to be OK, as long as I persevered in my Buddhist practice.
After that day, I began to chant about what I wanted to do with my career. I ended up going back to school and becoming a psychiatric technician for a state hospital before working as a staff member for the SGI-USA from 1990. I also developed the conviction to face other great challenges, which included raising three wonderful kids. Based on my prime point with Sensei in the Fife and Drum Corps, I will continue to believe in myself and always work to help others believe in their greatness, too.
My Vow as a Musician for Peace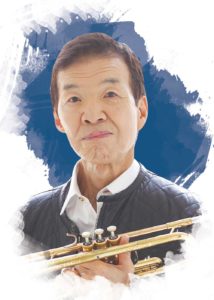 Shunzo Ohno
Briarcliff Manor, N.Y.
Ikeda Sensei dedicated the poem "To My Beloved Young American Friends" to the youth of the SGI-USA on June 20, 1981, during his visit to New York.
The day before, at an outdoor gathering in Glen Cove, Long Island, I had my first encounter with Sensei while on a shift for the Soka Group, a young men's behind-the-scenes training group.
At one point, Sensei made eye contact with me from a distance. I bowed, and a few minutes later, he asked to speak with me. Sensei said he had heard so much about me and gave me a scarf to give to my wife. Then, an SGI-USA leader said, "Shunzo, why don't you show your appreciation by playing a song for Sensei?" Ready to reply to my mentor, I had brought my trumpet just in case.
"Somewhere Over the Rainbow" came to mind. As I performed, the melody of this song felt like the sound of the Mystic Law, reaching out to the entire world.
Even though I had moved to New York to become a musician, I didn't have any work lined up at that time. But I still played with the determination to develop into a great human being and dedicate my life to kosen-rufu. Sensei later wrote me a poem, calling on me to become a world-class musician. Because of his encouragement, I have been able to fulfill my vow by playing music around the world.
In the poem to the SGI-USA youth, Sensei says, "With complete faith in you as successors, I entrust to you the entire endeavor of kosen-rufu and can therefore proceed to every corner of the earth!". I read this as a direct message from my mentor.
This poem contains all of Sensei's expectations and hopes for his young successors in America, and living up to them has become my lifetime task. Since that day in 1981, my spirit to reply to my mentor remains, vibrantly moving me forward.
---
1980s Guidance
Most Essential Is Our Day-to-Day Activities
Winning in Faith and Life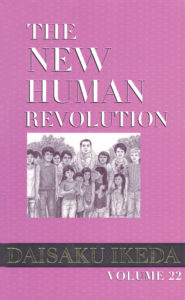 After the 1985 Blue Hawaii Convention comes to a successful completion, Ikeda Sensei confers with senior leaders about essential objectives the American organization should pursue. In volume 22 of The New Human Revolution, Sensei discusses the purpose of the Soka Gakkai's movement. He appears in the novel as Shin'ichi Yamamoto.
"Congratulations!" declared Shin'ichi Yamamoto. "I'm glad the convention came to a safe conclusion."
"Yes, everyone is very happy," responded the general director of the American organization.
The general director said proudly: "Next year, to celebrate the bicentennial, we plan to hold conventions in three cities— Boston, New York and Philadelphia."
Cutting him off, Shin'ichi asserted: "Conventions can be a good thing. They help increase public awareness and understanding of the Soka Gakkai, and they are a source of joy for those members who do their best based on chanting Nam-myoho-renge-kyo, providing opportunities to grow in faith. That said, a convention in and of itself is nothing more than what is referred to in the Lotus Sutra as a 'phantom city,' an expedient means to lead people to kosen-rufu, world peace and enlightenment. In other words, it's nothing more than a provisional goal.
"Clearly, our priorities are reversed if by constantly holding spectacular conventions we only end up exhausting the members' time, energy and financial resources, making them too worn out to introduce others to Buddhism, study the Buddhist teachings and participate in discussion meetings. You need to rethink the way that you hold conventions, which are just growing bigger and more extravagant year after year and causing an increasing drain on members. The most essential thing is our day-to-day Soka Gakkai activities, which require earnest, painstaking efforts behind the scenes. And it is in ensuring that each member experiences real joy through their practice, gains trust in their community and workplace, and wins in life. That's the real purpose of our movement." (NHR-22, 179–80)
Click here to read: To My Beloved Young American Friends—Youthful Bodhisattvas of the Earth
You are reading {{ meterCount }} of {{ meterMax }} free premium articles
Subscribe for unlimited access