Ira Helfand was awarded the Gandhi, King, Ikeda Community Builder's Prize on April 13, 2023, at a ceremony in Atlanta, Georgia. The following excerpts are from his acceptance address. Dr. Helfand is the co-president of the International Physicians for the Prevention of Nuclear War, which received the Nobel Peace Prize in 1985. 
When the Cold War ended, we all began to act as though the problem had gone away. It had not. There were still thousands of nuclear warheads, still mounted on missiles on hair trigger alert ready to launch. …
We have to understand that if nuclear weapons are not eliminated, it is not a question of "if" but only of "when" they will be used. …
We are here today not because we have wise leaders or sound military doctrine, and certainly not because we have infallible technology. We are here, as former Defense Secretary Robert McNamara famously observed, because "we lucked out … it was luck that prevented nuclear war." And the current policy of all nine nuclear armed states is little more than a hope for continued good luck. But of course, our luck will not last forever, and sooner or later these weapons will be used.
But this is not the future that must be. Nuclear weapons are not a force of nature. It is not as though an asteroid is heading for Earth, and there is nothing we can do. These are little machines about the size of the chairs you are sitting in or the lectern I am speaking from. We have made them with our own hands, and we know how to take them apart. We have already dismantled more than 50,000 of them. We simply have lacked the political will to dismantle the 13,000 that remain.
And that is where we come in. It is up to us to create that political will, and we can do that. We know that because we have done it once already—in the 1980s when we ended the Cold War arms race.
Over the last decade a movement has grown, mainly in the global South among countries that have had the wisdom to reject nuclear weapons, demanding that the countries that have these weapons stop holding all of humanity hostage to the whims of a handful of leaders, who hold our lives in their hands. Working through the International Campaign to Abolish Nuclear Weapons, they secured the adoption of the Treaty on the Prohibition of Nuclear Weapons in 2017, creating a powerful norm that brands nuclear weapons not as symbols of national prestige but as badges of shame. …
We are facing an intimidating array of problems at this moment in time: the climate crisis, the ongoing scandal of racial and economic injustice, the assault on voting rights and women's rights to control their own bodies, on LGBTQ rights and the attempt to censor what our children can learn about their own history. But somehow amidst all these challenges we have to find the time and the energy to also confront what is probably the gravest threat of all—the possibility that we will all be consumed in a nuclear holocaust.
As the Rev. King famously observed shortly before his assassination: "It is a wonderful thing to work to integrate lunch counters, public accommodations and schools. But it would be rather absurd to work to get schools and lunch counters integrated and not be concerned with the survival of a world in which to integrate." Or as Coretta Scott King said a few years later, "All of our hopes for equality, for justice, economic security, for a healthy environment, depend on nuclear disarmament." …
But if this is a burden, I hope you will also look on it as something of a gift. We all want to do something good with our lives; we want our lives to matter. Those of us living today have been given the opportunity to save the world, and that is the best thing that any one of us can ever do with [our lives].
No one of us is expected to solve this problem all by ourselves, but neither can any of us step away from that part of the solution that is ours to do. Each of us must figure out how we will contribute to this effort. And if we all do our part we will succeed, and I believe that someday, in the not-too-distant future, we will all be able to look ourselves in the mirror and say, "I helped save the world," and that will be a very great thing.
---
What is the GKI Community Builder's Prize?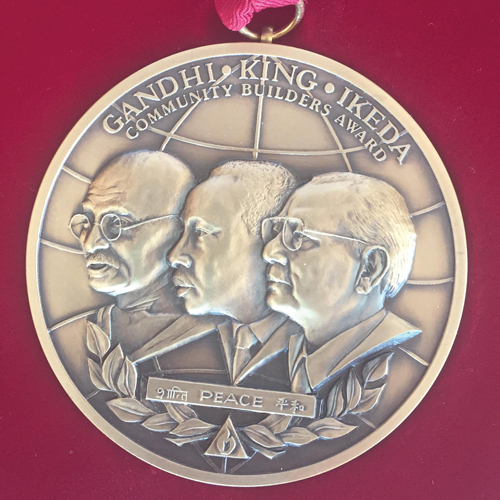 The Gandhi, King, Ikeda Community Builder's Prize was created in 2001 by Lawrence E. Carter, dean of the Martin Luther King Jr. International Chapel at Morehouse College. It symbolizes the shared vision of Mahatma Gandhi, Martin Luther King Jr. and Daisaku Ikeda to empower ordinary people to contribute to a more peaceful world. Past recipients include Nelson Mandela, Mikhail Gorbachev, Betty Williams, Dr. Johan Galtung and Coretta Scott King.
May 12, 2023, World Tribune, p. 11
You are reading {{ meterCount }} of {{ meterMax }} free premium articles
Subscribe for unlimited access