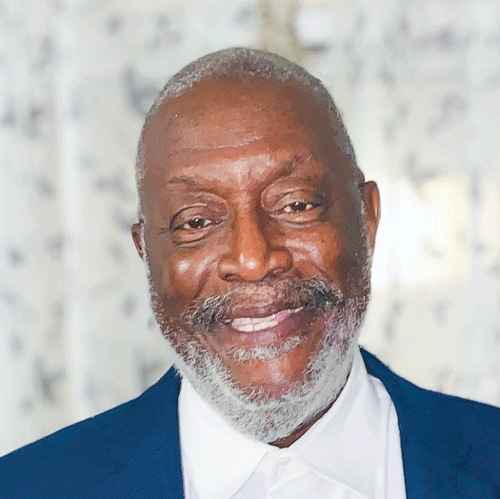 by Lee Malone
SGI-USA Many Treasures Group Vice Men's Leader
World Tribune: Thank you, Lee, for speaking with us. You have practiced Nichiren Buddhism for several decades. How can longtime members stay refreshed in faith?
Lee Malone: As we get older, things become more difficult. The mind is still there, but it's hard to do some things—driving at night, learning Zoom.
But Ikeda Sensei says that another word for Soka is hope. 
Always have hope. Always challenge yourself. Always support the youth. That's what we have to do as Many Treasures Group members.
We're always going to have obstacles and suffering. Sure, "never give up" sounds great until you're in the middle of a storm. But we've been down that road many times. We have to remember how to continue to fight!
Throughout your life, do you remember how you struggled?
Maybe you once got depressed. You chanted even though you didn't want to, read Sensei's guidance and fought through. Then you got the benefit. We often remember benefits, but don't forget the journey of struggle, too.
I also always remember the mentor and disciple spirit. I'm proud to have Sensei as my mentor, someone who has supported me so much.
WT: Have you had any encounters with Ikeda Sensei?
Lee: Fortunately, yes! I started practicing Buddhism while stationed in Japan. Maybe a month in, I attended a meeting in Tokyo where we did gongyo with Sensei. 
The pioneers in my district asked me, "What did you think?"
To be honest, my knees were screaming! I didn't even know how to do gongyo yet, and we sat for a long time on tatami mats traditional Japanese-style. That's all I could remember.
But those members were so happy for me. "You met Sensei!" they said. I wanted to learn more about him. 
I'm fortunate to have met my mentor. But I think what's more important is studying and living his guidance. Many of us won't have the chance to meet him in person, but we can truly get to know him through his writings. 
His writings have changed my life. Reading how Sensei struggled and that even he was sad at times reassures me. I'm a leader, but sometimes I'm not confident. Sometimes I don't want to chant. That's OK. But what am I going to do about it? That's the key. Those are the moments that strengthen my faith for when I do break through. 
WT: What role can Many Treasures Group members play in advancing kosen-rufu at this time?
Lee: We're not going to be here forever. What are we going to do to support the youth before we pass on? Who's going to carry on kosen-rufu? It's the youth, so we have got to raise them. 
It might take some of us out of our comfort zones, and that's OK. Sensei never forgets about us Many Treasures Group members. And he's counting on us to raise youth. Sensei vows to raise the youth, so I'm going to support the vow of my mentor. We have to take responsibility. 
When I joined the Soka Gakkai, I was made a district leader within two months, and the pioneers took care of me. I owe them a debt of gratitude, and I want to repay it by raising youth. 
I used to joke that when I get older and visit the center with my cane, I'll want the youth to joyfully help Old Man Malone, not run away. So, I'm always calling them, talking, listening and asking what they want to do. 
Many years ago, I supported a young man whose father had just passed away. I took care of him. I even let him drive my five-speed Nissan 300ZX, and he kept it in first gear the whole time. He grew up to become a top SGI-USA leader.
I worked closely with another young man who I trained at work and in SGI activities. He became a strong young men's leader and went on to get a great job, got married and bought a house—all while still young. 
When our youth members win, let's be proud like they're our kids going off to get their degrees. 
Struggles are often like football. You're at fourth and goal; all you've got to do is get the ball across the line to score. With our years of experience in faith, we know how to do that. But the youth may not. As Many Treasures Group members, we've got to show them what to do and help them cross the line.
WT: Do you have any closing thoughts?
Lee: In our silent prayers at the end of gongyo, we pray for kosen-rufu to thrive "for countless generations to come." I think about that—how great the future will be when we help the next generation stand up. More people will truly respect one another as human beings. We'll create a world with no more war. When we raise youth, kosen-rufu will happen. We're on the right track.
You are reading {{ meterCount }} of {{ meterMax }} free premium articles
Subscribe for unlimited access