by Thia Calloway
San Juan, N.M. 
Pursuing a career in theater, there seemed to be no roles for someone like me—a mix of Irish, Afro-American, Scottish, Italian, Filipino, Spanish, English and Cherokee. Every now and again a casting agent would say out loud: "You're not Black enough," or, "You're the wrong kind of Oriental," or, most bluntly, "What are you doing here?" This last was put to me in the spring of 1985.
Beaten down by endless rejections on Broadway, I'd given up on my dream of acting on Broadway. Truth be told, I was selling cocaine on the New York night scene. I was 29 in 1985, when that blunt Broadway agent so casually devastated me. Dismissed, I dragged myself to my next appointment for headshots, where I broke down in tears. The photographer smiled. "Can I share something with you? It's a chant I do when I feel bad; it always makes me feel better."
 "Alright," I said. First repeating shakily after her, then more firmly together, we chanted Nam-myoho-renge-kyo. I blinked. Whatever my reservations, I had to admit, I did feel better. I wiped my tears and stood. 
The photographer invited me to a Buddhist meeting. Everyone there was warm and friendly. I knew I wanted that same happiness and decided I would receive the Gohonzon. 
The New York arts scene is not for the faint of heart. Looking back, I can say with certainty that I could not have done it alone. In addition to the bustling SGI-USA New York Culture Center, my Harlem apartment was literally surrounded by encouragement and daimoku; there were three districts in a two-block radius and always someone willing to chant and study Buddhism with me. Whatever I was facing in my personal or professional life, I could meet someone nearby to rouse my spirits and challenge myself to win.
Refreshed, I'd go out and tackle one challenge after another. Determined to impact the theater industry, to make it a space of opportunity for people of color, I applied everything I learned in the SGI—painstaking attention to detail and deep consideration for others—and earned my stripes, eventually becoming a theater manager for the country's oldest professional theater organization. All of my accomplishments I owe to practicing this Buddhism and to my mentor, Ikeda Sensei.
Over the years, while living in New York, my husband, Lenny, and I would take trips to his hometown, San Juan Pueblo, New Mexico. Lenny shared his dream to retire there. I agreed on the condition that the home we built would be my dream home, too—a place to host SGI meetings out of my deep gratitude for this organization.  
Whatever I was facing in my personal or professional life, I could meet someone nearby to rouse my spirits and challenge myself to win.
Sensei says: 
Recognizing debts of gratitude expresses the Buddhist spirit of cultivating the richest possible humanity, while repaying that gratitude is the hallmark of a life of wisdom that comes from conquering fundamental ignorance. Hence, the lives of genuine Buddhist practitioners always shine with the inner light of appreciation and gratitude. (Learning From the Writings: The Hope-filled Teachings of Nichiren Daishonin, p. 223)
In 2012, while still in New York, we got our home construction underway. It took years, but in the winter of 2018, the end was in view. But that Christmas, Lenny suffered a heart attack that put him out of work. He returned to work in the winter of 2019 and the completion of our home became a possibility again. But then the pandemic hit. Broadway shut down, and I was out of work. Lenny and I packed our things in a van and left for New Mexico.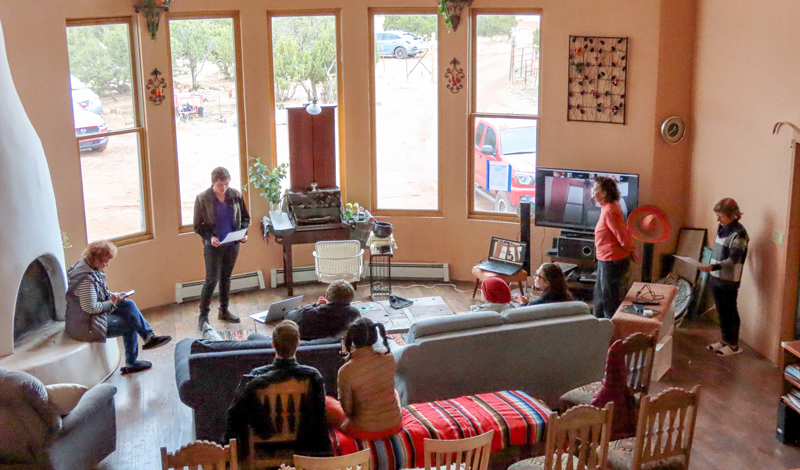 Within two months, I was supporting members there as a district leader. Within a year, I was asked to take on vice women's leadership of Northern New Mexico Chapter. I owe my life to this Buddhist practice. Without hesitation, I said, "YES!"
The members need a place to gather, I thought. Lenny and I had been working on our San Juan home for almost a decade, building it slowly. While I united with my husband to fast-track our home's completion, we didn't wait to take action for kosen-rufu. Though Lenny doesn't practice Buddhism himself, he does just about anything to support me. Geographically, Northern New Mexico is a vast chapter, its members spread out over many miles. My eyesight is not good at night, so often Lenny drives.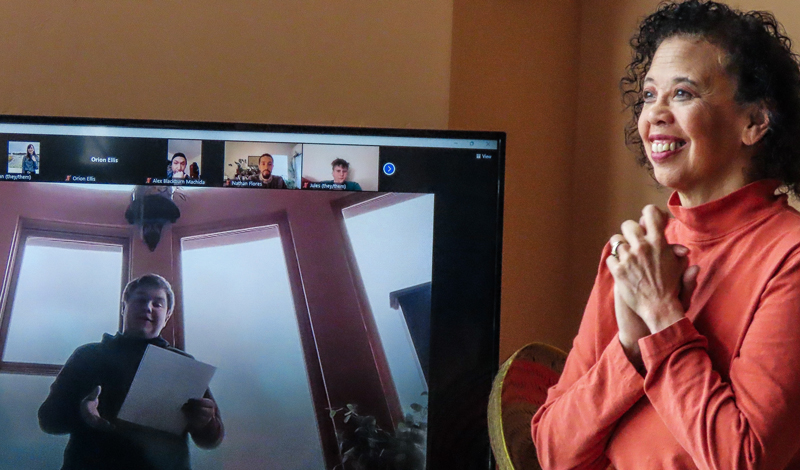 I visited one young woman who was in tears over a poor grade in class. I'd visit her and her mother to chant and study with them. 
I gifted her a little pane of glass with a full moon sketched over a mountain and a card with a passage from Nichiren Daishonin. She hung them in the window. I visited many times, and due to her and her mother's daimoku, a path opened before her. As I write this, she's attending Soka University of America. 
In March, our kosen-rufu home was complete, and I was ready to host. I was determined that we would host New Mexico's March Youth General Meeting.  Given that the closest center was in El Paso and that we'd designed our home to host meetings, our request was swiftly approved.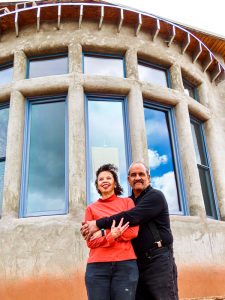 Leading up to the meeting, there were many challenges, including a snowstorm! But it quieted down just in time. Frankly, I don't remember that much of the meeting itself—I was running around behind the scenes—but I remember all five of our youth—all guests—left smiling. And I'd like to mention here that one is soon to receive the Gohonzon!
Sensei says that the inner transformation of a single individual can transform the destiny of all humanity. If that's true of one person, just think what five could do! In the spirit of repaying a profound debt of gratitude, we're determined to turn Northern New Mexico Chapter into its own region by expanding our ranks of joyful, empowered, unstoppable young people! 
---
Q: What advice would you give the youth?
Thia Calloway: As Nichiren Daishonin says, "Rely on the Law and not upon persons" ("Conversation between a Sage and an Unenlightened Man," The Writings of Nichiren Daishonin, vol. 1, p. 102). No matter what, stick with the SGI. Supplying people with the pure energy of faith and nurturing their capabilities, the SGI functions as a true friend in faith.
You are reading {{ meterCount }} of {{ meterMax }} free premium articles
Subscribe for unlimited access