Each year in the SGI, we welcome May 3, Soka Gakkai Day, in the same way that we celebrate New Year's Day. For us, not only is May 3 a time to appreciate how our Buddhist practice has enhanced our lives, it is also a time to refresh our resolve to widely share Nichiren Buddhism and ensure that our kosen-rufu movement continues far into the future.
It is during this significant month of May that the SGI-USA conducts its traditional May Contribution activity. This year's theme, "Creating a Groundswell of Hope With the 'Vast Heart' of Soka," was inspired by Ikeda Sensei's message commemorating the 90th anniversary of the Soka Gakkai's founding last November 18.
He writes:
[The "vast heart" of Soka] is the great, invincible spirit to keep striving together with the Mystic Law through even the bitterest adversity to transform all poison into medicine and freely create value with confidence, strength, wisdom and optimism. (November 20, 2020, World Tribune, p. 2)
By chanting Nam-myoho-renge-kyo we align our lives with the Mystic Law and tap into this vast and powerful life force that enables us to be resilient and forever hopeful, no matter our circumstances.
Sensei emphasizes that living with gratitude is most essential in our Buddhist practice, saying: "When we face difficulties, thinking of all those who have helped us in some way can rouse in our hearts a renewed fighting spirit. Gratitude is the source of fundamental human strength" (The Teachings for Victory, vol. 3, p. 100).
He also points out that those without gratitude are miserable, "because they destroy the very fabric that makes them human" (The Teachings for Victory, vol. 3, p. 100).
We can win over our arrogance and negativity by maintaining each day the basics of chanting Nam-myoho-renge-kyo, studying Buddhism and sharing the practice with others.
Gratitude: The Starting Point of Nichiren Buddhism
From a young age, Nichiren Daishonin was compelled to find answers to life's sufferings based on his deep desire to repay his gratitude to his parents. He sought out Buddhism, and after two decades of intensive Buddhist study, he identified in the Lotus Sutra the universal Law of life for leading all people, including his parents, to enlightenment. He revealed this Law as Nam-myoho-renge-kyo.
Nichiren began spreading his teaching during a time much like today, when natural disasters, famine, epidemics and political instability filled people with anxiety and fear. And amid a society that highly valued social rank and status, his effort to empower all people incurred the wrath of those in power, and he soon faced an onslaught of intense persecutions in spreading the Mystic Law.
Yet, because of his appreciation and vow to advance kosen-rufu, Nichiren declared that he endured all these things solely to express his gratitude to his parents, his mentor, Buddhism and his country (see "On Repaying Debts of Gratitude," WND-1, 728).
His extraordinary commitment to repay his gratitude to humanity lives on today through us, practitioners of Nichiren Buddhism throughout the world, who strive to maintain the same resolve to spread his teaching of universal respect and enlightenment.
Appreciation Is Best Expressed Through Our Actions
Engaging in efforts for kosen-rufu with gratitude for our loved ones, mentors in faith, Buddhist practice and community invigorates our lives and brings benefit, good fortune and unceasing growth.
An integral part of our Buddhist practice—alongside carrying out the basics of faith, practice and study—is making offerings with a heart of appreciation.
Two vital offerings in Buddhism are: 1) the offering of goods, such as food, clothing, money and other goods, which allows us to release our attachment to material possessions; and 2) the offering of the Law, or spreading the teachings of Buddhism, which helps us let go of attachments that cause us to suffer.
Thus, making offerings is an essential part of our Buddhist practice. Taking action with gratitude each day enables us to pull forth the wisdom and life force necessary to conquer our fundamental negativity and and transform our lives.
Sensei says:
If … we engage in our Buddhist practice with a spirit of goodwill toward others and a desire to praise and support everyone, we will experience a deep sense of joy and appreciation. Everything in life will seem rewarding and enjoyable. In fact, this is proof of our human revolution and the true embodiment of happiness. (The New Human Revolution, vol. 26, p. 301)
By living each day with such joy and appreciation, we will surely illuminate our communities with the "vast heart" of Soka and create a groundswell of hope.
—Prepared by the SGI-USA Study Department
---
Becoming an Artist With a Mission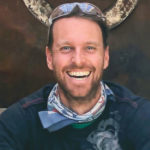 Brian Enright
Oakland, Calif.
I was a starving sculptor before I was introduced to the SGI. I knew I wanted to do art, but I didn't have a plan or a sense of mission to pursue it for a reason greater than myself. My parents were visibly frustrated with me leaving my stable work in the technology industry to pursue art. And when they would ask me what my plan was, I never had an answer. The truth was, I was waiting for someone to discover me and help me become successful. I didn't know how to make it as an artist.
In June 2013, I started practicing Nichiren Buddhism with the SGI. My passion only deepened to create art from salvaged objects and repurpose them to bring joy and hope. In 2019, I held my first art show, featuring transformed objects that people considered trash into gallery-level sculptures. Some of my favorite pieces are made from confiscated weapons transformed into sculptures that bring people together and give them hope.
The pandemic brought with it a rollercoaster of financial challenges for me as a self-employed designer and sculptor. My income was unstable, and I wasn't eligible for financial aid.
Around that time, I was appointed the men's leader for Golden Gate Mentor and Disciple Zone. I decided to chant Nam-myoho-renge-kyo abundantly and reach out to as many men and young men as I could to support them in faith. I also doubled my monthly financial contribution as a result of the limitless appreciation I have for the organization and my mentor, Ikeda Sensei. I could feel my faith being tested as the activities and encouragement continued to be joyful, but I struggled even more financially.
At the end of 2020, Sensei shared these words about the significance of the decade toward the centennial of the Soka Gakkai's founding: "We must be even more determined to show victorious proof of our own human revolution, to transform all great evil into great good and to effect a powerful change in the destiny of all humankind" (November 2020 Living Buddhism, p. 17).
I could sense the profundity of the times, and I made a concrete goal. I would become the top sculptor in the nation so that I could prove the power of the practice and tell the world about my incredible mentor, Daisaku Ikeda. I prayed to see clearly what I needed to do to get there.
I decided to look for work as a temporary measure to appease my financial situation. When I contacted a shop where I've supported previously, the lead artist told me that I had great timing as they were getting ready to start a huge project that would place large public art installations on high rises in major West Coast cities. I joined full time supporting a team of top artists working on this project. Even as I did so, my boss encouraged me to take time to work on my own art and develop my skills. This job gives me the financial stability and support I need as I work toward my goal.
With unlimited gratitude to the SGI-USA, I increased my financial contribution again at the end of last year. I know that making a genuine cause for kosen-rufu is making a genuine cause for my own life. I push myself to challenge my own preconceived limitations, and by doing so, I always see the effect of the causes I have made.
Sensei has taught me to dream bigger than what I thought was possible. It is only because of this practice and the guidance of my mentor that I have learned to turn every challenge and supposed "failure" into something of great meaning and value, just like my art.
It is only because of this practice and the guidance of my mentor that I have learned to turn every challenge and supposed "failure" into something of great meaning and value.
---
From an "Impoverished Mindset" to Innate Worth
Faith Jones
Peekskill, N.Y.
In college, I had dreams of getting a prestigious, well-paying job, so I worked hard to build a resume strong enough to make that a reality. That's how I thought I was going to make my life matter. I'm going to be somebody one day, I thought.
The year I graduated, the economy crashed, and I slowly started to realize that I would be competing in the job market with people who had decades more experience than me. My first job out of college was far from what I had planned, and I began developing a "screw everything" mindset. Working hard and doing everything right didn't work out, so what was the point? The toxic romantic relationships and heavy drinking that followed reflected a deep lack of respect for my life.
For the next three years, I was in and out of jobs and miserable. I enrolled in cosmetology school as a way to reclaim my self-worth, but while I started working and had a stable income, my underlying financial situation didn't change. I would "get money," but my bank account would still be consistently overdrawn. I had an impoverished mindset and lacked fortune.
In 2012, my partner shared Nam-myoho-renge-kyo with me. When I attended my first SGI meeting, I felt as if my frozen heart was finally thawing. I joined the SGI in February 2013. Three months later, the women and pioneer members in my district encouraged me to participate in the May Commemorative Contribution activity, saying that financially protecting kosen-rufu was the deepest cause I could make to develop fortune and transform my financial karma. From the end of April until the beginning of June that year, I saved my tips each week to contribute and joined the morning chanting sessions that were held daily at our Buddhist center. I was willing to do whatever it took to transform my circumstances.
My first benefit was that clients started to request I do their hair even though I was still an apprentice. I also introduced my best friend and boss to the practice and planted many seeds of Buddhism at work. I began to feel a deeper concern for others, and I could sense that my life was transforming from the inside out.
Since then, through participating in both Sustaining and May Contribution, I have completely shifted my financial karma and increased my income exponentially. The true benefit is that I no longer look to external things to validate my self-worth.
In 2015, I began working for a curly-specific haircare brand, where I create educational content for fellow hairstylists to learn how to cut, color and care for curly and coily hair.
During the pandemic, I experienced firsthand the great fortune that I had created over the years. I used my ingenuity to create digital learning spaces and thought about ways to support stylists whose livelihoods were now in jeopardy. Furthermore, I actively started thinking about how my company could respond to the murder of George Floyd, since our clients were directly affected.
In the height of the pandemic, I again increased my financial contribution based on the gratitude I had for Ikeda Sensei and this organization. When my company let go 20% of its employees, my boss congratulated me and said that I had received a role expansion and raise. They believed I was going to be a part of creating a new chapter for the company.
The greatest actual proof was that, while I was appreciative, I didn't see this promotion as a measure of my worth. I was clear that the causes I had made based on my vow with Sensei was what manifested this fortune in my life.
I now view money not as a source of validation but rather as something I can use to fulfill my mission for kosen-rufu. Making financial offerings to this organization that advances kosen-rufu in America is one of the most profound causes I know I can make for my happiness and victory.
My determination toward the centennial of our organization is to freely and joyfully live out my mission and show actual proof that anyone can transform absolutely anything—even systems of oppression—based on human revolution. I will use my voice for the sake of justice every day and create a workplace based on Sensei's humanistic philosophy that protects the dignity of life.
The true benefit is that I no longer look to external things to validate my self-worth.
You are reading {{ meterCount }} of {{ meterMax }} free premium articles
Subscribe for unlimited access