Oct. 2, 1960.
Daisaku Ikeda had been the third Soka Gakkai president for just five months when he boarded Japan Airlines Flight 800, the country's first large-scale passenger jet, to Honolulu.
As the plane soared over the Pacific, he quietly placed his hand on his chest. Inside his inner breast pocket was a photograph of his beloved mentor, Josei Toda, the late second Soka Gakkai president.
He recalled the time when Mr. Toda, just before his death, said that he had dreamed he had gone to Mexico: "They were all waiting. Everyone was waiting. They were all seeking Nichiren Buddhism. I want to go—to travel the world on a journey for kosen-rufu."
Pressing the limits of his own mortality, Mr. Toda urged his young disciple to carry on in his stead. "[Daisaku], the world is your challenge; it is your true stage. It is a vast world."
Mr. Toda had been surprisingly well-versed not only in America's history but also its politics, economy, literature and philosophy. He spoke of traveling to America one day to repay his debt of gratitude for bringing religious freedom to Japan after World War II and ushering in the time of kosen-rufu, the widespread propagation of the Mystic Law.
Yet, Mr. Toda died at age 58, never once setting foot outside Japan. As he sat on the plane thinking of this and how happy his mentor would have been to accompany him on this trip, young Daisaku bit his lip and vowed silently: "I will stand upon the soil of America on Sensei's behalf. I will definitely make history anew."
The jetliner, dubbed Fuji, landed in Honolulu a little after 11 p.m. While his visit there lasted roughly 30 hours, the first page in the drama of global kosen-rufu had been penned.[1]
Nichiren Buddhism reveals that all human beings are endowed equally with the Buddha nature, and it expounds the means by which people can reveal this limitless potential.
Although it represents, in philosophy and application, a world religion in the truest sense, in 1960, it had yet to cross the Pacific Ocean to the rest of the world. In October 1960, Ikeda Sensei and a small delegation from Japan traveled to three countries: the United States, Canada and Brazil. In the U.S., they visited Honolulu and went on to San Francisco, Seattle, Chicago, New York and Washington, D.C., before concluding their travels in Los Angeles.
In each city, they held the first district discussion meetings, where they met and encouraged the pioneering Soka Gakkai members practicing Buddhism in America, many of whom were Japanese women married to American servicemen and were struggling to live in a new land.
The members suffered deeply from problems that included poverty, marital discord and illness, yet Sensei awakened in them their profound mission as Bodhisattvas of the Earth—to prove the validity of their Buddhist practice and enable all others to become happy.
The late Mitsuko Smart met Sensei when he traveled to Washington, D.C., on that first trip. In a 2008 interview with the World Tribune, she recalled how her daughter, Cheryl, had been born with Down syndrome. She asked Sensei why this had happened despite her Buddhist practice. He warmly encouraged Mrs. Smart, saying that if she dedicated her life to advancing kosen-rufu, Cheryl would definitely be victorious.
"Sensei's warmth touched my heart, and I determined to keep fighting for people's happiness with all my energy," said Mrs. Smart, whose daughter lived a full life to age 45, despite doctors' predictions to the contrary. "Looking back, I believe Sensei instilled in me the spirit always to move forward."[2]
Each discussion meeting was small by Soka Gakkai standards, yet Sensei established the first districts in each city and the first chapter in Los Angeles, creating a framework for members to carry out their Buddhist practice, centered on the district discussion meeting.
Tom Hara, who greeted Sensei at the airport in Honolulu, said in a 2009 interview that it was quite difficult to practice until a district was formed in Hawaii. "Because of that, I see the importance of having the SGI organization to encourage one another," he said.[3]
The late Tsuyako Liebmann had moved to Chicago in the mid-1950s with her husband, Paul, a chemical engineer. In a 2009 interview, she described accompanying Ikeda Sensei around Chicago on his first visit there. "Watching Sensei," she said, "I realized that he is always thinking of others."[4]
After he left, she deepened her vow: I don't know how, but I will protect Chicago, and I will spread the Mystic Law. I will never forget this. From then on, she determined to go anywhere to visit the members and introduce others to Buddhism. Her husband, Paul, drove her to different states on weekends, and through home visits and propagation, her district grew rapidly.
It was members just like these, who, armed with a sense of mission, introduced Nichiren Buddhism to the West and created the foundation of the American organization—a painstaking process that Sensei described "as though relentlessly carving out steel beams with their fingernails."[5]
Toshi Gumtang had just moved to the U.S., when Sensei arrived in San Francisco on Oct. 4, 1960, and appointed her and her husband as group leaders. In a 2009 interview, she recalled how, with the hard work of the members, her district grew into a chapter, and she was named the women's leader.
Due to a misunderstanding, however, some members began to harbor ill feelings toward her, and she thought she should resign. "As I chanted Nam-myoho-renge-kyo, I noticed the chapter flag that I had received from Sensei," she said. "I thought, I cannot let this flag fall. From that day, I chanted as if I were always holding the chapter flag."[6]
While in New York, Sensei asked the members to understand "that America's future rests entirely on your shoulders," giving them three guidelines to pioneer Buddhism in this new country:
1. Acquire citizenship and become good American citizens who earn the trust and respect of those around them.
2. Obtain a driver's license, given that kosen-rufu would develop to the extent that they were mobile.
3. Master English to make friends and communicate with many others, since propagation begins from our interactions with others.[7]
Their efforts were further buoyed by the creation of an English-language newspaper, which debuted in August 1964 under the banner the World Tribune.
Kazue Elliot recalled how, in those days, it took three people to invite someone to a discussion meeting. The first person said something like: "We are American Soka Gakkai members. With Nam-myoho-renge-kyo, you can get happiness." The second person held up the World Tribune. The last person then added, "You try?"
Yoshiko Mule, of Camarillo, California, got connected to the Soka Gakkai in Los Angeles after Sensei's first visit. In January 1963, when Sensei made his second of 27 visits to the U.S., she was appointed a district leader for the newly formed Oxnard District. After the meeting, Sensei approached her and said, "Hold on to the Gohonzon, and never let go, no matter what."
At the time, she was pregnant with her fourth child and struggling with poverty. "But after that encounter, no matter what obstacles came my way, I remembered Sensei's words and kept moving forward," she said. After a year, Oxnard District grew and split into two districts. Within four years, it expanded to four districts and then became a chapter.[8]
The late TJ Rife, of Honolulu, recalled in a 2009 interview when the members began holding discussion meetings in English once a month in Hawaii, an effort that enabled them to introduce about 30 other military men to the practice.
Mr. Rife had been struggling financially at the time and, although he barely had money to put gas in his car, he and his wife traveled as much as possible to share Buddhism.
"We all did our best to introduce others to Buddhism," he said. "I know that's the only way we are going to achieve world peace—by helping one person at a time become happy, just as Sensei taught us."[9]
'Those Who Maintain Pure Faith Will Always Win'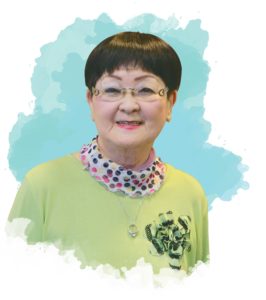 Kazue Elliot
Whittier, Calif.
In October 1960, I had the great fortune of welcoming Ikeda Sensei to Los Angeles. Two years before, I had moved to America after I married a serviceman and was suffering from tuberculosis.
I cried many nights because I wanted to return to Japan, but Sensei encouraged me on that visit, saying, "If you practice sincerely for 10 years, you will be able to enjoy benefits that are completely different than if you hadn't practiced this way."
Back then, we didn't have anything; no telephone, no money, no car, and many of us couldn't speak English. But Sensei assured us that we didn't need to worry and gave the Japanese members three goals: to learn English, get a driver's license and become good American citizens. He also appointed me a district leader and established Los Angeles Chapter, the first chapter in the United States. Sensei asked that we create harmonious unity among the members and to focus on supporting the happiness of others.
When we saw him off at the airport, he encouraged me once again, saying, "Those who maintain pure faith will always win."
In this way, through his guidance, Sensei began creating the history of kosen-rufu in America.
When I think about how little I had when I arrived and how I've been able to work for kosen-rufu in America for all these years, I have so much appreciation for the Gohonzon and Sensei. I've transformed all my tears into good fortune and benefits.
Today I'm 91, and as long as my heart is beating, I will never stop working for kosen-rufu. Looking toward the future, I hope that all the members can fight for kosen-rufu in high spirits and experience the power of chanting Nam-myoho-renge-kyo. In the early days, I got tired of hearing my leaders tell me, "Just chant!" But after practicing for 66 years, I know that chanting Nam-myoho-renge-kyo is the key to victory in life, and I feel completely victorious!
My Vow for Peace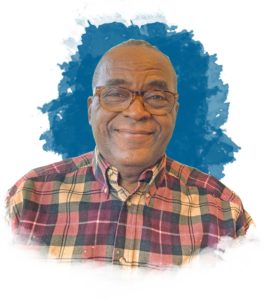 Darnell Pulphus
Chicago
I attended my first Soka Gakkai meeting in June 1969. I had difficulty trusting people but was so moved by the members' passion that I received the Gohonzon.
Soon after, we began receiving English installments of The Human Revolution and other English study material. Through studying Ikeda Sensei's writings, Buddhism began to make sense to me, and I wanted to work alongside him for peace.
That August, I was appointed the young men's leader for the South Side and West Side of Chicago. We had activities every day: Mondays were chanting sessions, Tuesdays discussion meetings, Wednesdays home visits, Thursdays study, Fridays World Tribune promotion, Saturdays discussion meetings and Sundays youth activities. On the one hand, this is what it took to build the organization in Chicago, but we were also experiencing so much benefit that we wanted to participate.
As a six-month member, I was appointed the young men's leader for the Midwest, which included Wisconsin, Minnesota, Michigan and Indiana, just to name a few. We drove to St. Louis one week, Kentucky the next week, Detroit the week after and so forth. Since Sensei was traveling the world for peace, the least we could do was fight for people's happiness here in the Midwest.
One golden memory with Sensei was in 1975, during his second visit to Chicago. I was part of the behind-the-scenes support team when he arrived at the airport. At one point, our eyes met. Sensei then gave me a warm bow, and I felt his deep appreciation for our efforts behind the scenes.
After 51 years of Buddhist practice, I'm more determined than ever to actualize my vow for world peace alongside Sensei.
We are living what Nichiren Daishonin describes in "On Establishing the Correct Teaching for the Peace of the Land." We must chant Nam-myoho-renge-kyo powerfully for the happiness of humanity and take action to spread this Buddhism in our communities for the sake of the future.
---
1960s Guidance
'Unity Is Strength'
Play a Central Role
One of the most internationally recognized symbols of San Francisco and the United States, the Golden Gate Bridge is a suspension bridge that spans the Golden Gate straight, connecting San Francisco Bay to the Pacific Ocean.
In volume 1 of The New Human Revolution, when first visiting the city with other leaders from Japan, Ikeda Sensei likens the combined strength of the wires to the Buddhist concept of the unity of "many in body, one in mind." He appears in the novel as Shin'ichi Yamamoto.
As they headed away from the city, San Francisco Bay unfolded off to their right. Soon, the Golden Gate Bridge with its magnificent red towers came into view. As they approached, its soaring structure seemed to loom above them.
The group decided to stop for a short break at a small park near the bridge. Stepping out of their cars, they saw on display a section of the suspension cable used in the bridge. A sign explained that the cable was 37 inches in diameter and comprised 27,572 separate strands of wire. Shin'ichi Yamamoto and the others stood in a circle around the display.
"The cable is thick, but each wire is quite thin. How amazing that it can hold up the bridge!" exclaimed Katsu Kiyohara.
Nodding in agreement, Shin'ichi then spoke to Yukiko Gilmore and Chiyoko Taylor, who had been appointed respectively as the San Francisco District leader and women's division leader the day before.
"It's true that the individual wires are not very thick, but when bunched together in great numbers, they display incredible strength. This resembles the unity of many in body, one in mind. In the Soka Gakkai, too, though each person's strength may be small, when that strength is combined and the members are firmly united, they can display unimaginable power. Unity is strength.
"From now on, you must play a central role in unifying the members' efforts to support the kosen-rufu movement and the happiness of the people of San Francisco." (NHR-1, pp. 118–19)
'A Water-Supply System of Faith'
Work Together Harmoniously
While in Los Angeles, his final stop, Ikeda Sensei appoints Kiyoko Kuwano as chapter leader. But Kazuko Ellick's face clouds over, as she thinks she has worked much harder and should have been appointed to the position.
In volume 1 of The New Human Revolution, Sensei speaks about the spirit of leadership to those playing key roles in the organization. He appears in the novel as Shin'ichi Yamamoto.
"[Second Soka Gakkai President Josei] Toda declared that the Soka Gakkai organization was even more precious to him than his own life. This is because our organization is the lifeline of kosen-rufu. We can think of it as a water-supply system. If the system is in perfect working order, then we only have to turn the tap to get pure, fresh water. We use this water to quench our thirst, cook our food and wash our bodies; it plays an indispensable role in sustaining our lives.
"The Soka Gakkai organization, therefore, may be called a 'water-supply system of faith' in that it supplies people with the pure energy of faith and nurtures their capabilities. If the leaders who play key roles in the organization lose their seeking spirit, they will be like pipes disconnected from the water source. Also, if the hearts of leaders are impure, then only dirty water will flow through the pipes. If they fail to take action, the water will grow stagnant and eventually rust the pipes. Moreover, when leaders are on bad terms with one another, it's as if the pipes have ruptured. I therefore hope all of you will work together harmoniously to protect and develop this organization, which has appeared in accord with the Buddha's intent. This is my most cherished wish." (NHR-1, pp. 299–300)
'Glittering Jewels of Good Fortune'
Become the Happiest Person
At a discussion meeting in New York, a young woman from Japan suddenly cries out, "Please take me back with you! I can't stand it anymore!" and then bursts into tears.
In volume 1 of The New Human Revolution, pushing the limits of physical exhaustion, Ikeda Sensei speaks about how each person can establish a life condition of absolute happiness within their lives that cannot be destroyed under any circumstances. He appears in the novel as Shin'ichi Yamamoto.
"You have all truly suffered. You have endured in silence. There must have been times when you felt like giving up. There must have been times when you felt that death would bring a welcome release. I can deeply appreciate how much pain and sadness you must feel. However, this Buddhism has the power to transform your suffering into happiness, to change the tears you have shed into glittering jewels of good fortune. Those who have wept the most bitterly have the right to become the happiest people of all. My purpose in coming to the United States is to help you turn that into a reality. …
"There's nothing to worry about. So long as you persevere in your practice, each of you, without exception, can become happy. In Japan, there are actually more than a million of our fellow members who have become happy. Isn't that the greatest possible proof?" (NHR-1, pp. 206–07)
You are reading {{ meterCount }} of {{ meterMax }} free premium articles
Subscribe for unlimited access