This report was adapted from an article by Religious News Service.
NEW YORK, Sept. 21–24—SGI youth representatives joined a series of
events in New York City as part of Climate Week.

In the run-up to the U.N. Climate Action Summit, the Japan Times published the SGI article "Winning the Climate Change Challenge: What One Person Can Do." InDepth News, meanwhile, published SGI President Ikeda's opinion piece "Climate Change: A People-Centered Approach" on Sept. 19 (see the Oct. 11 World Tribune).
SEPT. 21
SGI representatives were among the 500 delegates attending an unprecedented United Nations Youth Climate Summit at the U.N. Headquarters. Koichi Kabasawa, the Soka Gakkai student division leader in Japan, commented: "I was privileged to be part of this historic summit. Now I know youth have the power to make a difference. We must go home and take whatever action we can."
SEPT. 23
The SGI hosted an event at the Salvation Army Auditorium on Sept. 23, where the results of a survey carried out by student division members in Japan, the U.K. and the U.S. on awareness of the Sustainable Development Goals (SDGs) and climate change were presented. Survey respon-
dents were university students.
• Scott Hartley, the SGI-U.K. education/external relations officer, reported that in the United Kingdom, 84 percent of respondents indicated interest in Goal 13 (climate action), the highest level of any of the SDGs. He stated that the SGI-U.K. student division is active in promoting the SDGs and keen to do more, including outreach efforts to engage more college/university students.
• From the U.S., Amelia Gonzalez, the SGI-USA student division young women's leader, reported that 75 percent of respondents felt that the government and society's efforts in response to climate change are insufficient. Ms. Gonzalez also mentioned the student division's proposal to promote the "Back From the Brink: The Call to Prevent Nuclear War" campaign at SGI-USA student campus clubs, as the threat of nuclear weapons impacts the climate crisis.
• A key finding from Soka Gakkai Student Division Leader Koichi Kabasawa's report in Japan was that female respondents indicated significantly higher levels of interest in Goal 1 (no poverty), Goal 4 (quality education), Goal 5 (gender equality), Goal 10 (reduced inequalities) and Goal 16 (peace and justice). In an effort to bring greater awareness of the climate change issue and SDGs, Mr. Kabasawa shared the student division's proposal to host exhibitions and symposiums at colleges/universities.
SEPT. 24
The Mapting App, created by the SGI and Earth Charter International to enable individuals to share their contributions to actualizing the SDGs, was introduced in the SDG Action Zone exhibition space at U.N. Headquarters. Winning entries from a Mapting photo competition on action to combat climate change were displayed.

Photos demonstrating climate action from countries as far afield as Senegal, India, Papua New Guinea, Italy and Macedonia were submitted. First prize, an invitation to join the climate action events in New York, was awarded to Catalina Gómez Vives from Costa Rica. Her photo showed teenagers researching the impact of climate change on endangered leatherback sea turtles. She said, "It has been amazing to meet with other passionate activists from around the world and discuss ways to work better together towards our common goal."
---
About the SGI Office for UN Affairs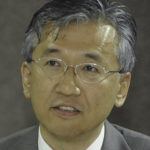 by Hiro Sakurai
Director, Office for UN Affairs
The SGI Office for UN Affairs (OUNA) was established on Jan. 26, 2015, marking the 40th anniversary of the SGI's founding. Its precursor, the SGI U.N. Liaison Office, was formed in 1997 in New York City and Geneva.
OUNA's mission is to carry out SGI's work as a nongovernmental organization within the context of the United Nations. The SGI has been in consultative status with the U.N. Economic and Social Council since 1983.
That year, SGI President Ikeda began issuing annual peace proposals read
by the United Nations. His proposals explore the interrelation between core Buddhist concepts and the diverse challenges the international community faces in an effort to realize peace and human security.

In coordination with the SGI Headquarters in Tokyo, the New York and Geneva offices work primarily in the areas of disarmament, sustainable development, human rights education, gender equality and women's empowerment.

At the United Nations, collaboration among NGOs, member states and U.N. entities are essential. For example, the SGI has taken leadership in the NGO Committee on Disarmament, Peace and Security, the Committee of Religious NGOs, NGO Working Group on Human Rights Education and Learning, and the NGO Committee on the Status of Women. The SGI is also part of coalitions such as the International Campaign to Abolish Nuclear Weapons, which received the Nobel Peace Prize in 2017, the Global Movement for the Culture of Peace and the Campaign to Stop Killer Robots.

OUNA's activities are characterized by: 1) developing ideas and proposals based on President Ikeda's peace proposals; 2) supporting awareness-
raising efforts within civil society; 3) facilitating educational approaches to U.N. issues; 4) advancing activities that highlight the roles of women and youth; and 5) promoting dialogue and collaboration among religions and faith-based organizations.

As the SGI Office for UN Affairs, we will take President Ikeda's peace proposals and encouragement to heart, and continue striving every day to actualize his vision of peace and human security. WT
You are reading {{ meterCount }} of {{ meterMax }} free premium articles
Subscribe for unlimited access