by Eddie Chacon
Pittsburgh, Penn.
My wife, Mitsuko, was performing open-heart surgery when her water broke in 2017. She was only 19 weeks pregnant. I can't imagine what went through her mind. 
I rushed to the emergency room where she'd been brought. The baby wouldn't live much longer, the doctor told us. Did we want to see her on the sonogram?
No! I thought, bewildered. 
"Yes," I heard Mitsuko say.
Part of me wanted to close my eyes, but more, I wanted to be beside Mitsuko. On the monitor, I watched our daughter's heartbeat growing fainter and felt my own hammering hard, desperate and angry. We'd come to Pittsburgh with a dream, but in that moment, it seemed all we'd found was suffering. 
Five years earlier, in 2012, Mitsuko and I moved here from New York, on a promise made early in our marriage: Wherever she went for work after completing medical residency, I'd go with her. She received multiple offers, but Pittsburgh seemed best for us both; I'm an attorney, and Pennsylvania has bar reciprocity with New York. Our goal upon arrival was to start a family—something we'd been trying to do for some time but were sure we'd accomplish in a few years through strong prayer and the help of IVF treatments. 
Upon submitting my application to practice law in Pennsylvania, I discovered my application had been disqualified by a bureaucratic quirk. As a result, to practice law here, I'd need to pass the Pennsylvania bar. Shrugging off the bad news, I applied; with a decade of lawyering under my belt, this would be a breeze, right? Well, I was shocked when I failed, not once but multiple times between 2015 and 2017. Each time, I grew more indignant, more bewildered. The miscarriage in 2017 came on the heels of my third failed attempt. I found myself dwelling on the partner track position I'd left back in New York—the beautiful office, the respect and pay I'd gotten for the work I love. 
After the miscarriage, my wife and I received a message from Ikeda Sensei. He was chanting for our victory, he said. Emboldened, we pressed on with daimoku. Doing so, I came to feel something I'd been struggling to feel: appreciation. Neither my wife nor her patient had been harmed—nothing short of miraculous, given Mitsuko had been holding a scalpel over an open chest when her water broke.
Over the course of that year, we began to heal, but it was still a time of intense suffering. I wasn't fulfilled in the work I was doing, and though we tried IVF many times, we were unsuccessful. Every SGI campaign became an opportunity to make causes for our breakthrough.
Among all causes, the ones we make consistently are most important. As a couple, this had always included Sustaining Contribution and May Contribution, both of which we challenged to expand over time as an expression of our vow and with appreciation for the incredible life we'd built together.
In The New Human Revolution, Shin'ichi Yamamoto tells a group of young men that engaging in Soka Gakkai activities brings personal shortcomings to the surface: "But as we push ourselves to successfully carry out one activity after another without being defeated, we forge our character and are able to win over our negative tendencies. … Soka Gakkai activities are a kind of training ground on which to strengthen our being" (vol. 16, p. 12).
Leading up to the 50,000 Lions of Justice Festival in 2018, I was appointed in-charge for the bus movement and threw myself into preparations and outreach. As the saying goes, train like you fight and fight like you train. All the training I'd received in my youth came alive in me.
At this point, nothing in my personal life had changed. Actually, things were more desperate; that summer, I'd failed the bar for a fourth time. And yet, fighting toward this campaign, dedicating myself to raising the youth, I felt myself standing outside of my suffering. It remained, but I was not consumed by it.
Ultimately, the festival was a total success, and we far surpassed our goal of youth participation. The following month, in October, I took and finally passed the bar. Overjoyed, I prepared to receive news any day of my approved license… but news never came. 
In 2020, after a successful IVF treatment, the pregnancy proceeded smoothly until late in the second trimester, when, as before, Mitsuko's water suddenly broke. This time, the amount of bleeding was life-threatening. I thought she was going to die. Chanting outside the operating room, I probably sounded like a chainsaw, bent on cutting through my heavy karma. Mitsuko survived, but the baby, in its second trimester, was lost.
Without a doubt, this second loss was the hardest, but again, chanting together, we reflected on our fortune. The hospital had been unusually quiet, with five nurses and several doctors on hand to provide immediate care. Mitsuko recovered well, with no long-term complications. Consulting several doctors, we decided that another pregnancy was too dangerous and opted for surrogacy.
Surrogacy, however, is expensive. Though fazed by the costs of surrogacy, Mitsuko and I have always used Sustaining and May Contribution  activities to express our appreciation and deepen our foundation of fortune.  
In May of 2022, we gave wholeheartedly. Soon after, the value of an old investment skyrocketed in a single day. Together with a tax refund from IVF costs, we had enough to pursue surrogacy, teaching me how to remain unflinching in the face of difficulties.
Oct. 5, 2021, would mark three years since I'd passed the Pennsylvania bar, after which my license, left unapproved, would lapse, requiring me to take it a sixth time. As the date drew near, I was all but ready to give up on a life in Pennsylvania, and even made preparations to leave. What had been the point of taking the bar five times? I wondered.
But, after everything, I wasn't going to leave without a fight. So I fought, all out, to get the necessary behind-the-scenes youth support to reopen the Pittsburgh Community Center, post pandemic. On Oct. 3, we did! The following day, just hours before my license was set to expire, I received notice that the bar had approved it at last. Mitsuko and I increased our Sustaining Contribution, filled with appreciation for our breakthrough. Then, this May, the battle to have a child concluded, when we welcomed our baby girl, Hikaru Rose Chacon.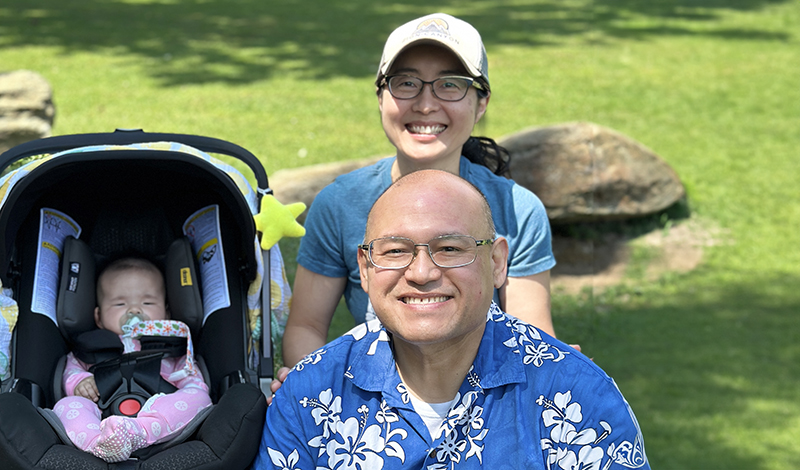 Looking at her, I think of the 10-year battle we waged to welcome her. The battle for Hikaru's life has seared into mine this lesson: Ultimate victory depends on forging a "Never Give Up" spirit, and forging a "Never Give Up" spirit is the ultimate victory in life.
You are reading {{ meterCount }} of {{ meterMax }} free premium articles
Subscribe for unlimited access