by Lio Spinelli and Willie Noto
New York
Lio Spinelli: It was a serendipitous moment returning to New York last year. I was born in New Jersey and spent my first few years in Brooklyn before moving to England. In 2006, when I was 4, my mother and I were in a motor accident that unfortunately took her life. She gave me my first piano lessons. I now found myself studying jazz piano in Manhattan.
I live one block away from David, a pianist who guided me through conservatory applications back in England. He said that chanting could help me pick the best opportunities. There's something to such poetic scenarios that I feel compelled to invest myself in. I invested in our friendship and in our chanting of Nam-myoho-renge-kyo together.
Finding the motivation to chant was hard; I didn't see much improvement at first. See, the crash that took my mother nearly took me, too. Seventeen years and many surgeries later, I'm still in recovery—physically and emotionally. Some nights my leg hurts, some nights I simply miss my mom.
But on one night around her memorial last year, something changed. I was grieving and not in a good place. I remembered what an SGI member told me: "Chant for her happiness!"
So, I did, and I felt a reassurance I never thought I would. Growing up Catholic, I always believed in the continuing of life after death, and chanting for my mother's happiness reminded me of this. That was the moment I knew to fully invest in chanting.
David invited me over every Tuesday to chant, talk, study. I started bringing friends, fellow jazz musicians. I'd say: "Hey, I have this amazing practice and a friend who knows a lot. Want to come over and chant?" I brought my roommate at the time, Holden, who is a fantastic drummer. We started chanting together. I can't ignore the way I feel when I chant—the power, the joy. Everyone has the right to feel that.
Then I have another friend, Willie, who is a saxophonist and an amazing person. One day last autumn, I couldn't go over to David's to chant as usual, and
I was in a practice room on the school's sixth floor. I get a call from David—"Heeey, Lio, wanna chant?!" We start chanting over the phone, and the door opened and in walked Willie.
Willie Noto: One of my friends had received a Nam-myoho-renge-kyo card at one point, and I was curious what the words meant. When I heard Lio chanting those words in a practice room, I was drawn in. I didn't want to interrupt, but I couldn't hold myself back.
"Yo, Lio, what's up?" 
"I'm on the phone with my friend David, chanting!" 
He welcomed me to join them. 
Lio: Willie joined in our chanting. Afterward, we played some music together and went down the street for pizza. We opened up about our struggles, our lives. Soon after, he asked me to chant together again.
Willie connected with David and other guys in the SGI, and we continued our Buddhist journey together. I had a technical issue with my COVID vaccine, which prevented me from coming to the New York Culture Center for a few months. Once it was resolved and I came to enough meetings at the center, I immediately received the Gohonzon. But during that time, both Willie and Holden received the Gohonzon before me!
Willie: I felt that through the power of Nam-myoho-renge-kyo, anything is possible. I've struggled with mental health challenges since I was a kid. My first year of college was online during the pandemic, so being stuck at home only added layers of anxiety and depression. 
I met Lio and started chanting last year, my first on campus. That was when my life opened—I became more inviting and honest with others; I could see the nuanced beauty around me. I felt the shackles of my disabilities fall off. 
Soon after, I broke my wrist snowboarding. I couldn't play the saxophone, so I worried I'd underperform at school. But chanting gave me the power to persevere. I took a step back and asked the dean if I could temporarily switch to vocals. He said it's never happened before, but he allowed it!
Now I'm back to playing sax. Lio and I recently performed at kosen-rufu gongyo with the Ikeda Youth Ensemble jazz band!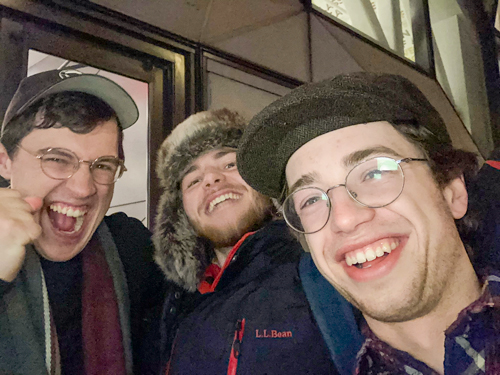 Lio: Willie and I have this running joke that we'll release a record someday as "The Two Bodhisattvas."
Regarding my recovery, I had surgery last year that I thought would be my last. But I found out I'll need more. Part of me melted, but another thought: Yes! Another opportunity to fight. It all begins with me.
Willie: Chanting has also given me courage. Recently, Dizzy's Club, the crown jewel of New York jazz, opened late night jam sessions. Lio and I decided we'd join one and call a tune.
We arrived at Dizzy's as the house band played. Afterward, a few really talented Julliard students jumped onstage without hesitation. I got nervous. 
I summoned the courage to talk to the house band leader, who gave us the nod.
We go up, and, still nervous, have to fend off a few other eager musicians. I look at Lio at the piano, and he starts the intro lick. 
We jammed out! There were other tense, heavy jazz cats in the room, but we blasted them with proud bodhisattva courage. Without a shadow of a doubt, my Buddhist practice gave me that courage.
Lio: The fact that we did Dizzy's together was so cool.
Willie: When we're together somewhere like a subway station, we'll say, "We can't leave this station without inspiring someone about Nam-myoho-renge-kyo!" We can't resist telling people. I've struggled to share at times. But even if some say, "Oh, that's weird," I just think: All right, buddy. To each their own!
A couple of months ago we were just hangin' at this underground jazz spot. One guy there looked a little lost, so we befriended him and had a heart-to-heart. I asked if he'd ever heard of Nam-myoho-renge-kyo. "Oh, wow, what is that?!" he said, intrigued and seeking. Since then, Lio has been in touch with him, and they've met over coffee.
Lio: Sharing Buddhism brings out the best in yourself. It's not easy. To anyone who's just getting started chanting, I'd say: "Just start chanting. Invest yourself in it, and see if it works." It's going to work.
You are reading {{ meterCount }} of {{ meterMax }} free premium articles
Subscribe for unlimited access