Living Buddhism: Mehul, your work has sent you around the world, a dream of yours since childhood. We understand that, while many did not believe you could do this, your father did.
Mehul Anand: My father's roof sheltered odd notions for a New Delhi home; he was an importer and exporter of books, an occupation that took him to distant countries many times a year. He'd come home with books from the places he'd been, and perspectives, too. One idea he brought back in his early 20s concerned girls and women, and it estranged him from more than a few longtime friends. Girls and women, he thought, were not a burden to society. They were the equals of boys and men. He let me know from an early age that, if I wanted, I could do more in life than marry and take care of a husband and his parents. He knew he would not see in his lifetime the India of his dreams, but he had brought a wider world, a fairer one, home with him, in his heart, to New Delhi.
"You've got to be brave!" he'd say. "If you won't fight for your dream, who will?"
What dream was this?
Mehul: If you grew up in India, you've heard of Indra Nooyi, the first Indian woman to become CEO of a global company. She was a household name, a success story among Indian women. She did it all—motherhood, marriage, international travel and career success. She demonstrated on the world stage, to a "man's world," that a woman could hold her own anywhere. That's who I wanted to be. But it seemed that a chasm lay between us, a huge gap between who I wanted to become and who society told me I could be at the time. For all my father's confidence in me, it was his word against almost everyone I knew. I felt overbearing stress caused by anxiety and uncertainty.
And Buddhism helped you. When did you encounter the SGI?
Mehul: That was in 2006, at age 17. I was invited one early, bright morning across the street, to a discussion meeting at a neighbor's home where, I was told, people were changing their karma. The vigorous voices of men and women joined in chanting Nam-myoho-renge-kyo lifted a burden from my heart. Chanting, I felt a fierce hope rise and knew I'd be sticking with this practice for life. For the first time, I found a community where the core message was that I could achieve anything I wanted to. In fact, I had a mission to realize my unlimited potential.
Eventually, you would travel abroad for work, to Dubai.
Mehul: Yes. To work abroad—this had been a dream of mine since I was little. In 2013, just over a year after receiving my master's, I decided to give my all to Buddhist practice while I sent out applications. When I got a job in 2014, selling commercial kitchen equipment to large hotel chains in Dubai, I rejoiced. Even then, people in our community heaped scorn on my parents, as they had when they'd supported my higher education.
On the plane, I pored over a book my women's leader had given me just before she saw me off, called The Vow of the Ikeda Kayo-kai. One passage struck me in particular, written by Nichiren Daishonin to a female disciple:
A woman who embraces the lion king of the Lotus Sutra never fears any of the beasts of hell or of the realms of hungry spirits and animals. All the offenses committed by a woman in her lifetime are like dry grass, and the single character myo of the Lotus Sutra is like a small spark. ("The Drum at the Gate of Thunder," The Writings of Nichiren Daishonin, vol. 1, p. 949)
I read these words again and again, chanting under my breath as the plane lifted off the tarmac. Whatever karmic burden I bore, Nichiren assured me that I could free myself by chanting earnestly.
What did you encounter in Dubai?
Mehul: Well, misery, actually. My cutlery sales job called for miles-long treks in scorching heat. My boss was as unrelenting as the Dubai sun; it was as though all the ridicule I'd ever met with had followed me here and taken up residence in this single person. During this difficult time, I studied this passage from Ikeda Sensei:
Daily life equals faith, and faith equals daily life. The Lotus Sutra is never divorced from reality. That is its greatness. Once we have dwelt in the Ceremony in the Air, the reality of daily life, however contemptible it may have formerly seemed, becomes a means for demonstrating our Buddhahood to others. Sufferings and problems enable us to deepen our faith and, by overcoming them, to show actual proof of the benefit of faith. (The Wisdom of the Lotus Sutra, vol. 1, p. 97)
Though merely feeding and housing myself was a daily struggle, though every day at work I was made to feel incapable and small, though I often questioned whether I should just return home, chanting morning and evening gave me hope and the resolve to win. Only by squarely facing my obstacles could I demonstrate the true power of the practice and transform my karma. I made a vow to the Gohonzon that I would leave Dubai on my terms, at the top of my field, having shown irrefutable proof of turning poison into medicine.
In 2015, I was hired by a food delivery company. Between then and 2019, I received five back-to-back promotions, doubling my income annually. It turns out, the footwork I'd done selling cutlery proved to be my greatest asset in management; I understood better than anyone the ins and outs of the industry.
When did you move to America?
Mehul: In 2018, I met my husband, Rishi, and in November 2019, I left Dubai at the top of my field to be with him in Atlanta. It was a happy time. The plan was to take a short sabbatical before finding work again. And then the pandemic hit.
As immigration and travel policies changed by the week, my visa process languished. In limbo, an old feeling of helplessness took hold, and I began to sink into the sort of depression common in my childhood. I confided in a women's leader, and she told me, "You must chant with the conviction that you have the power to move the universe."
I realized I had things mixed around. True happiness does not flow from a successful career. True happiness flows from conviction in my mission, which flows from faith. I remembered, "Though far from friends and family, without a job or citizenship, I am, as I am, a Bodhisattva of the Earth. My mission as a disciple of Ikeda Sensei is to impart this conviction to those who are suffering the most!" I reached out, one by one to the young women in my district to see if they would like to study together.
Each of us chose a passage from Nichiren's writings on which to base our lives. Mine was: "Could there ever be a more wonderful story than your own?" ("Letter to the Brothers," WND-1, 499). Struggling though I was, I decided that it was precisely because I was struggling that I could unlock my fullest potential. Then, in early April 2021, the COVID-19 cases in India exploded.
I cannot say how many times I chanted with the young women of South Zone, each in our own homes. Several had family in India and were battling fear and helplessness. But I was resolved that each of us would bravely call forth hope, strive with our mentor in faith and become fearless successors. In February 2021, I was appointed SGI-USA's South Zone young women's leader, where I support members in Georgia and South Carolina.
Also, since I did not have a job at this time and was facing financial uncertainly, I decided to make a cause to transform this situation and started my sustaining contribution. I was barely able to make my committed amount every month, but I felt my appreciation for the SGI increase with each effort I made to do so. Not seeing any major breakthroughs, I became discouraged and wondered if I should discontinue my contributions. I realized, however, that this was the time to make a bold determination to increase my amount and develop a life condition with which I could contribute to my heart's content.
But then, a major hardship hit. In April, I received news that my father had contracted COVID-19. On May 1, he passed away. I was in shock.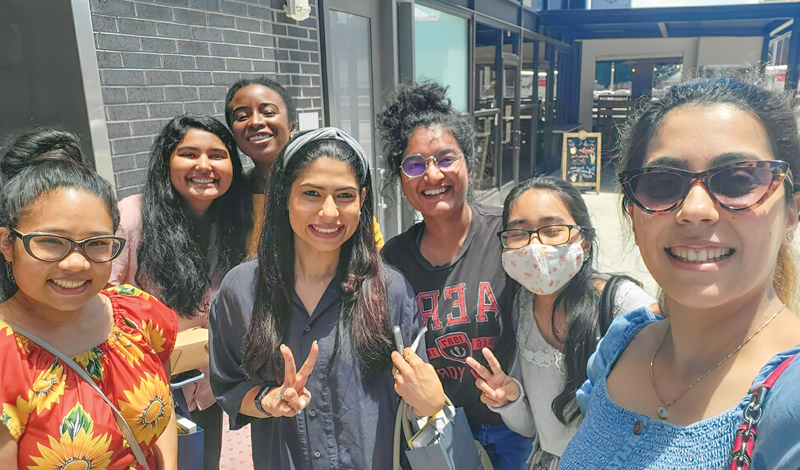 I'm so sorry to hear that. What did you do?
Mehul: First, I petitioned my local U.S. congressman for expedited approval to travel to New Delhi; I had to be home to support my family. Then I reached out one by one to the young women in my zone. I told them that I would have to support my family in India and encouraged them to keep fighting for kosen-rufu in South Zone during my absence.
"We will be fighting!" they said. "Please don't worry!"
Each of these young women has gone on to shoulder even greater responsibility for kosen-rufu and score astonishing personal victories.
You didn't let your father's death defeat you.
Mehul: That is the one thing I could never allow. In the days leading up to his death, I called often. He could barely talk above a whisper; but when I asked him, "Are you chanting, Papa?" he managed, "Yes, all the time, in my heart."
My father had been raised Hindu, but he had seen that my Buddhist practice was what had enabled me to put into practice his essential message: Be strong. Be brave.
How are you now?
Mehul: In August 2021, shortly after receiving my green card, I secured an incredible job at a leading tech company as a senior manager at the salary that I desired and was able to increase my sustaining contribution to my heart's content that November. I am determined to continue increasing my sustaining contribution along with my appreciation for the SGI and my life toward 2030.
When we reopened the Atlanta Buddhist Center in November 2021, we did so with just three Byakuren members. Soon after the opening, however, 14 young women eagerly completed their training and, this April, were inducted into this young women's training group.
My father had implored me to be strong, to be brave. I can say that this Buddhist practice enabled me to do so. South Zone brims with young women who can say the same.
You are reading {{ meterCount }} of {{ meterMax }} free premium articles
Subscribe for unlimited access