by Yoshihito Tanaka
Aliso Viejo, Calif. 
The eviction notice came one day in July 2018, while I was at work, and
left my wife, Yuka, shaken. "We have nothing," she said when I got home. "But we have the Gohonzon. We will make it through somehow." A fierce determination shone in her eyes, stirring in me an intense mixture of desperation and resolve. And a heavy responsibility. 
Coming to America had been my idea. As a young man burning with the passion of my native Ever-Victorious Kansai, I had collected videotapes of Ikeda Sensei's travels to America and watched them over and over to the point of breaking them. Indeed, as my wife will tell you, those days I sounded like a broken record myself: "I want to do kosen-rufu in America!"
True, I didn't know English, not even the alphabet, but Yuka understood my passion. Sensei had urged America to be the model for worldwide kosen-rufu and declared education to be his culminating lifework. After attending a 10-day English program at Soka University of America's Calabasas campus in 1996 at age 26, I returned to Japan inspired by the teachers and students there. They assured me not only that I could learn English but that I could do anything I set my mind to. Wanting to encourage other young people in this way, I resolved to attend Soka University of America (SUA).
In 2003, Yuka gave birth to our first child, Yuhi. We donated to SUA in his name as a pledge to the happiness and victory of the family we would raise in America. The following year, I won the U.S. green card lottery, and the three of us moved to Los Angeles in 2005.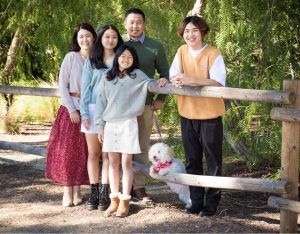 Since arriving in America—where our daughters, Claire and Sofie, were born, in 2007 and 2011—we have overcome many hardships, the most painful of them being financial. Between being a father and husband, I never did end up enrolling in SUA. But my dream remained the same: to support Sensei's school and advance kosen-rufu in America. On the weekends, I drove students to SGI activities or took them out to lunch. When possible, Yuka and I opened our home for dinners. 
In April 2016, my long-time employer laid me off. I chanted with Yuka and quickly found a job in my line of work in Aliso Viejo, as a restaurant food distributor. Despite a big reduction in salary, we took part, as always, in that year's May Commemorative Contribution activity, burning with the resolve to show actual proof. In October, Yuka found a part-time office job, and I added a second weekend job delivering pizzas.
These were difficult days; I saw little of the children. Sofie had begun teaching herself gymnastics by surfing YouTube and was now pleading to take classes. Claire was being bullied at school and crying on the rides home. Yuhi was doing well in school and had taken up baseball. All this I knew from Yuka—the kids were sleeping when I set out each day and in bed by the time I came home. In our brief moments together, I made sure to tell them: "I'm chanting for you. Everything will be all right." But there were moments when it didn't seem that it would be. 
In May 2017, we discussed the spirit of contribution with each of the kids. What matters is your sincerity, your heart. (We gave them a couple dollars so they could do it themselves.) Despite everything, or perhaps because of everything, this remains as a joyful memory.  
The following year, Yuka got laid off, and we couldn't make the rent. It was that July, while I was at work, when we got the eviction notice. 
A senior in faith encouraged me to be in sync with Sensei, challenging me to do at least one home visit a week, chant abundantly and study Nichiren Daishonin's and Sensei's writings. That same month, Sofie's gymnastics coach (we had supported her in joining an affordable weekly class) invited her to join the U.S. Junior Olympics (J.O.) team. Saying yes to this would mean saying yes to team, membership and travel fees many times over what we were paying for her classes.
"It's her fortune," Yuka told me. "We'll find a way." 
Indeed, the woman Yuka ran personal errands for said she needed a laboratory assistant at her work. Though Yuka had never done anything of the sort, this woman trusted her to learn and offered her the job. Soon, my wife had doubled her income. Not only could we enroll Sofie in J.O., but we could send Claire and Yuhi to the SGI-USA Junior High and High School Conference at SUA, where both made many friends and came back more confident than ever.
We took every hardship as an opportunity to demonstrate to our children that these challenges are no different from any others and can be overcome with unwavering faith.
These last two years have been difficult and joyful. I was laid off yet again in 2020 but secured a new job in 2021 that provides a work vehicle, full family health insurance and great pay. During that time, Claire took up hip-hop dance and went on to join her high school dance troupe. Sofie was a California state champion and placed in the top 100 nationally for floor exercise. And Yuhi was accepted into SUA.
Faith is daily life. Since moving to the States, our biggest challenge has been financial security. We took every hardship as an opportunity to demonstrate to our children that these challenges are no different from any others and can be overcome with unwavering faith. Our children have faced their own difficulties, and will face many more, but if there is one thing I see that they have embraced for sure, it is a never-give-up spirit. Wherever they go, whatever they do, they know it is the heart of faith that assures victory.
You are reading {{ meterCount }} of {{ meterMax }} free premium articles
Subscribe for unlimited access