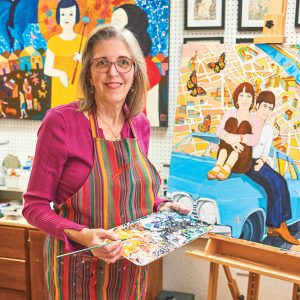 Carla Gelbaum
Moraga, California
Fine Artist
Very fortunately, I've had several pivotal encounters with Ikeda Sensei. Seeing how boldly he has lived, I vowed as his disciple to boldly live and paint too. My art depicts seemingly impossible encounters between the people and places I love and are dear to my heart. For instance, in one of my paintings in the series "Wish You Were Here," my beloved deceased mother happily joins us in a current family portrait along with a figure from the Sistine Chapel!
To start a new piece, I gather materials in my studio, such as photographs and sketches of family and travels, and then begin painting. Since the people we have known and the places we have been are always with us, my paintings meld time and space. The more I chant daimoku and share Buddhism with others, the more my creativity wells up!
---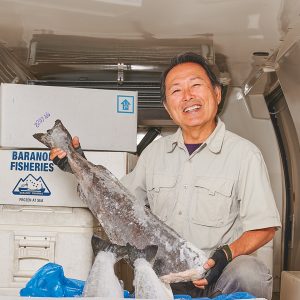 Seiichi Kawano
Palo Alto, California
Seafood Distributor
Every year is different for fish. Natural disasters, COVID-19, gas prices—these things affect prices and shipment. However, I've been in business with many of my clients for over 30 years. Due to the trust I've built with them over time, they stick with me through the ups and downs.
I mainly sell sashimi to high-end restaurants where the chefs are true professionals. But the younger chefs don't know as much about fish. They know the price and that's all. I have to teach them about the quality, why a catch transported by seaplane will keep longer and taste better than the one transported by boat.
I was once encouraged by senior in faith, "You have to help young people stand up!" Each morning, I chant to have a youthful spirit and for the success of young people, at work and in the SGI.
---
Gene Hecht
Oakland, California
Carpenter
You never know what to expect in construction. You're always building something up or taking it down. I've even had experiences where the job site suddenly floods. I chant to be ready for whatever comes and whatever is asked of me.
One of the greatest benefits working as a carpenter since 2017 has been how early my days begin. I find that when I can chant before the sun is up, I have better focus in front of the Gohonzon.
In recent years, I've developed a dream of being a filmmaker, a completely different path than what I'm on currently. I keep in mind Ikeda Sensei's guidance to climb the mountain before you. I give my all each day at work, knowing that my victory today will enable me to have the wisdom and fortune to fulfill my future dreams!
You are reading {{ meterCount }} of {{ meterMax }} free premium articles
Subscribe for unlimited access