John Di Costanzo
Savannah, Georgia  •  Bus Driver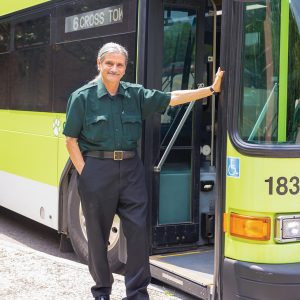 Much of my route is country back roads. I bus people from all walks of life, in all states of life, whom I've gotten to know over the years. In their own time, people open up. Listening, I'll get this feeling in my gut that tells me: This is the time. That's when I plant a seed, telling them about Nam-myoho-renge-kyo. You never know when or how that seed will sprout.
Recently, a quiet passenger who is a hardworking young woman with whom I discussed Buddhism months ago, boarded the bus and flooded me with questions about life and death. She even asked me if I had any books about Buddhism I could give her!
Chanting helps me recognize the supreme humanity in each person. It gives me the wisdom to support each person I meet on the road of life.
---
Naoko Tanaka
Atlanta  •  Restaurant Owner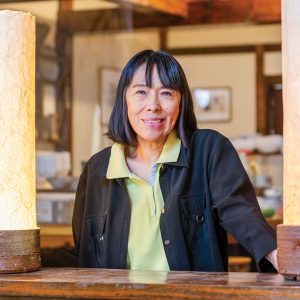 Business has been quiet for the past two years, but it's picking up again! We're back to serving lunch and dinner, and we've even had to hire new staff. My son has started helping out a lot, learning to cook, run the kitchen and manage the accounting.
As a family restaurant of 25 years, wisdom and unity are very important day to day. Staying in rhythm with one another through communicating closely is something I learned in the SGI, where we talk to one another openly about our feelings. When there's conflict between two employees, I don't just listen to one person but sit with whoever is involved and listen. This way, we don't hold onto ill feelings. I think this is why we've had regular customers for 20-plus years. When people come in, they enjoy themselves in a friendly atmosphere.
---
Nikikaya Mudd
Fayetteville, Georgia  • Appliance Repairman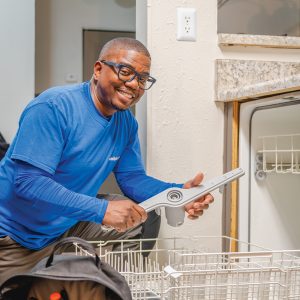 When a refrigerator leaks or a dryer stops spinning, people worry, thinking, Can I afford to fix this? I do my best to sell my services at a rate that is feasible for the person I'm working with. If all a job needs is four screws and one inexpensive part, I'll walk my customers through how to do it themselves. This means a lot to people, and it means a lot to me to see them reassured.
Recently, a gentleman stopped me on my way out the door, saying, "I want to tell you, of all the people I called, you were the only one who did not talk about money, who truly served me."
I learned the spirit to serve from Ikeda Sensei, and I've built heart-to-heart connections as a result. My one-man business has doubled over the past two years. I work each day with appre-ciation for my customers, which makes my work truly satisfying.
You are reading {{ meterCount }} of {{ meterMax }} free premium articles
Subscribe for unlimited access