Sixty-five years after second Soka Gakkai President Josei Toda founded the student division on June 30, 1957, SGI-USA members gathered for the Student Division Conference, their first at the Florida Nature and Culture Center (FNCC) in over three years. 
Inspired by Ikeda Sensei's 2019 FNCC message to the student division, in which he called upon the students to become great leaders of the world and establish peace for all people, the conference was themed "Take Flight as Great Heroes of the People Toward 2030." It marked a fresh departure for the student division, which narrowed its focus in 2019 to support students ages 18–25. Reflecting this change, the average age of conference participants was 22, and for most, it was their first time visiting the FNCC. Over the weekend, students deepened their sense of mission to win in their lives and chosen fields and to help others do the same. Sessions covered topics such as faith, practice and study; cultivating wisdom to transform society; the abolition of nuclear weapons; and Soka Spirit. Joy permeated the conference—from participants creating deep bonds of friendship and sharing with one another their hopes and dreams. 
Regarding the spirit of the student division, Sensei writes: "Whatever the age or era, students command the power to change the times. This power serves as a force for vigorously awakening society and bringing about momentous transformation" (June 2022 Living Buddhism, p. 20). From the grounds of the FNCC, the next generation of protagonists for kosen-rufu leaped forth, taking flight as great heroes of the new era.  
—Prepared by the World Tribune staff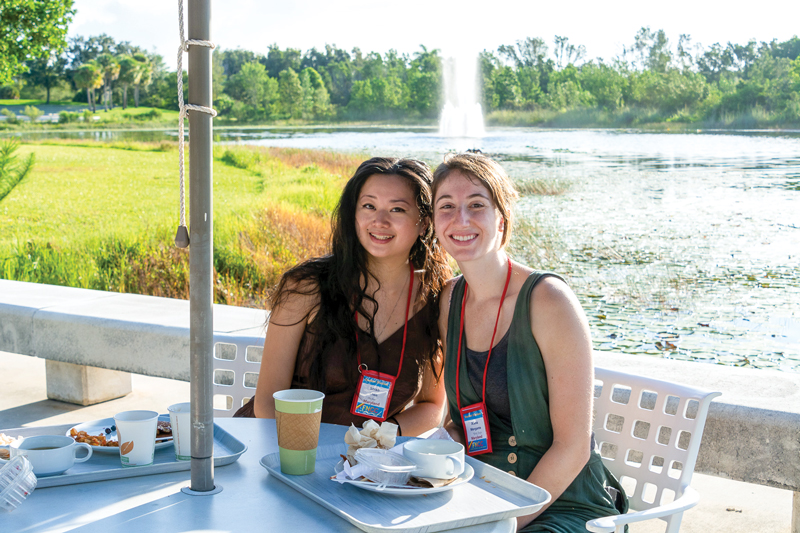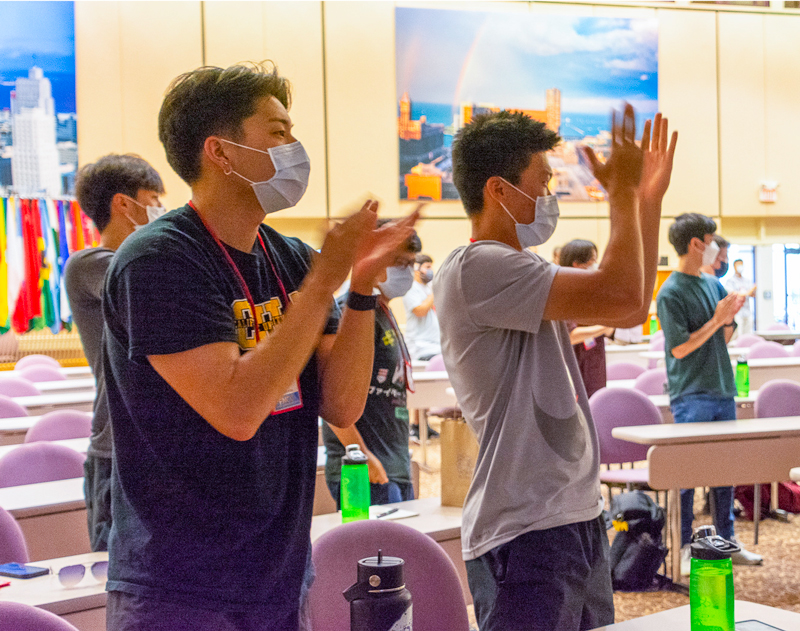 ---
Voices From the Student Division conference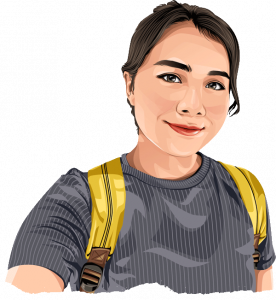 Nadia Bruhweiler
Los Angeles, Calif. 
Santa Monica College
I'm so glad that I had the amazing opportunity to meet members from across the country. Through shared struggles and dreams, we were able to bond with one another and develop close friendships as comrades in faith in such a short time. I feel that I developed long-lasting friendships. It's kind of amazing to me that students who practice Buddhism, who are accomplishing their own missions and working together toward the same goal of world peace, get to gather together in this way. 
I definitely want to establish an SGI club at my college. That is one of my main goals, so it was really helpful to get information on how to do so at the conference. I also want to eventually transfer to a university after I accomplish my goals at SMC. I struggle with getting through my classes, but I am determined to do well and transfer. It's sad that the conference participants were only together for three days, but I'm excited to see how far everyone will go until we meet up again at the next conference.
---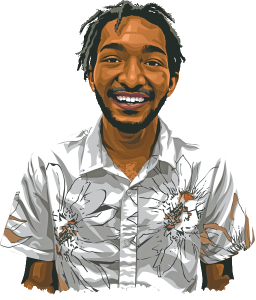 Joseph Richards
Bryn Mawr, Pa.
Rosemont College
This is actually my third conference at the FNCC! I went to two when I was in the elementary school division, but the student division conference was my favorite by far. The FNCC really feels like a second home. I'm actually planning a trip to visit some of the amazing people I met there. Everybody was so uplifting and encouraging toward one another, especially during the talent show. 
As students, many of us have concerns about the future. During the nuclear disarmament session, we discussed the future of kosen-rufu and learned that the reason there has been a lack of progress in nuclear disarmament is fear. Fear has increased the creation of nuclear warheads.
After receiving personal guidance, my biggest determination this year is to let go of resentment. I want to transform my anger toward injustice in the world into something I can use to fight for the greater good.
---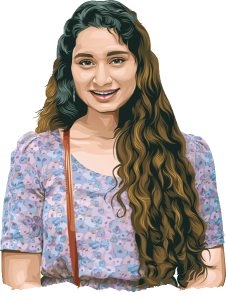 Kirtana Kumar
Sioux Falls, S.D.
Augustana University 
During a Q&A session, a senior leader explained that we should remember two things: 1) no matter how deep the suffering, it can be transformed; and 2) we can use those experiences to encourage others. This was a reoccurring theme throughout the conference. For me, knowing that I can transform every suffering, no matter how deep, was mind-blowing. 
At the previous FNCC conference I attended, I was suffering so much that all I could do was focus on the lectures. This time, I also enjoyed the camaraderie between all of the students, which made the experience so much more profound for me. 
My determination is to be accepted into a Ph.D. program in marine biology and ocean conservation this year so that I can respond to the issues Ikeda Sensei raises in his peace proposals. Over the weekend, I sent these determinations to Sensei, too! 
I am so excited to see all of my comrades, who have so much hope and the spirit of Soka, transform every field of society in the future.
You are reading {{ meterCount }} of {{ meterMax }} free premium articles
Subscribe for unlimited access