ALISO VIEJO, Calif., May 27—How do we become aware of our own unique missions in life? In the '90s, a youth posed this question to Soka University of America Founder Daisaku Ikeda. His response had an enduring impact on Edward Feasel, the president of Soka University of America: "You won't find them by standing still."
"Climb the mountain before you," President Feasel said, resuming the founder's response. "As you ascend its slopes, you will develop your muscles, increasing your strength and endurance. Such training will enable you to challenge still higher mountains. …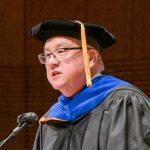 "When you reach the summit, wide new horizons will stretch out before you."[1]
It seemed a fitting message for SUA's Class of 2022, who had to surmount all the headwinds imposed by the COVID-19 pandemic to reach this summit. And, as the students venture to climb their next peak, President Feasel encouraged them to remember their days at the university and the profound belief that the founder and university hold for each of them and the contributions they will make to society in their lifetimes.
The university held its 2022 commencement ceremony on May 27 at its state-of-the-art Soka Performing Arts Center for both its undergraduate and master's candidates, who hail from 18 countries.
In a poignant message, Mr. Ikeda addressed the graduates, "the veritable treasure of humanity," saying: "Precisely because you stand today on the cusp of an arduous journey in an era of trial and turmoil, I offer these words on your departure: Summon forth resounding courage and exercise your true worth as global citizens of Soka (see full message on p. 8).
Recalling the struggle of his late friend Austregésilo de Athayde, who was instrumental in the drafting of the Universal Declaration of Human Rights, Mr. Ikeda remarked, "I cannot help but feel that his struggle [to promote spiritual bonds among the peoples of the world] sublimely overlaps with yours." He praised, too, the dauntless spirit of the ceremony's keynote speaker, Nobel Laureate Shirin Ebadi, who braved all manner of persecution to uphold respect for human dignity.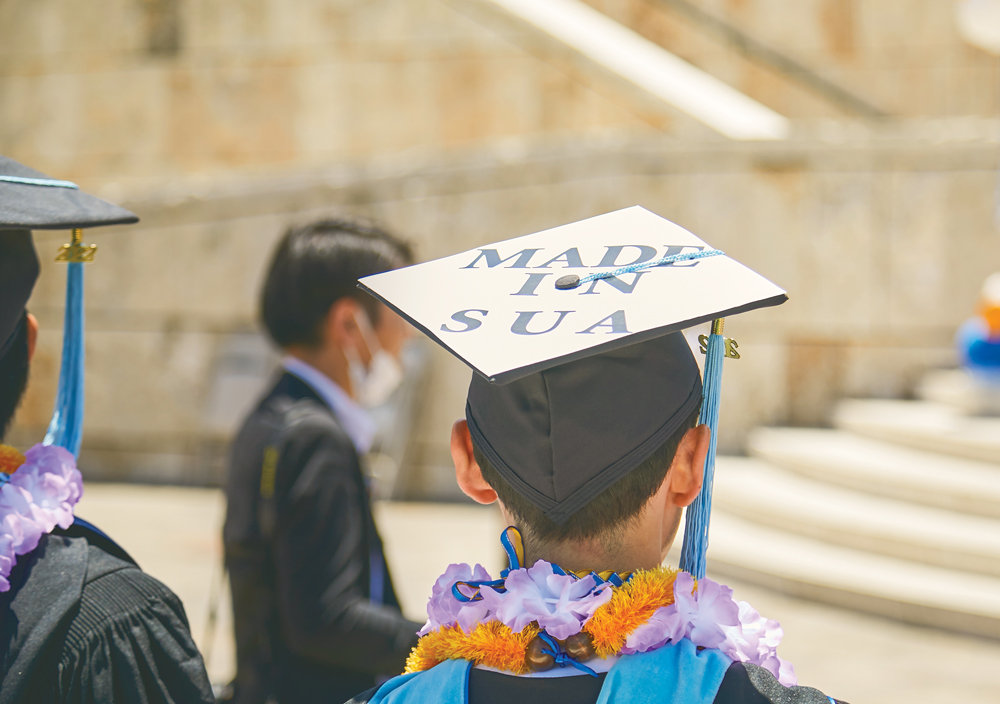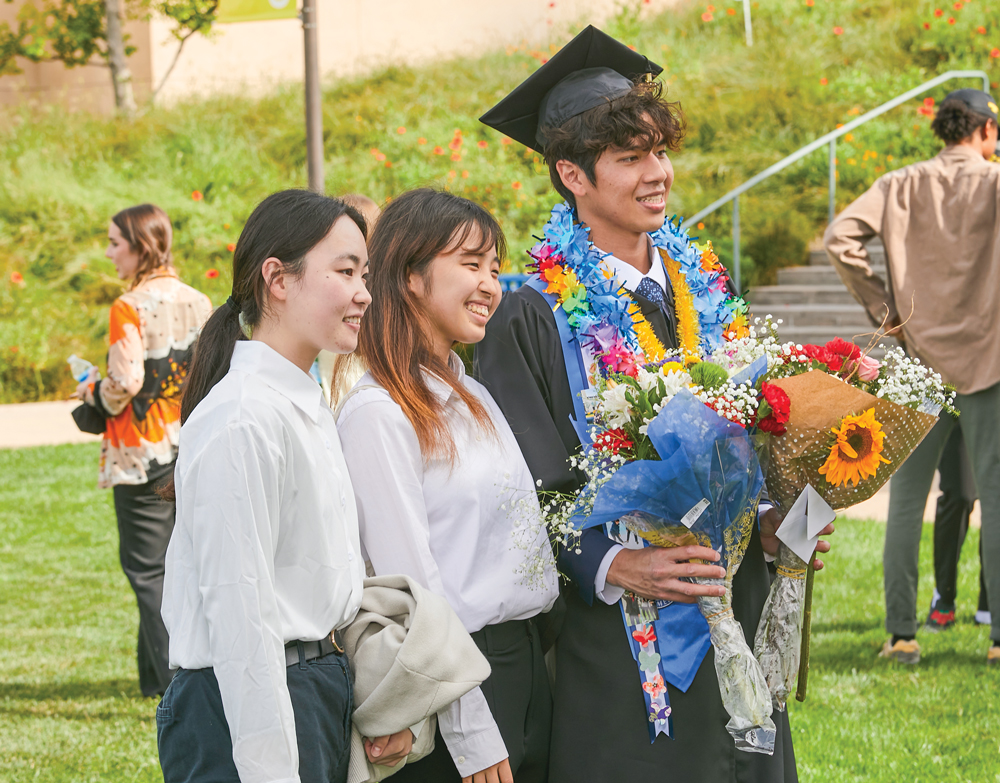 ---
'Let's be kind to each other, kind.'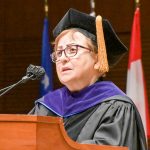 Dr. Ebadi, an exiled Iranian lawyer, writer and activist, was the recipient of the 2003 Nobel Peace Prize for her efforts to advance human rights and democracy, especially for women and children, in her home country of Iran.
For her enduring contributions, the university bestowed her with its Highest Award of Honor before she took to the podium to give the commencement ceremony's keynote address. Touching on the interrelated nature of human rights, she called on the students to be vigilant in protecting hard-earned rights of equality, since the loss of one right often jeopardizes a host of others.
Concerning refugee crises throughout the world, she warned against indifference to those unfolding in countries that have yet to inspire an international response. Lastly, she touched on the interrelatedness of global issues, as highlighted by the recent global pandemic, which demonstrated that "the health of us in America depends on the health of those in Africa or Asia." In closing, Dr. Ebadi urged solidarity with the peoples of the world.
"Let's spread friendship like the wind, let's sow the seeds of collaboration like the earth, let's give like the sun," she said. "Let's fight injustice and prejudice angrily and fiercely. Let's be kind to each other, kind."
Soka Institute for Global Solutions launched.
In June 1996, Mr. Ikeda spoke at length on global citizenship in his lecture "Thoughts on Education for Global Citizenship" at Teachers College, Columbia University, in New York. In his address, he outlined its interlocking features and requirements: compassion, wisdom and courage.
He proposed that education that cultivates these qualities in human beings can serve a deeper purpose—to further the cause of human happiness and peace not just for citizens of one nation, but for all humanity.
With this profound insight and vision, Mr. Ikeda established Soka University of America on May 3, 2001, as a four-year, nonsectarian, nondenominational undergraduate liberal arts school grounded in the humanistic ideals of Soka, or value-creating education. Its foundational mission: to "foster a steady stream of global citizens committed to living a contributive life."
SUA last year marked its 20th anniversary as a liberal arts institution that champions education for global citizenship by naming its undergraduate program Daisaku Ikeda College. The university's board of trustees also established the Daisaku Ikeda Endowed Chair to support faculty excellence—the first of its kind for the school.
In an extension of that vision, the university recently announced the Soka Institute for Global Solutions, a research institute with the mission of growing a network of people imbued with the virtues of global citizenship and helping solve global problems (see p. 9).
Today, SUA ranks No. 29 among National Liberal Arts Colleges, No. 1 in Study Abroad, No. 2 in Ethnic Diversity and No. 13 in Best Value Schools, according to the U.S. News & World Report's "Best Colleges 2022."
'We Walk for the Classes of 2020 and 2021.'
After two years of pandemic conditions that prohibited in-person ceremonies for the graduates of 2020 and 2021, the students were called onstage, to uproarious applause, to receive their degrees. Decked in leis, sporting flowers, sequins and mottos on their caps, the students waved vigorously, blew kisses, even dedicated dance moves to hoarsely cheering friends and family.
This year's class glowed, not only with the pride of their hard-fought victory but also with a sense of responsibility to those with whom they weathered global upheavals and personal loss. Indeed, in the brief interlude between the conferral ceremonies for the graduate and undergraduate classes, a group of students jogged across the stage holding aloft a banner reading "We Walk for the Classes of 2020 and 2021."
Founder's Award Recipient Subina Thapaliya expressed her gratitude to the school and to Mr. Ikeda for the opportunity to attend SUA. Born into poverty in southern Nepal, Ms. Thapaliya recalled a story from a book given to her by her father at the age of 12, titled Niti, in which a boy named Chenakya, orphaned by political and social turmoil, flees his village in search of education. In time, Chenakya becomes a royal advisor and overthrows a tyrant who is wreaking havoc on the kingdom. 
"Chenakya's story left a long-lasting impression on me," said Ms. Thapaliya. "I began envisioning the pursuit of wisdom and knowledge as tools to bring transformation into my own life and the lives of the people around me."
Now pursuing a master's in global development policy, she looks forward to using what she has learned and will learn to create value for the people of her home country. "My journey from making wishes for the miraculous disappearance of suffering and hardship around me to feeling empowered to take actions to contribute to solving social challenges around me has been truly profound," she said. 
Striving against the headwinds, these global citizens of Soka take flight on the wings of their missions, on the warm winds of friendship.
—Prepared by the World Tribune staff
References
Discussions on Youth, p. 10. ↩︎
You are reading {{ meterCount }} of {{ meterMax }} free premium articles
Subscribe for unlimited access