by the SGI-USA Future Division Leaders
Commemorating the day Ikeda Sensei attended his first Soka Gakkai meeting, over 1,500 SGI-USA elementary school division (ESD) members, as well as their friends, families and supporters, gathered on Aug. 14, 2021, for the second National Elementary School Division Conference, overflowing with hope for the future.
The virtual meeting, themed "Trailblazers of Hope: My Adventure Toward 2030," was filled with the bright, smiling faces and lively voices of ESD members throughout the country, including Guam and Puerto Rico.
In a moving message, Sensei shared the following passage from Nichiren Daishonin's writings: "A sword is useless in the hands of a coward. The mighty sword of the Lotus Sutra must be wielded by one courageous in faith" ("Reply to Kyo'o," The Writings of Nichiren Daishonin, vol. 1, p. 412).
He continued:
This Buddhism, which you have encountered at such a young age, is your "invincible sword." It is the greatest power for breaking through the darkness of all hardships and opening up a marvelous and victorious springtime of youth. No matter what happens, do not be discouraged and decide to never give up as you chant Nam-myoho-renge-kyo like a roaring lion. And advance ever forward with this youthful and courageous life force. This is the way to make your treasured sword shine brilliantly.
The national and territory future division[1] men's and women's leaders prepared for the meeting for several months, with behind the scenes support from future division leaders across the country, who ensured its total success.
Their shared spirit: To help ESD members and their friends learn more about our kosen-rufu movement and Sensei's ongoing efforts for world peace.
With this in mind, the ESD members created a special video to welcome their new friends and introduce them to Buddhism. ESD members Mika Marcos, of California, and Kalani Gordon, of Texas, emceed the meeting live and joyfully tied everything together, while Mettie Ngo, of Texas, and Masao Beber, of California, read Sensei's message to all the participants.
Fourth grader Masami Umehara, of New York, spoke powerfully about how she challenged her sadness and lack of confidence through faith. Through her breakthrough, she developed the conviction to clean up her local beach and give a presentation to her classmates on the issue of ocean pollution.
The ESD participants were encouraged to make the most of their summer through deepening their friendships, engaging with good books and participating in the national ESD virtual art show, which opened on Aug. 24.
Since the conference, over 100 ESD members have submitted their artwork to be displayed as an expression of their hope for the future (click here to view the exhibit). Many future division members have also participated, sharing breakthroughs that range from excelling in school, winning in extracurricular activities and engaging more in their local organizations.
After the conference, Wataru Iwasaki, of Hawaii, decided to attend his SGI-USA district meeting for the first time to share his experience, while second grader Hiroki Aggarwal, of Texas, said that he is now determined to chant every day.
Inspired by the sincere expressions of the ESD members, the future division and parents group leaders are determined to more fully support their advancement toward 2030 by visiting each boy and girl in the coming months.
Our sincere appreciation goes out to all the members of the SGI-USA, who are tirelessly working behind the scenes to support the members of the future division!
---
Voices From the ESD Conference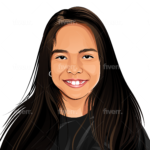 Kimlen
I have really good ideas, but the kids in my neighborhood keep ditching me. That's why I started learning gongyo with my mom and chanting for good friends. A few months ago, I saw some neighbor kids at their house, dancing around. One of them just came out in front of me and asked if we can be friends. "OK," I said. That's the power of chanting.
On the day of the meeting, she and her sister came over and we watched the ESD meeting together—our favorite part was the dancing.
This year, I'm going into third grade, and while my new friend goes to a different school, I'm not nervous at all about making new friends. All I am nervous about is that the math is gonna be hard. But chanting with my mom reminds me I can do anything.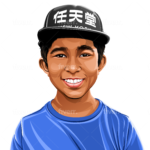 Masaki
My little brother, Paxton, joined the ESD meeting with me. He's 4, so this was his first ESD meeting. I enjoyed doing fun activities with him like the dance at the beginning and end! My favorite part was probably seeing kids the same age as me from around the country, especially my best friend, Nobuki!
One girl shared about how chanting helped her believe in herself. Sometimes, I don't believe in myself when doing a really hard activity. The meeting made me want to chant every day so I can believe in myself and get good grades at my new school.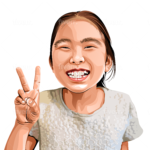 Lisa
I liked Ikeda Sensei's video. When my mom joins her meetings, I listen in the back and sometimes watch Sensei's video, so that's why I liked it.
Right now, I am chanting 5 minutes in the morning and afternoon. In August, I joined a Soka Family Day meeting, and this girl who is 10 years old like me said she was chanting 5 minutes in the morning and afternoon. At that time, I thought I should do it too, so I started. I'm chanting about world peace, and also, last week I started fifth grade, so I'm chanting that fifth grade will go nicely.
References
The future division comprises members in elementary school, and junior high and high school. ↩︎
You are reading {{ meterCount }} of {{ meterMax }} free premium articles
Subscribe for unlimited access