At the 63rd Annual Grammy Awards Show held on March 14, 2021, SGI-USA men's division member John Beasley, of Venice, California, received four nominations and won Best Arrangement, Instrumental Or A Cappella for his arrangement of the jazz standard "Donna Lee." Mr. Beasley is a multi-Grammy and Emmy-nominated pianist, composer, arranger, producer and music director with an extensive body of work in jazz and other genres, television and film. The World Tribune spoke with him about life as a musician and a Buddhist.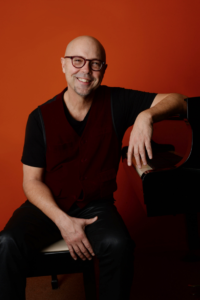 World Tribune: A big congratulations to you, Mr. Beasley, on your Grammy win! How did you develop a love for music?
John Beasley: Thank you! It's an honor just to be nominated. This was my first win after nine nominations, so it was especially emotional.
Growing up, I would wake up to my dad practicing the piano or bassoon before he would go to his day job as a professor of music. When my parents couldn't get a babysitter, they took me to their gigs and placed me in the first row of the balcony so they could keep an eye on me from the pit while they were playing. My mother played brass instruments. I'm lucky to have been around music while growing up. Music chose me.
On the morning of the Grammys, as I chanted Nam-myoho-renge-kyo, I started thinking about my musical family legacy. My parents were both music educators and professional musicians. My grandfather was a touring trombonist back in the 1920s. I thought about how that DNA passed to me and also thought about the music teachers and mentors who played a part in shaping me. I wanted this sense of gratitude to guide me during the tense moments to come. And, I resolved that if I won, any recognition I received would be for them.
WT: What part has Buddhism played in your musical work or creativity?
Beasley: In 2009, I was in London with my quartet with jazz greats Buster Williams and Bennie Maupin (who are both SGI-USA members). They chanted before the first concert, so I asked if I could join them. I felt invigorated afterward and asked to chant with them again the next day, and then the next. Shortly after, I got connected to the SGI organization in Los Angeles and received the Gohonzon. I haven't stopped practicing since, and my life has totally changed.
WT: How so?
Beasley: Buddhism has led me on quite the journey. I've developed faith in myself—in my innate Buddhahood. As a musician, I face many ups and downs, so learning about the Buddhist concept of the eight winds was profound for me. It taught me not to be swayed by setbacks or success.
Last year, my third record in a trilogy project was released right in the middle of the COVID-19 pandemic. The tour that followed the album release was cancelled, along with other concerts, including a headliner at the Hollywood Bowl and five tours with various projects in Europe. It would've been one of my busiest years performing and recording, but the pandemic interrupted all plans.
Rather than being paralyzed, I asked myself, What can I create out of this? My Buddhist practice gave me confidence in my ability to pivot in an instant and take action. New opportunities came: I helped shape and taught a young jazz band on Zoom, did a few virtual concerts, took a slower pace writing several commissions and enjoyed time at home after a career of traveling nonstop.
WT: What are you working on now?
Beasley: My band MONKestra is looking forward to performing in person as soon as we can. I also have a project, Bird, coming out in the fall with Stuttgart's radio orchestra, the SWR Big Band, honoring the 100th anniversary of Charlie Parker's birth. "Bird," as he was known, is one of the "godfathers" of jazz. Toward the end of Bird's life, he started studying classical music and wanted to play with orchestras. My new project is the reimagination of some of his iconic music—maybe in ways he may have taken it.
WT: That's incredible! What is your ultimate goal or dream as an artist?
Beasley: Rather than just be concerned about myself, Buddhism has taught me to care about and chant for the happiness of others. Sometimes I chant that my explorative music will open up hearts and minds and help people have a wider perspective—to see their own lives and opinions a little differently and be more inclusive of others.
WT: Any parting thoughts?
Beasley: Still after all these years, I'm chanting to be more aware of Buddhism in every realm of my life. Not just when I'm in front of the Gohonzon or when I need it most. I'm chanting for awareness in both good and bad times—in every aspect of life—to be less reactive to challenges and more graceful in my demeanor and in conversations with people—to listen more rather than interrupting and letting my ego show its unnecessary presence. That's something I'm working on right now.
I'm determined to keep finding opportunities to share the Mystic Law through the music that I make with people across the world.
You are reading {{ meterCount }} of {{ meterMax }} free premium articles
Subscribe for unlimited access