Ikeda Sensei has had dialogues with leading figures throughout the world to strengthen and advance the path to peace. To date, 80 of his dialogues have been published in book form. This new series highlights one dialogue a month.
The following excerpts are from Peace, Justice, and the Poetic Mind (pp. 150–53), a dialogue between Stuart Rees, the former director of the Sydney Peace Foundation and professor emeritus at the University of Sydney, and Daisaku Ikeda.
The Courage to Hope
Stuart Rees: I have … benefitted from the impact and inspiration gained from reading and pondering excellent poetry and literature. For example, [Marianne] Moore wrote another poem in which she imagines how a caged bird can sing:
Though he is captive,
his mighty singing
says, satisfaction is a lowly
thing, how pure a thing is joy.
This is mortality,
this is eternity.[1]
From this poem, I feel strongly the message that hope can be conjured even under the most trying circumstances. But I know that I'm a fortunate citizen who has enjoyed rewarding employment. I'm not poor, sick and unemployed. Conjuring hope under difficult circumstances is a much greater challenge.
There is someone I respect who promoted this understanding and who for many years was an active and significant citizen in Australia. I'm referring to the late Dr. Stella Cornelius, the founder of the Conflict Resolution Network, which was established in 1986 with the support of the United Nations Association of Australia. She lived and breathed the principles of nonviolence. Until her dying day—she passed away at the end of 2010—she taught the principles of conflict resolution, mostly by example.
Dr. Cornelius was efficient and generous, and never spared herself in working on others' behalf. The work of Dr. Cornelius and of Faith Bandler, who led the campaign to ensure that Aboriginal Australians became citizens, was acknowledged by President Nelson Mandela when he visited Sydney. In the corridors of The University of Sydney's Centre for Peace and Conflict Studies, there is a happy photograph of Nelson Mandela embracing these two great women.
Dr. Cornelius had a habit of encouraging people to say and rather than but, as if the optimism that follows and is more likely to solve conflicts than the pessimism often introduced by the word but.
Daisaku Ikeda: As you say, one often hears people say things along the lines of "I can understand the importance of world peace, but it will be difficult to achieve." Implied in qualifiers such as "but" in statements like this is a feeling of resignation and acceptance of the status quo. On the other hand, if one were to say, "World peace is necessary, and to this end, let us create a solidarity of ordinary people that transcends national borders," within the word "and" lies the courage and conviction to advance, even a little, to change things for the better while remaining mindful of the difficulties.
As for the youth who must bear the 21st century on their shoulders, my hope is that they will persist upon the latter path—to embrace a challenging yet supremely meaningful life. I encourage them to engage others in dialogue, live out their lives among the people, and persevere in the struggle for peace to the very end. There is no other way. With this wish, I wrote the following in a poem titled "Dance of Youth, Song of Youth":
Knowing no limitation,
within your breast
lives the vivid heartbeat
of your struggle.
Within that sturdy beat
lies the power
to shatter all constraints.
You have the belief and courage
that will enable you, calmly, to transform
even the stifling embrace of the crowd—
even the suffocating, frosty embrace of cunning—
into flames
that will blaze a trail.[2]
My mentor often used to ask: "What does it mean to be young if you cannot make a difference? What does it mean to live if you do not add a chapter to history? Achieve something! Leave something worthy behind!"
It is my abiding wish that young people will come together, and that this united community will vigorously expand to build a world where the dignity of all people can shine, where all may live in peace and happiness. Young people have a crucial role to play.
---
Stuart Rees
October 9, 1939–
Notable Achievements
• Founded in 1998 the Sydney Peace Foundation, which promotes peace, justice and nonviolence.
• Authored a number of books on social justice and human rights, including his most recent book, A Lover's Country (2016).
• Worked in community development in India and Sri Lanka and has taken part in peace negotiations in various parts of the world.
---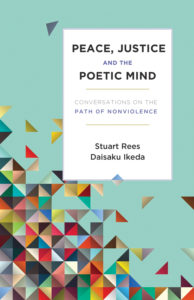 This book is available at bookstore.sgi-usa.org
You are reading {{ meterCount }} of {{ meterMax }} free premium articles
Subscribe for unlimited access