In a socially distanced, dignified and moving tribute on May 3, Soka Gakkai Day, the Northern California city of Oakland declared that the two-block stretch of Opal Street in front of the SGI-USA Oakland Buddhist Center be given a second name: "Daisaku Ikeda Way."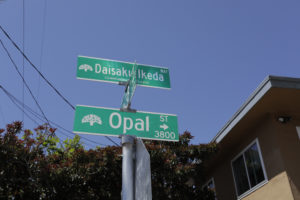 District 1 Councilmember Dan Kalb, who served as the keynote speaker for the unveiling ceremony, attended by representative SGI-USA members, called the SGI-USA Oakland Buddhist Center an integral part of the Opal Street neighborhood and said that the community appreciates its presence, as does he.
The councilmember went on to share his own profound connection to the SGI. When his father died 20 years ago, his stepmother began searching for a community that she could call her own. She found one in the SGI after being introduced to a local district in Los Angeles.
Mr. Kalb blinked back tears as he expressed how much the SGI community meant to his stepmother and how much he and his family appreciated the support of the members when she passed away at age 89. "They were there for the family," he said. "I really felt a sense of community, care and love, and that meant a lot to us."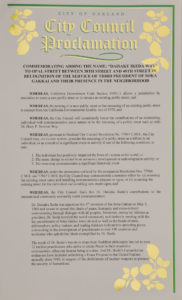 The City of Oakland presented a proclamation recognizing May 3, 1960, when Ikeda Sensei was appointed the third Soka Gakkai president and "vowed to spread the ideals of peace, humanity and cross-cultural understanding through dialogue with all peoples." The award also acknowledges the more than 1,000 SGI members in Oakland and thousands more in the Bay Area who are upholding this same vow today.
Other guests who joined the event were Richard Valle, of the Alameda County Board of Supervisors for District 2; Oakland School Board Director Sam Davis; and city staff representatives from the Department of Transportation and the office of Councilmember-At-Large Rebecca Kaplan.
In the spirit of fostering successors, elementary school division member Angel Malik shared closing words. Angel said he chose a quote for the occasion that reminded him of what the SGI, Ikeda Sensei and Buddhism try to teach people about "how we should live as fellow human beings." It was a message of peace from King T'Challa in the superhero film Black Panther:
We will work to be an example of how we, as brothers and sisters on this earth, should treat each other. Now, more than ever, the illusions of division threaten our very existence. We all know the truth: More connects us than separates us. But in times of crisis the wise build bridges, while the foolish build barriers. We must find a way to look after one another, as if we were one single tribe.
"Thank you, Oakland!" Angel concluded. "And remember: Be safe, have a beautiful day and Nam-myoho-renge-kyo."
—Prepared by the World Tribune staff
You are reading {{ meterCount }} of {{ meterMax }} free premium articles
Subscribe for unlimited access