WASHINGTON, D.C., April 10—The American Educational Research Association (AERA) bestowed upon Daisaku Ikeda the Ella Baker/Septima Clark Human Rights Award during its annual conference, held virtually this year.
The award, issued by Division B (curriculum studies), recognizes Mr. Ikeda's decades of tireless effort in the areas of peace building, human rights and education in schools and society.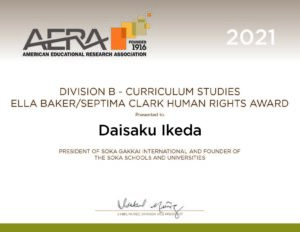 AERA, a national research society founded in 1916, aims, in part, "to promote the use of research to improve education and serve the public good."
The award memorializes two giants of the Black Freedom Movement: Ella Baker, the founding mother and inspiration behind the Student Nonviolent Coordinating Committee, and Septima Clark, the education director of the Highlander Folk School. Each was a teacher, community educator, tireless behind-the-scenes organizer and curriculum maker determined to build the bond between education and human freedom.
In his acceptance message, Mr. Ikeda expressed that there could be no greater honor than to receive the award that bears the names of two outstanding women and standard bearers of education and human rights. "Both placed deep and abiding trust in young people; their love for youth knew no bounds," he wrote. "Offering my wholehearted respect to these two remarkable leaders, I wish to humbly accept this honor alongside the young people who, as successors to the heritage of soka or value-creating education, are putting its ideals into practice in the United States, Japan and throughout the world."

During the ceremony, the award committee chair, Jason Goulah, said the committee's unanimous decision sought to recognize "Mr. Ikeda's human rights-focused approach to resolving global issues, his commitment to human rights education through the United Nations and the Soka institutions and organizations he has advanced, and his unwavering belief in the unlimited power of civil society and particularly youth to pioneer a better age."
Building a culture of human rights, Mr. Goulah said, has been a central theme in Mr. Ikeda's decades of peace and education proposals, and his more than 80 published dialogues with leaders in the fields of peace, culture and education. He noted Mr. Ikeda's dialogue Human Rights in the Twenty-First Century with Austregésilo de Athayde, who was instrumental in drafting the Universal Declaration of Human Rights, and America Will Be!, Mr. Ikeda's dialogue with civil rights pioneer Vincent Harding, who, incidentally, received the AERA award in 2010.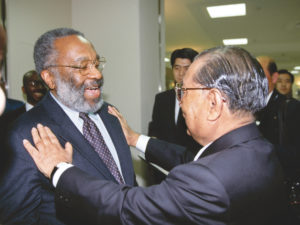 "It is fitting that Ikeda and Harding discuss Ella Baker and Septima Clark in their dialogue, with Ikeda especially praising Ella Baker's 'absolute, unwavering trust in the youth'" (p. 70), Mr. Goulah said. "Emphasizing the kind of empowerment and awareness raising that can restore dignity to all people and build a pluralist and inclusive society, these proposals and dialogues—and indeed all of Mr. Ikeda's work—can be read as a curriculum for human rights and human rights education."
Mr. Ikeda founded the Soka schools and universities—including Soka University of America in Aliso Viejo, California, which celebrates its 20th anniversary as a four-year liberal arts undergraduate school this month—to deepen young people's commitment to cultivating the wisdom, courage and compassion necessary to usher in a new era that upholds the dignity of life.
—Prepared by the World Tribune staff
You are reading {{ meterCount }} of {{ meterMax }} free premium articles
Subscribe for unlimited access