ALISO VIEJO, Calif., May 2, 2021—Soka University of America's Aliso Viejo campus marked its 20th anniversary as a liberal arts institution that champions education for global citizenship by naming its undergraduate program Daisaku Ikeda College.
The university's board of trustees also established the Daisaku Ikeda endowed chair to support faculty excellence—the school's first endowed chair of its kind.
The naming of its undergraduate program follows the tradition set by other American institutions that have paid tribute to individuals whose contributions have greatly influenced the school's vision and development, including Pepperdine University's Seaver College and the University of California San Diego's Eleanor Roosevelt College.
Stephen Dunham, the board's chairperson, said the university would not have been possible without its founder, Mr. Ikeda, and it was with this acknowledgement that the name was bestowed upon the liberal arts program. "The board sees these actions as a special and meaningful acknowledgement of Mr. Ikeda's foundational leadership and the fundamental role he has played in making SUA so successful," he said.
The announcements were made during SUA's virtual anniversary celebration, which was viewed by students, faculty, alumni, donors and other supporters around the world on May 2, the eve of its 20th anniversary.
In congratulatory remarks sent to the event, Mr. Ikeda noted that Soka University of America is receiving praise as a model of education for global citizenship. "SUA's mission to challenge and build a century based on the sanctity of life with an unwavering philosophy and solidarity is growing," he continued. "With the next 10 years as a goal, please build a new history of value creation for SUA based on strong bonds. Together, let's emit the eternal 'light of hope' in the future of our community!"
The Courage Not to Deny Difference
SUA President Edward M. Feasel addressed the international audience, speaking of the current state of the world. "I believe the ethic of global citizens that SUA embraces and champions is what is most needed in society," he said. Inspired by the SUA founder's vision of global citizenry, President Feasel imparted this call to action: "Let us each continue to develop in our lives the courage not to deny differences but to learn from and celebrate them. Let's set the example and share with the world that each person's lived experience serves as an equally rich opportunity for us to expand our knowledge and love for humanity through celebrating and learning from the diverse identities in the world."
Honoring this spirit of human harmony, SUA presented former U.N. Under-Secretary-General Anwarul K. Chowdhury the inaugural Soka Global Citizen Award for his "life's work and achievements for peace, women's rights and equality, and for the cause of the world's poorest and most disadvantaged nations."
In his acceptance remarks, the ambassador said the award symbolizes his lifelong work for the good of humanity. "I pay my respectful tribute and endless gratitude to the founder of the university, Dr. Daisaku Ikeda, for his vision, for his philosophy that inspires SUA," he said, "while the world benefits from the commitment and dedication of its students, past and present."
About Soka University of America
In July 2001, The New York Times reported on "an architectural and educational marvel reach[ing] skyward above the Pacific, waiting to spring to life."[1]
A month later, Soka University of America, the first liberal arts college to be built in California in over two decades, welcomed its first class of 120 students from 18 countries and 18 U.S. states.
The significance of the nonsectarian four-year liberal arts school, founded on May 3, 2001, by Daisaku Ikeda and dedicated to educating global citizens, was perhaps best crystallized in a note that physicist and Nobel Peace Prize laureate Joseph Rotblat wrote to the founder: "Your dream has come true."[2]
The need for a university grounded in the Buddhist principles of peace, human rights and the dignity of life was tragically underscored a month after classes began, when the the Sept. 11 terrorist attacks shook the nation to its core.
In a message immediately following the attacks, Mr. Ikeda wrote that humankind would never see the light of peace as long as one party sought to subjugate the other by force, "both sides caught in a vicious cycle of reprisals":
The importance of dialogue cannot be overstated. Nothing must be allowed to impinge upon its free exchange. For unless we put an end to an era dictated by sheer force of arms, the 21st century will be no different from the 20th, and we will regress once more into a century of war.[3]
While these words ring true even more so today, the university has produced nearly 1,500 alumni, from some 60 countries, who are heeding the founder's call to live as conscientious citizens of the world.
Global Citizens Committed to Living a Contributive Life
SUA has distinguished itself among liberal arts colleges by offering an 8:1 student-to-faculty ratio and study abroad for every undergraduate student. In 2014, it added a master's program in Educational Leadership and Societal Change.
U.S. News & World Report's "Best Colleges 2021" ranked SUA No. 28 among national liberal arts colleges. The school tied with four other institutions, including Scripps College and the United States Air Force Academy. SUA also came in fourth among liberal arts colleges in California.
Toward the 20th anniversary, SUA began focusing ever more deeply on its mission statement "to foster a steady stream of global citizens committed to living a contributive life."
In June 1996, Mr. Ikeda outlined three qualities of global citizenship during his speech at Teachers College, Columbia University, offering a universal lens from which people could both perceive a harmonious world and act to achieve it. They are:
• The wisdom to perceive the interconnectedness of all life and living.
• The courage not to fear or deny difference, but to respect and strive to understand people of different cultures and to grow from encounters with them.
• The compassion to maintain an imaginative empathy that reaches beyond one's immediate surroundings and extends to those suffering in distant places.[4]
For SUA student Biplab Karki, the decision to start college at 23 was not easy. He was already working to end gender-based violence in his home country of Nepal. "I was looking for colleges whose mission was related to creating more equitable and peaceful societies," he said in a video message for the event. "That was when I found Soka."
After Mr. Karki graduates next year, one of his more immediate goals is to enable young survivors of gender-based violence to receive quality education. With the money he earned as a student technician, he, along with some friends, recently started a young survivor's education fund. Among the recipients is a young woman whose family was forcing her to get married at 16. She is now pursuing her bachelor's degree in economics.
"I think you reach a point in your life when somebody else's achievements make you way happier than your own achievements," Mr. Karki said. "I am forever grateful to Soka's education, which is not only impacting the lives of its students but also many others."
—Prepared by the World Tribune staff
Visit www.soka.edu to learn more about the university and its mission.
---
On The True Value of Education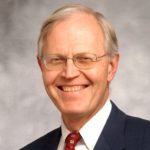 Stephen Dunham
Chairperson, Soka University of America Board of Trustees
As a lawyer, I was involved in the establishment of Soka University of America since around 1992, and I have served on the board of trustees since the Aliso Viejo campus opened in May 2001. In just 20 years, SUA has not only established itself as an educational institution but also has developed into one of the top liberal arts universities in the United States. This is a miracle.
What is the foundation of a university? In my view, it is its founding philosophy. The true value of education lies in the extent to which a university has realized its philosophy. What impressed me most about SUA's founding philosophy is its pioneering vision of fostering global citizens. I don't know any other university that had such a vision back then.
Its student-centered and international approach is also very attractive. And most importantly, at the root of everything, lies the consistent objective, world peace. Because of its founding philosophy, SUA is the preeminent university in the United States.
Today, a maelstrom of social divide exists around the world, including in America. SUA, where half the student body hails from various countries, has a mission to create new values for dialogue and cooperation.
In 2004, I had the opportunity to meet with the university founder, Dr. Daisaku Ikeda, in Tokyo. At first, I was nervous that our conversation would focus on various instructions regarding university management, but I was wrong. He was interested in me. Dr. Ikeda also took good care of my wife, and we enjoyed a relaxing visit, like family. I was overwhelmed by his eagerness to understand others and his intellectual curiosity. I think I saw in his humanity an example of global citizenship.
SUA is supported by many sincere donors around the world who embrace Dr. Ikeda's ideal. This global network is the true "miracle" of SUA.
Last year, a new concentration, life sciences, was launched, and the number of students is expected to increase in the future. We take pride in our founding philosophy and aim to be the best in everything.
Stephen Dunham graduated from Yale Law School in 1969. He has served as chairperson of the international law firm Morrison & Foerster, a member of the board of directors of both the American Judicature Society and the National Association of College and University Attorneys, and chairperson of the board of trustees for Soka University of America. He was vice president and general counsel at the University of Minnesota and Johns Hopkins University before joining Pennsylvania State University as vice president and general counsel.
You are reading {{ meterCount }} of {{ meterMax }} free premium articles
Subscribe for unlimited access