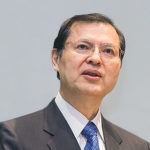 Volume 30 of The New Human Revolution consists of six chapters: "Great Mountain," "Awaiting the Time," "Launching Out," "Bells of Dawn," "Cheers of Victory" and "Vow."
Set in 1979, the "Great Mountain" chapter provides insight into Shin'ichi Yamamoto's mind as he strives to advance kosen-rufu in the face of the first priesthood issue. It also describes how, on May 3 and 5 [soon after announcing his resignation as Soka Gakkai president], he inscribes four pieces of calligraphy: "Great Mountain," "Great Cherry Tree," "Shared Struggle" and "Justice."
These calligraphies were not made public until many years later. "Justice" was first shared with Soka Gakkai members in October 2004, 25 years after it had been inscribed, and "Shared Struggle" was shown in April 2009.
"Great Mountain" and "Great Cherry Tree" were introduced at the headquarters leaders meeting in June 2010. This meeting came to mark an important milestone for Ikeda Sensei's disciples, as he deliberately chose not to attend the gathering in person.[1] Instead, he requested that these two calligraphic works be shared with the members for the first time and sent a message: "Now is the time for me to put the finishing touches to my work and leave everything to you."
Beneath the characters for "Great Mountain" Shin'ichi had written an inscription that reads: "My friends, I pray that your faith / will remain unshaken by any storm." Indeed, the piece pulsates with the Soka Gakkai spirit of "remaining as unflinching as a great mountain in even the fiercest storm."
In addition, an inscription underneath the characters for "Great Cherry Tree" reads: "With prayers that our members / will enjoy a glorious flowering of benefit." As described in the "Great Mountain" chapter, Shin'ichi seeks to encourage the members with the conviction that "No matter what trials beset us, the Buddhist law of cause and effect is absolute. Please advance with the Great Cherry Tree of Soka ever in your hearts!"
In the same chapter, he declares:
The true test for disciples is not when they are striving while receiving daily guidance and instruction from their mentor. That's a period of training. Their real test is when their mentor is no longer directly taking leadership. … Stand up resolutely in my stead! You must each become a "Shin'ichi"![2]
Now is the time to rise up with the awareness that "I am Shin'ichi Yamamoto." With faith as unshakable as a great mountain, this is the moment for each of us to bring that great cherry tree to full blossom—symbolizing the victory of kosen-rufu.
Buddhism Is About Winning
The "Awaiting the Time" chapter was serialized in the Seikyo Shimbun from March to June 2017, during which Ikeda Sensei was visiting numerous Soka Gakkai centers across Tokyo to encourage the members.
Set in the months following his resignation as third president in April 1979, the chapter itself illustrates Shin'ichi's efforts to visit and encourage members in Tokyo. It also describes a scene during the headquarters leaders meeting held that November at the Toda Memorial Auditorium in Tokyo, in which, for the first time since his resignation, he leads participants in a Soka Gakkai song. As he does so, his heart is calling for the members in Tokyo, and indeed everywhere, to rise up and take action.
The installment carrying this scene was published on April 26, 2017. On that day, Ikeda Sensei made his 66th visit to the Toda Memorial Auditorium. There, in the hall adorned with portraits of the first two Soka Gakkai presidents, he chanted for the victory, happiness, good health and safety of all the members.
In the "Awaiting the Time" chapter, we also find the following:
Buddhism is about winning. That is why it is our mission and destiny to achieve victory in the struggle for kosen-rufu, no matter how many obstacles we encounter along the way.[3]
In light of this, let us strive to reach out to friends who are struggling and do our best to offer encouragement and support.
Toward Our Centennial
June 6, 2021, marked the 40th anniversary of the Day of Mentor and Disciple for Europe. Members from more than 30 countries across the continent joined an online European Vow Meeting held on this date. Their singing of Beethoven's "Ode to Joy" as part of the celebrations have spread ripples of hope to members throughout Japan and the world.
The "Bells of Dawn" chapter details the origin of the Day of Mentor and Disciple for Europe. On June 6, 1981—the anniversary of the birth of founding Soka Gakkai President Tsunesaburo Makiguchi—Soka Gakkai members gathered for a summer training course at the European training center in Trets, France.
I would like to suggest that we designate this profoundly significant day as "Europe Day" and make it a milestone we aim toward each year—a commemorative day on which we vow together to advance anew. What do you say?[4]
During 1981, Shin'ichi makes a number of trips outside Japan to meet and encourage members. From January to March, he travels across North and Central America, and from May to July, he visits the Soviet Union and Europe, and makes another trip to North America.
The "Launching Out" chapter describes 1981 as a decisive year for the Soka Gakkai to launch its counteroffensive against the forces that seek to impede the advance of kosen-rufu. We read how Shin'ichi resolves to "take full-fledged leadership for kosen-rufu, making greater efforts than ever before to go out into the world and work hand in hand with members around the globe."[5]
In May, he visits the Tolstoy House in Moscow and the Goethe House in Frankfurt. Reflecting on the fact that these literary giants had dedicated their entire lives to the task of writing, Shin'ichi realizes how young he still is at age 53 and told himself, My life's real struggle starts from now. He deepens his resolve to keep taking action and continue writing until the last moment of his life.
After his resignation as third Soka Gakkai president in April 1979, there were very few reports of Shin'ichi's activities in the Seikyo Shimbun. This was because treacherous, self-serving individuals and a group of Nichiren Shoshu priests were plotting behind the scenes to prevent him from giving guidance at meetings and the organ paper from publishing his remarks.
However, the April 30, 1980, Seikyo Shimbun carried an article of Shin'ichi's visit to Nagasaki on the front page. Then, from July that year, it began serializing his essay series "My Unforgettable Friends in Faith," and in August, The Human Revolution resumed publication after almost two years of suspension, with installments from volume 11.
That autumn, photos of Shin'ichi attending a series of events commemorating the 20th anniversary of the kosen-rufu movement in the United States were carried in the Seikyo Shimbun. His activities as SGI president during his 1981 overseas guidance tour were also reported, providing immense encouragement to the members in Japan.
We can find a way to fight, a way to contribute, no matter what kind of constraints or restrictions limit our actions. We must fight on with wisdom and courage.[6]
Shin'ichi perseveres with this spirit, determined to embolden the hearts of his fellow members.
On November 18, 1980, during a meeting celebrating the 50th anniversary of the Soka Gakkai's founding, he calls out with the powerful conviction of a lion's roar:
From today, as we aim for the centennial of the Soka Gakkai's founding, let's recommit ourselves to working even harder to promote peace and culture throughout the world and advancing our movement of kosen-rufu![7]
As disciples of Sensei, let us forge on with wisdom and courage and secure victory in this decisive first year of the crucial decade toward our centennial.
Translated from the June 23, 2021, Seikyo Shimbun, the Soka Gakkai's daily newspaper.
---
Summary of Contents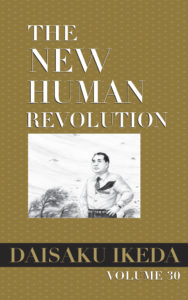 Great Mountain
On April 24, 1979, Shin'ichi Yamamoto steps down as Soka Gakkai president. Following the headquarters leaders meeting on May 3, he inscribes the calligraphies titled "Great Mountain," "Great Cherry Tree" and "Shared Struggle," followed by "Justice" on May 5.
Awaiting the Time
Shin'ichi devotes himself to giving personal guidance and prepares the groundwork for the future. In 1980, members from Shikoku and Amami Island travel by sea and air to visit their mentor.
Launching Out
On April 21, Shin'ichi visits China for the fifth time. Back in Japan, he visits Nagasaki, returning to the forefront of kosen-rufu. In 1981, he travels to North and Central America and the Soviet Union.
Bells of Dawn—Part 1
Shin'ichi attends various meetings and activities in Europe. He visits Bulgaria and works to develop the youth division members across Europe.
This book is available at https://bookstore.sgi-usa.org.
You are reading {{ meterCount }} of {{ meterMax }} free premium articles
Subscribe for unlimited access