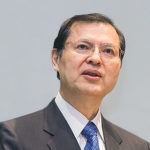 Volume 29 of The New Human Revolution is set between October 1978 and February 1979, a period in which the Soka Gakkai faced a barrage of criticism from a group of Nichiren Shoshu priests.
In the "Eternal Joy" chapter, Shin'ichi Yamamoto reflects upon these events in light of the Atsuhara Persecution of 1279, in which a number of Nichiren Daishonin's followers living in Atsuhara Village [present-day part of Fuji City in Shizuoka prefecture] were subject to harassment and intimidation by the local Tendai temple's deputy chief priest Gyochi, who was alarmed by their successful propagation efforts. The hostility culminated in a group of farmers who were followers of Nichiren being arrested on false charges and the central figures Jinshiro, Yagoro and Yarokuro being executed. Even in the face of death, the farmers did not give up their faith.
In light of this history, Shin'ichi vows that he will not allow "the development of a situation in which even a single member had to lay down their life"; and if persecution should be unavoidable, then he would bear the brunt. As Soka Gakkai president, he firmly resolves to stand at the front line, ready to endure any manner of attack in order to protect his beloved fellow members.
He reflects upon how the Soka Gakkai's remarkable development in the period following the war was also a direct result of "second Soka Gakkai President Josei Toda and other Soka Gakkai members inheriting and carrying on the spirit of selfless dedication to propagating the Law—the spirit upheld by first Soka Gakkai President Tsunesaburo Makiguchi, who stood up against the militarist Japanese government and died in prison for his beliefs."
Indeed, we have been able to usher in this present era of worldwide kosen-rufu thanks to our mentor, Ikeda Sensei, and his efforts to carry on the spirit of his mentors, Presidents Makiguchi and Toda. This has included cherishing and encouraging each person based on a selfless commitment to propagating the Law even in the face of numerous trials, such as the Osaka Incident[1] and the first and second priesthood issues.[2]
The "Eternal Joy" chapter contains the following:
By establishing the life condition of eternity, happiness, true self and purity, we create a realm "where living beings enjoy themselves at ease" (The Lotus Sutra and Its Opening and Closing Sutras, p. 272). This is achieved only through our determination and our actions to selflessly propagate Buddhism.
In other words, we achieve this by making kosen-rufu our fundamental goal in life and then, in order to share this philosophy with others, striving to show actual proof of the power of the Gohonzon and the truth of Buddhism through our own way of living.
From Hokkaido in the north to Kyushu in the south, Shin'ichi travels to 10 regions across Japan and composes some 30 songs for various groups within the Soka Gakkai during 1978. Although it was "a stormy year of tremendous challenges" in which the membership found itself in the throes of the first priesthood issue, he also describes it as "a year of sprinting ahead, upholding and protecting the torch of Soka" and "a year of construction, creating a new history."
Wherever he goes, Shin'ichi repeatedly stresses the importance of returning to the basics—to base our lives on faith in the Gohonzon and to keep chanting Nam-myoho-renge-kyo no matter what. He also clarifies that a leader in the Soka Gakkai should be able to offer constant nourishment in faith to their fellow members. To do so, they, in turn, must continually seek out seniors with strong faith and strive to make progress in their own practice together with the members. To what extent can a leader inspire their fellow members to rise to action for kosen-rufu? To what extent can they work together with the members to advance the movement? During his guidance tours, Shin'ichi urges those he meets to conduct themselves with such awareness and sense of responsibility if they are to carry out their mission as leaders.
A Great Starting Point
The "Fresh Vigor" chapter is set at the beginning of 1979. Having made great strides the previous year, Shin'ichi Yamamoto greets the new year with a fresh determination to advance even further. The year 1979 marked the culminating year of the first series of Seven Bells.[3] It also represented an opportunity for a great starting point for kosen-rufu. Seeing as it would be his 20th year as Soka Gakkai president, and since the foundations for kosen-rufu in Japan were increasingly solid, Shin'ichi decides to concentrate his efforts on the development of kosen-rufu worldwide.
Setting forth with fresh momentum, he visits Hong Kong and India in February. Standing on the banks of the Ganges River on February 11, his mentor's birthday, he addresses President Toda in his heart: "Sensei, I will press forward! I will continue to open the great path of worldwide kosen-rufu, which you referred to as my true stage. Please witness your disciple's bold struggles."
Even after returning to his lodging, he turns to the photograph he carries of President Toda and makes a profound pledge to wage a great struggle for kosen-rufu. In this way, a "great starting point for kosen-rufu" begins with one disciple making a vow to their mentor. As described in "The Source" chapter, "Worldwide kosen-rufu becomes a tangible reality when the vow and actions to realize it are passed down from mentor to disciple, and then to the disciples of the next generation."
Bridges of Dialogue
Volume 29 also details some of the dialogues held between Shin'ichi Yamamoto and leading intellectuals around the world in 1978 and 1979.
One such individual is John Kenneth Galbraith, an economist and professor emeritus at Harvard University. During their conversation in October 1978, they discuss the nature of certainty and uncertainty. Shin'ichi asks Dr. Galbraith's opinions about the guiding principles humanity should adopt in an age of uncertainty. Dr. Galbraith affirms that all human efforts need to be constantly amended and corrected if they are to serve their aim of making human life more secure, peaceful and intelligent. Adopting this kind of flexible mindset can be considered one such guiding principle, he suggests.
Shin'ichi replies by sharing his own conviction that striving to elevate ourselves and grow as human beings is extremely important if we wish to constantly exercise sound judgment. He asserts that the Soka Gakkai's movement based on the philosophy of human revolution, of inner transformation founded on Buddhism, "will become a mighty groundswell to transform the direction of our world in the 21st century."
Shin'ichi also meets with Dr. Bryan R. Wilson, a sociologist at the University of Oxford, in January 1979, and they exchange views on the mission and role of religion in the coming age. Reflecting upon their dialogue in the "Fresh Vigor" chapter, Shin'ichi reaffirms his personal belief that religion should exist for no other reason than to enable people to become happy and to bring about a prosperous society and peaceful world.
"Does religion make people stronger or weaker? Does it encourage what is good or what is evil in them? Are they made wiser or less so by religion?" These, Shin'ichi believes, are the questions people should ask when measuring the validity of any religion or system of thought.
His discussion with Dr. Wilson on the raison d'être of religion did not end with their initial meeting; they continued their dialogue through written correspondence and met on a number of occasions thereafter in both Japan and Europe.
As a private citizen and Buddhist committed to the path of humanism, Shin'ichi works to build bridges of dialogue across religious and ideological differences. Promoting dialogue is indeed the very mission of those who call themselves Buddhists. As the "Fresh Vigor" chapter explains, "Only dialogue enables religion to shine with the light of revitalization and remain a living force among the people."
In this COVID age of uncertainty, in which it is difficult to gauge what the future will hold and global society strives to find equilibrium, let us redouble our efforts to reach out to those who are struggling, engage in dialogue and shine the "light of revitalization." Now is the time to unleash the true potential of our Soka network.
Translated from the May 26, 2021, Seikyo Shimbun, the Soka Gakkai's daily newspaper.
---
Summary of Contents
Eternal Joy
Shin'ichi Yamamoto conducts a dialogue with economist John Kenneth Galbraith. He composes songs for the women's division, as well as for members in various regions, including Kanto and Shin'etsu.
Sprinting Forward
At the headquarters leaders meeting, Shin'ichi announces the rhythm of activities in five-year periods toward the 21st century. He visits Kanagawa, Tokyo, Kansai, Chubu, Shikoku and Kanto.
Fresh Vigor
In January 1979, Shin'ichi travels to Tohoku in the middle of winter. On his return, he conducts a dialogue with Bryan Wilson, a sociologist of religion, and visits Kyushu.
The Source
In February, Shin'ichi travels to India. He promotes peace, as well as cultural and educational exchange, by visiting the University of Delhi and meeting with Prime Minister Morarji Desai.
The official English translation of volume 29 will be published at a later date. As such, the translations of excerpts from this volume are subject to later revision.
References
Osaka Incident: On July 3, 1957, Daisaku Ikeda, then Soka Gakkai youth division chief of staff, was arrested and imprisoned by the Osaka Prefectural Police on false charges of violating election laws. He was fully exonerated of all charges on January 25, 1962. ↩︎
First and second priesthood issues: On April 24, 1979, Daisaku Ikeda stepped down as third Soka Gakkai president to shield the members from the perverse machinations of the Nichiren Shoshu priesthood, which had colluded with corrupt former Soka Gakkai leaders to wrest control of the lay organization. On November 28, 1991, the Nichiren Shoshu priesthood excommunicated the SGI's 10 million lay members in a perverse attempt to wrest control of the membership. As history has borne out, the priesthood excommunicated themselves. SGI members the world over now celebrate November 28 as our Day of Spiritual Independence. ↩︎
Seven Bells: The first series of Seven Bells are seven consecutive seven-year periods in the Soka Gakkai's development from its founding in 1930 through 1979. On May 3, 1958, shortly after second Soka Gakkai President Josei Toda's death (on April 2), Ikeda Sensei, then Soka Gakkai youth division chief of staff, introduced this idea and announced targets for subsequent seven-year periods. On May 3, 1966, Sensei spoke of a new series of Seven Bells that he envisaged unfolding in the 21st century. Also, in 1978, just before the end of the first series of Seven Bells, he elaborated further on this second series of Seven Bells, stating that it would begin from May 3, 2001, and continue through 2050. ↩︎
You are reading {{ meterCount }} of {{ meterMax }} free premium articles
Subscribe for unlimited access