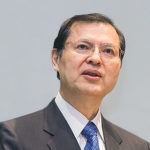 Set in 1978, the "Songs of Kosen-rufu" and "Great Path" chapters of volume 28 of The New Human Revolution describe how Shin'ichi Yamamoto creates time amid his demanding schedule to compose some 19 songs for various regions of Japan and for groups within the Soka Gakkai. These include "Onward to Kosen-rufu" for the student division and the "Song of Shinano" for members in Nagano Prefecture.
In this, he is motivated by a desire to do whatever he can to raise the spirits of the members who continued to suffer from unjust and unreasonable harassment and attacks from a group of Nichiren Shoshu priests during this period. He resolves to write these songs with the conviction that "This is the time to rouse a new groundswell of kosen-rufu."
In addition, on June 30, the Soka Gakkai publishes an official statement in the Seikyo Shimbun thoroughly responding to concerns raised by the priesthood regarding the organization's use and interpretation of certain Buddhist terms and doctrines. Protecting the members was the Soka Gakkai's foremost priority, and this article was a sincere effort to maintain harmonious relations with the priesthood toward that end.
On the same day, the student division holds a leaders meeting at which "Onward to Kosen-rufu," their new divisional song celebrating the shared efforts of mentor and disciple, is unveiled.
Meanwhile, hearing about bitter struggles in Chiba Prefecture, where persecution by the priesthood had been relentless, Shin'ichi feels that a song for the prefecture in praise of the members' courage and confidence is needed. He thus sets to work composing lyrics in which he likens their determination to a majestic sunrise. To the members in Kyushu, who were struggling to restrain their anger at the priesthood's slanderous remarks about the Soka Gakkai, he dedicates a song beckoning them to join him in the work of creating a "Soka history of justice."
Shin'ichi also composes a song to encourage members of the Tohoku Region, where those in Akita and Yamagata prefectures were particularly affected by an onslaught of criticism by the priesthood. He does the same for the members in Hokkaido, who are likewise up against a group of priests scheming to destroy the kosen-rufu movement in the region.
While pouring his energies into composing these Soka Gakkai songs, Shin'ichi also travels across the country to meet with members directly. He attends numerous gongyo meetings at each destination, including Yonago in Tottori Prefecture and Matsumoto in Nagano Prefecture. At the Tono Culture Center in Gifu Prefecture, he holds as many as five gongyo sessions in order to accommodate all who had come to meet him.
In July, during his visit to the Yonago Culture Center in Tottori Prefecture, he is asked to propose names for the camphor trees planted on the grounds. "Right Guardian Camphor; Left Guardian Camphor; Makiguchi Camphor; Toda Camphor," he declares, standing before each one. Then, standing before the final tree, he states: "This will be the 'Nameless Camphor,' to represent all the nameless and uncrowned champions of our movement, but also because I would like the next president to take on that responsibility when they visit."
Setting his sights on the future, Shin'ichi is resolved that once a steady stream of capable people is established here in Japan, he will focus on promoting the kosen-rufu movement on a global scale. That is why he gives his all to conveying the spirit of mentor and disciple through the songs he dedicates to the members across country.
"Your determination and practice are what will give the song value." Just as these lines from the "Songs of Kosen-rufu" chapter imply, it is the actions and practice of each of us as disciples that ultimately give life and substance to the mentor-disciple spirit encapsulated in these songs.
A United Tokyo
Even while visiting Shikoku in July, Shin'ichi finds the time to work on a song for the members in Tokyo. Deeply considering what is needed for Tokyo to make the next leap forward, the words "passion and enthusiasm" race through his mind.
When you perceive things through the eyes of Buddhism, everything becomes a source of passion and enthusiasm. You will recognize that you have appeared here at this time in Tokyo, the key bastion of kosen-rufu, as a Bodhisattva of the Earth possessing the great mission for kosen-rufu. … This is a profoundly mystic and moving reality, and we cannot help but feel inspired.
He encapsulates all his feelings for the Tokyo organization and its mission to serve as the bastion of kosen-rufu into the lyrics. On August 2, "Ah, Our Inspiring Members!" is introduced at a chapter leaders meeting, at which Shin'ichi goes into detail about what it means to be passionate and inspired:
We cannot feel passionate and inspired if we are passive and only practice out of a sense of duty. Passion is found in the kind of practice where we take action based on our own initiative and earnestly challenge ourselves in our endeavors with the determination to win.
In addition, speaking to some of the leaders after the meeting, he shares:
It's important that everyone has a sense of a united Tokyo, so that when something happens they will rush to assist, work harmoniously with and support one another. … The progress of "Great Tokyo" depends upon the victory of all the "Little Tokyos," your local neighborhoods and communities. Let's work together to forge an invincible Tokyo!
On April 18, 2021, in celebration of Soka Gakkai Day (May 3), the Soka Gakkai headquarters leaders meeting and the Women's Division Hope General Meeting were held conjointly at the Toda Memorial Auditorium in Tokyo. In his message for the occasion, Ikeda Sensei asked us to unite with our fellow impassioned comrades everywhere as we "pledge to achieve a resounding victory of 'many in body, one in mind' and of 'the oneness of mentor and disciple.'"[1]
We, ourselves—not anyone else—are the protagonists of our own inspiring drama of life. When we take proactive steps based on this awareness, passion and inspiration will start to well forth from within. Let us each take action at our own initiative and further expand the circles of passion and inspiration around us!
Behavior in Daily Life
The Izu Islands Eiko Zone is composed of two headquarters, Soka Ota Oshima and Hachijojima Soka, with members on 11 islands including the Ogasawara Islands. Remote islands such as Chichijima and Hahajima are at almost the same latitude as the Okinawa Islands. Some of these islands have no airport. It has been particularly difficult for the women's division members on these islands to meet and support each other across the sea. However, in April this year, amid the COVID-19 pandemic, they ventured something entirely new and held study meetings on the writings of Nichiren Daishonin online for the first time. The opportunity to connect in this way generated waves of joy among the participants.
The history of the outlying islands division (formerly the outlying islands headquarters) is one of overcoming every obstacle in the process of working for kosen-rufu. The "Islands of Victory" chapter describes in detail this magnificent drama. Despite misconceptions about and prejudices toward the Soka Gakkai, the members on these outlying islands have tenaciously persevered in their Buddhist practice and striven to win the trust of their communities based on the spirit of the oneness of mentor and disciple.
Indeed, it is those who have "dedicated their lives to the vow of mentor and disciple and awakened to their mission" who have opened the great path of kosen-rufu.
[At the first Outlying Islands Headquarters General Meeting held on October 7, 1978,] Shin'ichi talks about the importance of acting wisely in our daily lives and encourages the participants as follows, "I hope that you will always be friendly and cooperative, always behave with integrity and advance with rich humanity while embracing all people." Such attitudes are vital in promoting kosen-rufu in our communities.
Today, as we face unprecedented adversities and challenges, let us engrave this guidance in our hearts and spread the light of hope in our respective communities.
Translated from the April 28, 2021, Seikyo Shimbun, the Soka Gakkai's daily newspaper.
---
Summary of Contents
Songs of Kosen-rufu
In the summer of 1978, Shin'ichi Yamamoto composes songs for the student and other divisions, as well as for various regions such as Kansai, Kyushu and Chugoku.
Great Path
Shin'ichi continues to compose songs to encourage various regions.
Revolutionary Spirit
Shin'ichi visits China for the fourth time, meeting with Madame Deng Yingchao, the widow of former Premier Zhou Enlai.
Islands of Victory
In October, the first general meeting is held for members in remote islands of Japan.
The official English translation of volume 28 will be published at a later date. As such, the translations of excerpts from this volume are subject to later revision.
References
May 3, 2021, World Tribune, p. 3. ↩︎
You are reading {{ meterCount }} of {{ meterMax }} free premium articles
Subscribe for unlimited access