ALISO VIEJO, Calif., Jan. 22—Is it possible to melt the icy walls of distrust between people? "Honoring Martin Luther King Jr.—A Conversation" was a timely and important event that reinforced Dr. King's bold vision of human harmony and the steps we must take to achieve it.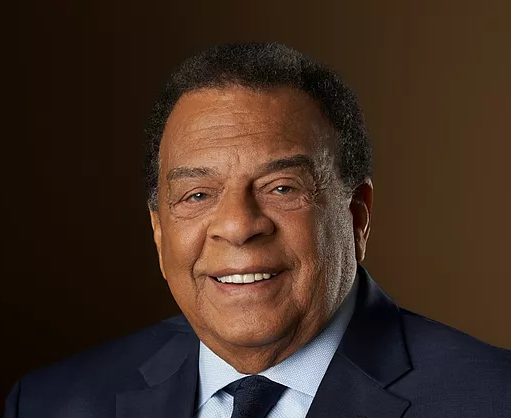 Held in commemoration of Martin Luther King Jr. Day, the virtual event was co-sponsored by Soka University of America's newly established Center for Race, Ethnicity, and Human Rights (REHR) and the school's Office of Diversity, Equity, and Inclusion. The webinar welcomed distinguished panelists Ambassador Andrew J. Young—early leader of the Civil Rights Movement and confidant to Martin Luther King Jr.—and Dr. Hortense J. Spillers, American literary critic and Black feminist scholar, who also serves as the Distinguished Faculty Fellow for REHR.
The keynote speakers shared their insights into Dr. King's philosophy of nonviolence, race in the U.S. and how to move forward in a time of division.
In response to a question about how to encourage young people feeling powerless at this time, Dr. Spillers explained that racism and other evils are projections of what one does not accept in oneself, such as self-hatred.
Citing "love" as a discipline and the root of Dr. King's ideas of freedom, social change and nonviolence, Dr. Spillers stated that everything starts with self-love. "That's where the revolution starts," she said. "If we can start there, we can project [that love] outward to the world."
She stated that the Civil Rights Movement was Dr. King's mandate for people to become conscious and follow a nonviolent way of life—a difficult path that calls upon the individual to have discipline. Love is a discipline, as is self-acceptance and self-awareness, she noted.
Based on his personal relationship with Dr. King and his own experiences striving to lead a life of nonviolence, Ambassador Young stated that people who persecute others are just afraid of what they don't understand, and they could be willing to open up if given a chance.
He shared a story from 1962 in Albany, Georgia, where Dr. King was jailed for protesting segregation. While visiting him in jail, Young was greeted with a racist epithet by a police officer who wouldn't even look up to acknowledge him.
After consulting Dr. King, who challenged him to find a way to deal with it, Young approached the jailer before leaving, looked at his name badge and said: "Thank you, Sgt. Hamilton. I'll be back tomorrow. Maybe we can get to know each other a little better." The officer was taken aback but responded in kind with a respectful thank you. Young continued to befriend Sgt. Hamilton, who opened up about his love of football and reminisced about the days he played. Their exchange went on for 10 days before Young left Albany after King was released from jail.
Fifteen years later, while speaking in Maine as the U.S. ambassador to the United Nations, Young was approached by a man who shook his hand. It was Sgt. Hamilton. "I got out of Albany as quickly as I could because I didn't want my children to grow up like I had," he said. "Thank you, thank you. Because if you hadn't come to Albany to speak to us and challenge us, my children would have grown up as bad as I did."
After telling the story, Ambassador Young went on to say that he has seen change in the worst of people and has never found anybody yet that, in the right situation, would not respond with respect and awareness. "We can all help each other grow"—that was Dr. King's message, Young said. "It was breaking down barriers."
—Prepared by the World Tribune staff
New Center for Race, Ethnicity, and Human Rights
Soka University of America established the Center for Race, Ethnicity, and Human Rights in August 2020 with the mission to provide space and resources for students and faculty to engage in inquiry, research and constructive dialogue related to race, ethnicity, human rights and their intersections.
View the full webinar and learn more about the center.
You are reading {{ meterCount }} of {{ meterMax }} free premium articles
Subscribe for unlimited access