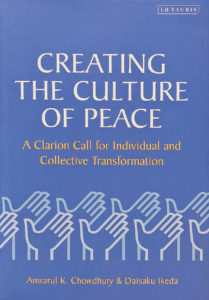 In their captivating new book, Creating the Culture of Peace: A Clarion Call for Individual and Collective Transformation, Daisaku Ikeda and former U.N. Under-Secretary-General Anwarul K. Chowdhury discuss key challenges that face our planet while recognizing the empowerment that comes from such tribulations of life.
The book is available at bookstore.sgi-usa.org for $22.95. The following is an excerpt from pp. 186–87.
Ikeda Sensei: I put special hope in the vitality and fresh ideas of young people, on whom the coming age depends. …
You have continued to express your firm faith in young people, affirming to them that they have the power to make the world a better place and that, given concerted cooperation and will, we can eradicate famine and disease, eliminate malnutrition and poverty and create a future in which everyone can lead a fulfilling life.
Ambassador Anwarul K. Chowdhury: As a matter of fact, I not only agree with you that the future belongs to the youth, but I go even further, to say that the present also belongs to them. …
You have asserted very rightly that young people will create a better future and build the culture of peace as the foundation of a new global society. The culture of peace by itself has the potential to develop a world of understanding, cooperation and solidarity. I am deeply inspired by the high expectations that your mentor, [second Soka Gakkai President] Josei Toda, had for young people. I believe the strength of the SGI comes from that focus of its past and present leadership.
You are reading {{ meterCount }} of {{ meterMax }} free premium articles
Subscribe for unlimited access