For the Tokyo-Hakone Ekiden marathon relay race, participants say the difference between 10th and 11th place is as vast as heaven and earth, because only those who finish in the coveted top 10 qualify for next year's competition.
From Jan. 2–3, millions of people in Japan watch this famous race between qualifying university track teams, in which teams of 10 runners complete a 135-mile marathon by passing off a cloth sash to the next runner.
The 10th section of the race began this year in Tsurumi, Kanagawa Prefecture, with Chuo University in 10th place. Soka University held 11th place, 55 seconds behind Chuo. Everything hinged on the final runner, Yudai Shimazu, a second-year student at Soka University in Japan.
In high school, Yudai ran in the Junior Ekiden race, where he set a record time for the first leg of the race, two years in a row. Although he received offers from 15 other top university track teams, he chose Soka University because their team had the best atmosphere, facilities and equipment, including LED lighting throughout the campus.
Yudai was born with pigmentary retinal degeneration, a rare eye disease that causes severe visual impairments, including night blindness. Along with a well-lit campus that enabled him to run at night, he also learned that one of his teammates has the same eye condition, and they trained together, urging each other on.
For this year's race, the Soka University track team chose Yudai to take on the 10th and final leg, which would decide victory or defeat. As he began the final, 13-mile leg in 11th place, he felt the sash that he placed on his shoulders was infused with all his teammates' hopes.
"Regardless of the circumstances, I decided that, based on my run, Soka University would qualify for the seed and get into the top 10," Yudai said later.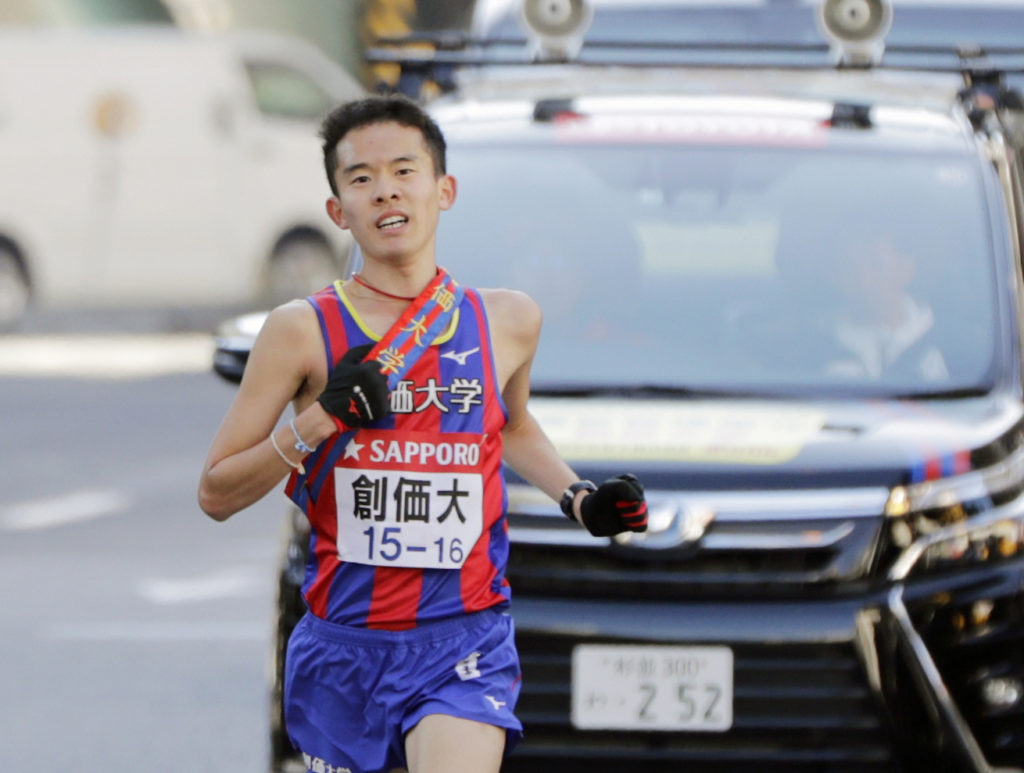 It was the fastest-paced Ekiden in its 96-year history. Anticipating this, each university developed a strategy beyond speed alone.
So how did Yudai close this 55-second gap? He later recalled: "I knew my best pace was one kilometer (.62 miles) in 3 minutes, 6 seconds. However, that wouldn't cut it. I decided to create a new standard for myself and challenge a pace of one kilometer in 3 minutes."
When he reached the Kamata neighborhood in Tokyo, Yudai had closed the gap between him and the 10th-place runner to 18 seconds. When he saw the back of the Chuo runner, this gave him renewed vigor, and he dashed past him, putting Soka University in 10th place.

Halfway to the finish line, Yudai had gained a one-minute, four-second lead over the Chuo runner, giving his team a comfortable advantage. However, he had never pushed himself to this extent, so his legs were on the verge of giving out.
Yudai pounded on his thighs as he ran to avoid collapsing, repeating to himself: "You can't lose! Win over yourself!" In the end, he passed the Toyo University runner, too, and placed 9th, setting a record for the 10th section of the race.
Afterward, Yudai smiled, saying how happy he was that Soka University qualified for next year's race. The runners and staff also shared their deep appreciation, first and foremost to the university founder Daisaku Ikeda, who taught them the spirit to never be defeated, and to everyone who cheered them on.
This article was adapted from the Jan. 1, 4 and 5 issues of the Seikyo Shimbun, the Soka Gakkai's daily newspaper.
You are reading {{ meterCount }} of {{ meterMax }} free premium articles
Subscribe for unlimited access