The World Tribune spoke with SGI-USA members who are medical professionals involved in the front-line response to the COVID-19 crisis to learn about their work and how they're using their Buddhist practice to navigate through this critical time.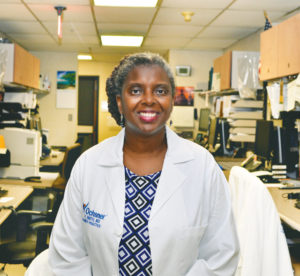 Awakening the Bodhisattva Life Condition
by Victoria Smith
SGI-USA Doctors' Division Women's Leader
Associate Medical Director
Kenner, La.
In my capacity as the associate medical director of a large group practice, I see patients and supervise and support physicians of multiple specialties. With my patients, I'm responding to their needs and also educating them on the realities of COVID-19. As a physician leader, I'm tamping down the hysteria and caring for the caregivers. Because of my training as an SGI leader, I know the importance of serving people, and I am doing everything I can to help elevate the life state of the doctors, staff and all those I work with.
I've been doing a lot of "C," of the A-B-C Campaign, doing my best to "connect life to life" with those at work, share Buddhism and spread hope in times of uncertainty and crisis. There's no way I can do that without the "A" of "abundant daimoku" and the "B" of "Buddhist study" in the morning!
At a recent team meeting, I asked my colleagues, "What are some positive things you've seen come out of this?" Everyone had something positive to share. Local restaurants are donating food to our medical staff; doctors, staff and others are showing up to support in any way they can, regardless of whether it's their job function or not. It's beautiful—amid this crisis, I am seeing the awakening and strengthening of the bodhisattva life condition in many people.
Because of my Buddhist practice, I have no doubt that we will create medicine out of this poison of COVID-19. I am striving to make sure everyone around me has that confidence, too.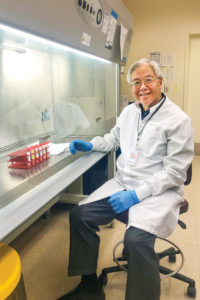 An Opportunity to Advance at an Accelerated Rate
by Sherman Hom
Lawrenceville District Member Care Advisor
Program Manager, Specimen Receiving and Distribution
Hamilton, N.J.
Though I've been in the public health field for over 19 years and have worked through three outbreaks, I never saw this pandemic coming.
On the surface, I've worked challenging 12-hour days for 18 days straight, which is difficult. But my Buddhist practice reminds me that this is my opportunity to protect people's lives and make a difference.
As the coordinator of all pre-analytical activities for COVID-19 testing at the New Jersey Public Health Lab, I work with my staff to rapidly receive, process and distribute patients' specimens to the testing unit to get the results in a timely manner.
Based on my Buddhist practice, I've learned how to be a leader with a stand-alone spirit, while uniting my team to accomplish our task with the never-give-up spirit.
Because I'm very busy, I'm so appreciative to have the SGI-USA's A-B-C Campaign to turbocharge my life. I chant Nam-myoho-renge-kyo every day to have the life condition to overcome all obstacles that appear at work and maintain my relationships with family. I study SGI President Ikeda's New Year's message as often as I can for faith encouragement to create actual proof in my life and naturally share Buddhism with others.
I feel in my heart that this is my chance—our chance as SGI members the world over—to understand our mission and accelerate our human revolution. My determination is to care for our district members through connecting by phone, unite our four-divisional family and make the impossible possible. With this practice, we can do anything.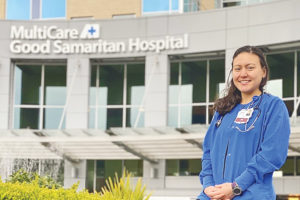 Remaining Flexible When the Stakes Are High
by Julianne Gelbaum
Young Women's Division Member
Registered Nurse
Olympia, Wash.
I feel my Buddhist practice has prepared me for times like these—times that are unpredictable and complex, and when the stakes are high. As I chant Nam-myoho-renge-kyo, I am able to remain calm and flexible in my work as a registered nurse in one of the busiest emergency departments in Washington state, and not be swayed by the climate around me.
With the spread of COVID-19, I am working alongside a great team of medical professionals to assess, treat and diagnose members of the community. Like many other medical facilities, our department is facing shortages of personal protective equipment (e.g., gloves, masks and gowns), and every day, we are adapting how we deal with the crisis. We also have our own fears and frustrations about how to keep our families healthy and safe, while serving patients every day.
Already things are transforming—our team is coming together more than ever, and numerous people are supporting our department in creative ways.
As a Buddhist, I strive to share compassion and humor with my co-workers and patients to connect to their Buddha nature. I am determined to stay healthy so I can fully support my community in their time of need.
---
"The medical profession and society as a whole in Japan and around the world are making great efforts to stop the spread of the coronavirus (COVID-19). I have deepest gratitude for the countless individuals who are working tirelessly day and night on various fronts in this challenge. I am also chanting wholeheartedly with a fervent prayer for the quickest possible end to this threat and a return to normality and safety."
—SGI President Ikeda's message amid the COVID-19 pandemic (see p. 3)
You are reading {{ meterCount }} of {{ meterMax }} free premium articles
Subscribe for unlimited access