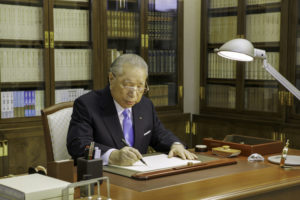 The following is an excerpt from Soka University of America Founder Daisaku Ikeda's message to SUA's Class of 2019, which was read at its commencement ceremony on May 24. The full message can be found on www.soka.edu.
This day marks the time in which you—members of the Class of 2019—take wing as youthful leaders of global citizenry who will contribute to the peace and happiness of humankind. As such, I would like to reaffirm with you three key capacities that are vitally important in this day and age.
The first of these three is the capacity for dialogue to inspire change and creativity. …
Dialogue is the challenge to persist to the very end in our belief in the fundamental goodness of humanity and, by inspiring one another, to persevere in manifesting this goodness. …
The second source of strength is our capacity to stay true to our ideals in the face of any and all adversity. …
Never be bowed by the harsh realities before you; instead, hold your head up high and keep your gaze set ahead with this intrepid resolve: This is what I will achieve! This is the future I will shape! That is the heart of our Soka spirit.
That is what I ask of you, our graduates, as you forge on with fortitude in good cheer, your eyes looking firmly beyond the present to a time 10 years and 20 years hence.
The third and final source of strength is the capacity to recognize and appreciate the toil that others have undertaken behind the scenes. …
Your growth as an individual will know no bounds as long as you remain truly grateful for the efforts of those who support you behind the scenes. This sense of appreciation is what will decide the path you must traverse and the values you will uphold. It is a core tenet in the study and discipline of our very humanity, one foundational to the honored educational principles of this institution.
You are reading {{ meterCount }} of {{ meterMax }} free premium articles
Subscribe for unlimited access