The New Human Revolution E-Books
E-books of volumes 1–8, 23 and 24 of The New Human Revolution are out now at major online booksellers, including amazon.com and barnesandnoble.com.

E-books for volumes 9–10 and audiobooks for volumes 1—3 will be available in early 2020.

The New Human Revolution is SGI President Ikeda's epic serialized novel of the advance of the Soka Gakkai following his inauguration in 1960 as its third president, and a record of the modern development of the Soka Gakkai and the SGI. It also serves as practical guidance for how to further expand our movement for kosen-rufu.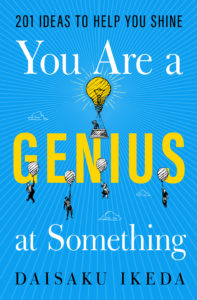 YOU ARE A GENIUS AT SOMETHING
In February, You Are a Genius at Something
will be available for $8.95 at SGI-USA
bookstores and bookstore.sgi-usa.org. It
features quotes by President Ikeda and other
inspirational fi gures throughout the world.
Topics include hopes and dreams, doing
good, overcoming adversity and building
character.
KOSEN-RUFU AND WORLD PEACE
In March, The Wisdom for Creating Happiness and Peace: Part 3—Kosen-rufu and World Peace will be available for $9.95 at SGI-USA bookstores
and bookstore.sgi-usa.org, and as an e-book at major booksellers. In the book, President Ikeda explores the movement of worldwide kosen-rufu, the humanistic organization of the SGI, the oneness of mentor and disciple, world peace and respect for the dignity of life.
You are reading {{ meterCount }} of {{ meterMax }} free premium articles
Subscribe for unlimited access