by Kentaro Shintaku
Cambridge, Mass.
Attending Soka University of America (SUA) was always a longshot. In 2016, at age 15, I enrolled in a weekly English course taught by an SUA alumnus. I'd just begun my first year of high school in Hokkaido, Japan, and was already deeply frustrated by a public education system that evaluated a person's worth by their test scores.
Stepping into my English course, held in a small room on the first floor of an apartment, was like entering another world. Much more than an English class, it threw me headlong into works of great literature, biographies of great persons and writings on global issues. It was here that I first encountered the educational philosophies of Tsunesaburo Makiguchi and Daisaku Ikeda, centered not on rote memorization but the development and happiness of students.
There were days I'd walk in feeling confused, demoralized, venting my anger at a system that was robbing my peers of their self-esteem. My teacher would just listen, then say, with boundless confidence, "Ken, there's a mission only you can fulfill! You can do anything if you put your mind to it!" And we'd turn to a biography, a work of history or a U.N. peace proposal by Daisaku Ikeda. 
Inspired by this teacher, I determined, against all odds, to study at SUA. This would not be easy. My family is not wealthy; at times we struggled even to pay for electricity, water and gas. I thought there was no way I could study abroad. Around this time, I found a book on a shelf at home—The Human Revolution, Daisaku Ikeda's account of his mentor, second Soka Gakkai President Josei Toda, reviving and expanding the Soka Gakkai in postwar Japan. It also contains the story of the young Daisaku awakening to his mission, as President Toda's disciple, to erase the very word misery from the face of the earth (see The Human Revolution, vol. 1, p. xi). 
As I read, I came to understand that the educational philosophy of the Soka Gakkai's three founding presidents stemmed from their commitment as Buddhists to protect and promote life's unlimited dignity. And this commitment was born of a shared struggle—of the oneness of mentor and disciple. This, I realized, was the path I wanted to follow.
Though my father was initially opposed, my determination eventually persuaded him to allow me to join the SGI, which I did on Nov. 18, 2018. Regarding attending SUA, he supported my dream on the condition that it not place a financial burden on the family. Given this, I had just one path there: to secure government sponsorship, offered annually to about 45 top performers in a national scholarship exam. Against such staggering odds, I nearly threw in the towel. But I was a member of the SGI and a disciple of Ikeda Sensei. I could not fail to advance on my chosen path. To my astonishment, I secured sponsorship and full financial aid to SUA, the school of my dreams. But it seemed that I'd no sooner arrived on campus than I was suddenly sent back home due to the COVID-19 pandemic.
Back in Hokkaido, my family was on edge; my second eldest sister's health symptoms, considerable when I left for SUA in 2019, had intensified. Wrought with anxiety, depression and an acute auditory sensitivity, she could not withstand hearing another person stir inside the home. I pitched a tent for myself in the yard, sneaking inside to chant fervent, silent daimoku to the Gohonzon, morning and evening. 
Just before the pandemic hit, I'd accepted leadership for Laguna Hills Chapter. I began visiting each of the young men's division members virtually and discovered that they felt exactly as I did—anxious, frustrated, confused. We read The New Human Revolution together and drew strength from its pages, in which Sensei declares: "All of your struggles, all of the tears and sweat that you have shed for Buddhism and kosen-rufu, will manifest as your own good fortune" (The New Human Revolution, vol. 18, revised edition, p. 290). Our actions for kosen-rufu constituted the most profound cause toward transforming the anxieties gripping the world.
My mother, eldest sister and I united in prayer. As we did so, my second eldest sister began gaining life force. Though far from over, her symptoms improved so much that by August, I struck camp and moved indoors. Noting her improvement and our unity, my brother and father began to join us for chanting. Just ahead of my return to SUA in the fall of 2021, my entire family was united in faith around my sister's recovery.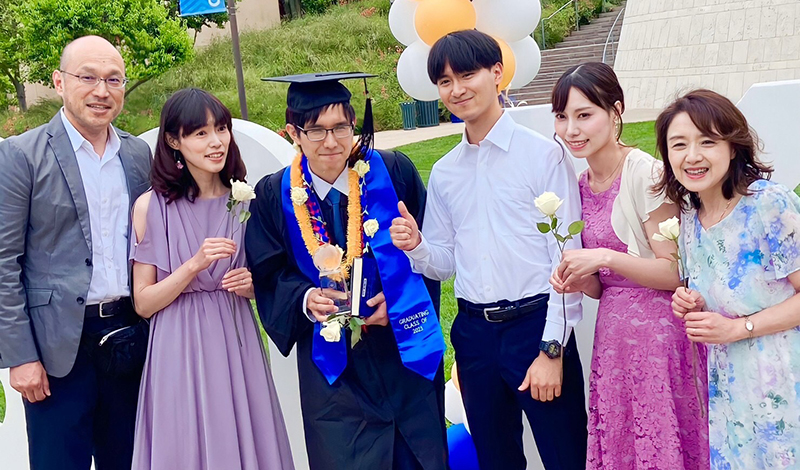 At SUA, my friends and I responded to Sensei's call to hold a Youth Summit in conjunction with the World Summit of Educators. I worked with about 100 youth in organizing online conferences attended by over 500 students and educators. Amid the challenges of organizing such a wide-scale event, I returned time and again to my vow: As a disciple of Sensei, I cannot lose!
That same summer, my conviction was put to the test. In July, my mother fell and hit her head while teaching, leaving her bedridden, hardly able to move, coping with a host of symptoms—depression among them. It was a blow to the pillar of our family. I wrote a letter to Sensei, sharing my determination to score victories for kosen-rufu and lend strength to my family. We received a response from Sensei, which emboldened us all.
My mother read books recommended by her doctor about the potential effects of concussions: depression, anxiety, auditory sensitivity. One evening, it occurred to her: These are my daughter's symptoms. She went to my sister with a simple question: "Have you ever hit your head?" As it happened, she had, once, while snowboarding several years earlier. After many screenings and interviews, scans revealed the most likely cause of her symptoms: a cerebrospinal fluid leak. Undergoing surgery in December 2022, she achieved an astonishing, near-total recovery within two months. 
I graduated SUA in May, receiving the Founder's Award, the highest honor for an undergraduate exemplifying the university's ideals. To me, this award represents my family's victory. This fall, I began a master's in education program at Harvard University on scholarship. Starting from our SGI-USA student division club, I'm determined to contribute at Harvard to the creation of a decisive movement toward nuclear abolition as well as the establishment of a United Nations of Education, an international alliance committed to protecting the independence of educational rights (see The New Human Revolution, vol. 20, revised edition, pp. 132–35). As a disciple, I will continue to strive to spread my mentor's philosophy of Buddhist humanism with the conviction that all my sweat and tears for kosen-rufu will return to me, my family, community and the world as great good fortune.
You are reading {{ meterCount }} of {{ meterMax }} free premium articles
Subscribe for unlimited access