Living Buddhism: Hi Grady! We understand you were raised by parents who were musicians disillusioned with organized religion. Music played a far more central role in the home than faith. Yet it was through music that you made your first contact with Nichiren Buddhism. How did you encounter this philosophy, and why did you take it up?
Grady Tesch: That's right. I encountered Buddhism the summer of my freshman year of college, in 2013. I'd left my small, sleepy Utah town for the city that never sleeps to pursue my undergraduate degree in jazz performance at New York University (NYU). There in the Big City, I felt lonely and rootless. I'd been prescribed Adderall for my ADHD and was taking lots, pulling all-nighters multiple times a week to write papers. It provided me with reliable bursts of focus, but I knew it wasn't sustainable. I sensed I needed something to anchor me on a deeper level in this new place and new chapter in my life.
I kept it together just long enough to wrap up the semester, and mentally collapsed as soon as I made it home to Utah. I'd never understood the challenges of those who dealt with depression or mental instability. Just tough it out, I'd thought, as though their struggle could be reduced to a weakness of character. To be frank, this is who I was—a privileged kid whose thoughts revolved around himself and didn't deeply consider others' problems. But now, when my mental health made it extremely difficult for me to even speak to another person, it occurred to me, as it had maybe never occurred to me before: Oh, this is serious.
What did you do?
Grady: I was at a kind of crisis of meaning. What was meaningful to me? I didn't know. I wanted to become a jazz percussionist, sure, but I wanted that about as much as I wanted to know where I could find the next big party. Still, I knew that jazz meant something to me, knew that from the first time I heard it, when my older brother was sent home from a summer music camp with a couple of jazz cassette tapes. The spirit of the music was one of striving, of reaching for something. To me, it was so … exciting! I sought deeper meaning in jazz.
Anything stand out?
Grady: Yeah, oh yeah. I was in my room, listening to Wayne Shorter's Without a Net. The music is deeply improvised, sometimes chaotic, dissonant, emotional—but when Wayne played a note, man… it would shift the whole band. Through his sax I heard a fighting spirit, as though he were drawing from somewhere very deep for every note, moving through something painful but with such a powerful spirit that it moved everything else with it, resolved to move everything in the direction of hope.
He's struggling through something, and he's winning, I remember thinking. I can fight through this, too.
I got ahold of his biography. The whole thing, to me, is a 200-page Buddhist experience, straight up.
This, I realized, was what I heard when I listened to Wayne's music. Not technique or imitation or ego—but an indomitable fighting spirit calling forth happiness from the depths of life to awaken others to the joy he'd found there, that he'd discovered through Buddhism.
Right away, I opened my laptop and looked up a video on how to chant Nam-myoho-renge-kyo. Chanting along, I felt this hope coming alive within, this inner voice assuring me: You're going to be OK; there's a deeper aspect of life to tap; you can live a happy life.
I take it you returned to school?
Grady: I did. I didn't wait to get connected, either. I looked up the New York Culture Center before I got back and stopped by as soon as I did. "How can I start?" I asked the person at the front desk. Right away, I got plugged into my local district and, soon after, took on unit leadership, running alongside my district young men's leader to visit other young men. I strove to impart the joy and confidence I myself experienced from chanting—the conviction that life has deep meaning. Sharing Nichiren Daishonin's writings and Ikeda Sensei's encouragement gave both myself and others hope; I could tangibly see the effects of the practice in our lives.
What did your parents think?
Grady: At first, that I'd "drunk the Kool-Aid." Their own experiences with religion had not been positive, so they were concerned. They grilled me, but I stood firm.
"Look, I can tell that this is a positive thing for me; I'm gonna give it a fair shot."
My sophomore year at NYU, I hit the ground running. We rallied our campus club around the principles of Buddhist humanism and waged a campaign to build consensus around nuclear abolition. Amid this, I was hospitalized for appendicitis. I vividly remember the many members who visited me in the hospital, chanting with me and sharing Buddhism with other patients there, as if to remind me that I wasn't down and out, that that was my battlefield to create value, and they were fighting with me. The surgery was a success, and I recovered in no time. Returning to the campus club, I brought with me an even deeper awareness of what the SGI is all about—from the level of the individual life to the level of collective global life, this Buddhism is about safeguarding and bolstering the sanctity of life itself. That year, this thing called May Contribution came around, and everyone in my district was challenging some personal breakthrough alongside a financial contribution goal that was ambitious for them. I remember my district women's leader, a professional actress, who was always fighting hard behind the scenes. "I'm challenging myself this May," she'd say, "I'm going to show proof of this practice and land my next Broadway show!" After all the causes she had been making, sure enough, she did. In high spirits, I made my first financial contribution—not much, but it was a stretch for me. No one suggested this, but I felt confident that by making this cause to protect and support the SGI, which functions to protect and support the sanctity of life, I was making a profound cause that would no doubt return to me as great benefits. Actually, given how lost I'd felt before finding Buddhism, I felt that simply being able to make such a cause with absolute confidence was itself the greatest benefit.
That's a beautiful spirit.
Grady: That year, some folks from Blue Note Records came on campus and held open auditions. The winning student band would go on tour for 10 days in Peru. Some 20 bands auditioned, mine among them. After, the panel called us in. The chairperson spoke up.
"You know, other bands were good, very proficient, maybe even better, technically, than yours. But we felt that your music was the most human, had the most feeling. Congratulations."
You won!
Grady: Yes, because the actions I was taking in my Buddhist practice were having a profound effect on my relationships—with myself, my music, my bandmates—everyone. My parents, too, seeing how much I'd changed, fully backed my practice. My mother, in fact, had taken up chanting, receiving the Gohonzon in January the following year.
You graduated in 2016. What awaited you?
Grady: The illustrious work of folding shirts at a fast-fashion retailer and a bucket drumming class for kids at a family homeless shelter in the Bronx. I could barely afford rent. What's more, I was a district young men's leader. I'd meet my guys at cafés and couldn't even buy myself a coffee! I remember one young man who was roughing it, who'd go out behind a grocery store after hours and dumpster dive for the food they'd tossed. For him in particular, I felt I had to show actual proof.
I'm gonna buy you a sandwich! I vowed. That was my determination that year leading up to the May Contribution activity. I chanted vigorously, applying even to places that weren't hiring. One school got back to me, offering me a job that didn't yet exist, to teach their inaugural afterschool percussion workshop.
I felt that I got that job by expanding myself for the sake of life, in this case striving quite literally to nourish life. Being able to take the guys out to lunch was a great feeling. Watching this young man take on leadership, turn his life around and secure a job in real estate was quite another.
What happened next?
Grady: In 2018, I was hired to score a film about nuclear abolition. I was not chosen based on my resume—frankly, I didn't have much to show. The filmmaker based his decision on the heart—it was important to him that whoever scored the film be someone who understood the heart of the project and was passionate about its mission. A fellow NYU alumnus who remembered my involvement in the campus club put us in touch.
Soon after, I encountered an incredible music teacher at a tuition-free music school. There was an opening at the school and, while the pay was less, the school itself was, for a musician, a dream, offering lots of contact time with the kids, my own classroom full of instruments and the opportunity to study under this incredible teacher. Again, I based my decision on the heart and applied. I got the job and that May made my largest contribution. When the pandemic hit, many musicians lost their jobs. Because I was on salary as a full-time teacher, however, I kept mine. I felt protected.
The list of benefits continues to grow. In 2021, the filmmaker I mentioned asked me to score yet another project, this one a PBS documentary about the fight to make New York transit accessible to all. That same year, I decided to make the leap into full-time musicianship, something I was able to do while moving into a roomy apartment—a bastion for New York kosen-rufu!
I'm always inspired by Ikeda Sensei who teaches us that the heart of Nichiren Buddhism is developing an unshakable self.
This May, I'm challenging myself once again, making a determination that will require me to expand my life, that will in turn expand our organization that protects and supports the sanctity of life.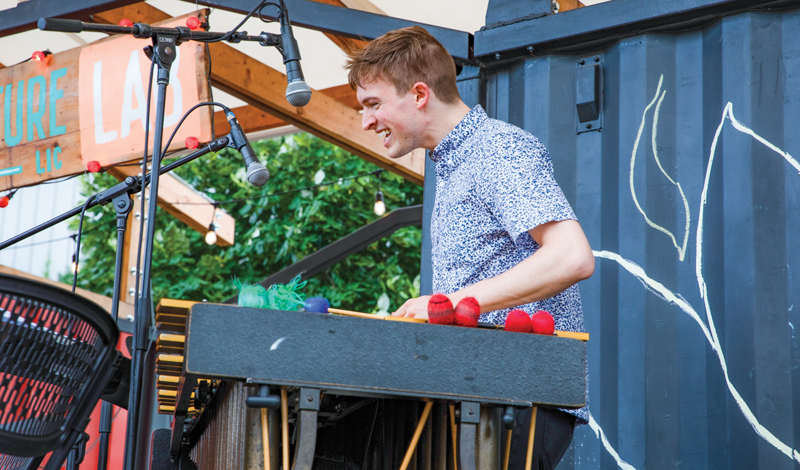 You are reading {{ meterCount }} of {{ meterMax }} free premium articles
Subscribe for unlimited access