by Taeko Kamata
Superior, Colo.
We first heard of the fire from our neighbor, in a cluster of hurried texts on our way home from a family vacation in New Mexico. Orange smoke, she said, was climbing in the west. An hour later: Strong winds, smoke everywhere, she'd grabbed her children and fled. This was the end of December 2021.
Our children behaved well in the back seat while I discreetly showed the texts to my husband, Taka, and tried to hide my distress. The Marshall Fire would, by day's end, consume our home and a thousand others to become the most destructive in Colorado's history in terms of buildings destroyed. We told the kids that night, at a hotel near the state border. Emi, the eldest, took it hard, but the boys, Hideyuki, Masataka and Takashi, seemed mostly OK. 
For my part, I wept the rest of the ride home. Taka, usually the family worrier, stayed uncharacteristically and infuriatingly calm. 
"Can't you shed a tear?" I cried. 
"What happened, happened, no?" he said, eyes on the road. "Besides, haven't you been saying we're overdue for a big human revolution?"
"Not what I had in mind."
"Well…," he scratched his head. For some reason, I laughed a little at this. Then he did a little, too, and then we laughed a little harder. I closed my eyes. 
Nichiren Daishonin says, "More valuable than treasures in a storehouse are the treasures of the body, and the treasures of the heart are the most valuable of all" ("The Three Kinds of Treasure," The Writings of Nichiren Daishonin, vol. 1, p. 851). Taka was right: This was the time to put our Buddhist practice into practice.
When we got to town, it was a mad race to find housing—thousands were in need—and toothbrushes, shampoo, clothing, shoes, all in time for the start of the school year. A donation center at the mall offered quality goods, sorted and heaped for the choosing. The kids were giddy, running pile to pile.
Appreciation washed over me as I collected what we'd need; then, suddenly, grief. No one—not the mayor or our insurance provider—could yet tell us whether we'd be able to rebuild. All this stuff, as much as it was needed, could not replace a home.
Grief and appreciation—in the following months, these feelings lived together in me, every moment of the day. So often I was crying, overwhelmed by one or the other, but especially by appreciation; the support and kindness of others was vast, unending.
Like me, Emi was up and down. At night, she was inconsolable. Taka and I encouraged her to chant with us—the daimoku seemed to do for her what it did for me, calming her down. Daimoku was my anchor. Chanting, I felt determination rise up, a fighting spirit to rebuild and the conviction that we would. 
As soon as the city permitted, we drove toward where our neighborhood had been, a little sprawl at the foot of the Flatirons. As we turned down familiar spruce- and fir-lined streets, past familiar homes and lawns, a sudden patch of bald white earth leaped into view. Just as quickly, it was gone again, swept from sight by roofs and treetops. This far out, the fire had begun to sputter, to "jump" between homes and neighborhoods, consuming some and leaving others intact. But as we neared our neighborhood, the bald patches grew larger, more frequent, until colors and shapes fell away on all sides into a flat unbroken gray. A volunteer stooped here and there, searching the ashes.
Nothing was recognizable. Our home of 17 years, in which we'd raised our children, hung their art and photographs, celebrated birthdays and New Years', was gone.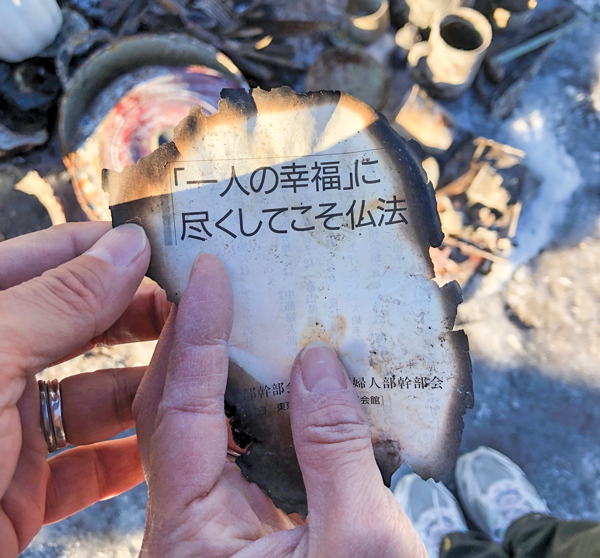 One of the volunteers approached. "Excuse me, is this something to you?"
Of the unlikeliest things to survive a fire, I'd say a scrap of newspaper tops the list. I blinked at the bold type in its burned border. In Japanese, it read: "Buddhism is concerned with the happiness of a single individual." It was from an old copy of the Seikyo Shimbun, the Soka Gakkai's daily newspaper.
The only other thing to turn up was my husband's wedding band. It had never quite fit, so he took to keeping it in the dresser. Together, these things reminded me: A house needs a roof and walls, sure, but the foundation of a home lies in the hearts of the people who live there and the bonds between them. 
We all stood in the drive, in front of the burned out shell of our Nissan, and my husband held out his phone. Fiercely, I felt: We're gonna rebuild! We'll do it no matter what! We punched the air and snapped a selfie.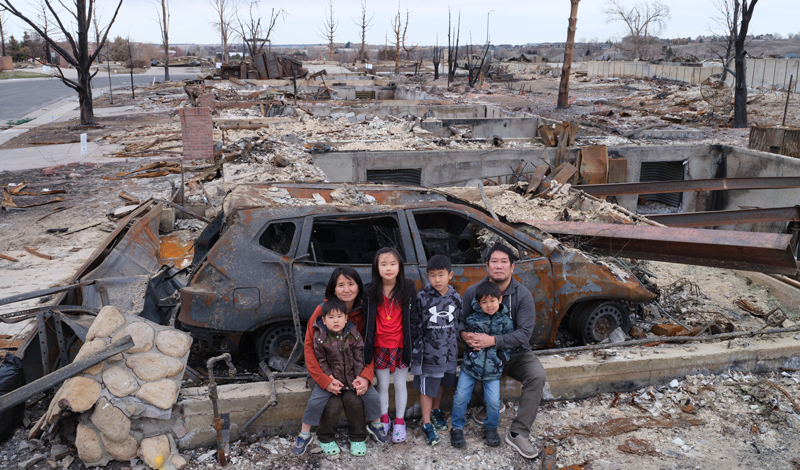 For the following month and a half, we crammed together in a tiny hotel room—all bigger rooms were taken by others displaced. The only space for the kids to play was on the counter. Even here, I knew, was the place to win, not only in our "little home," but in society. Over Zoom, I hosted all our district meetings, no matter what. 
In February 2022, we moved out of that little hotel into an apartment and later that year rented a home. Here, Taka and I began itemizing everything we'd lost, down to the toothpick, so we could get full coverage from our insurance company. Recently, Taka turned to me, smiling a little.
"You know, it might bug you to hear, but I'm actually enjoying this, overcoming this with you."
Actually, these days, his optimism puts me in a working mood. More than anything, the house we lost brings to mind the friends we've gained and bonds we've deepened. If I do shed tears, they're of appreciation. Recently our fighting spirit won out: Our insurance covered everything.
We're now rebuilding in our old neighborhood, where plants and flowers have popped up alongside fresh house frames. Ours is unfinished, but its foundation is solid, built of strong bonds and winning spirits forged fighting together.
---
"Do we allow ourselves to be overwhelmed by difficulties, or do we fight back and triumph over them? This is the earnest struggle that we must wage both as individuals and as a society."

from Ikeda Sensei  (April 9, 2010, World Tribune, p. 1)
You are reading {{ meterCount }} of {{ meterMax }} free premium articles
Subscribe for unlimited access