Eight years after Rosa Cruz learned about Buddhism in college, she began attending SGI-USA district meetings during what would become a pivotal time in her life. In February 2021, less than a year after she began chanting, she was diagnosed with osteosarcoma,  a rare childhood bone cancer.
As she went through chemo and radiation therapy, her Buddhist practice and district family helped guide her through the difficult questions she faced about life and death, happiness and purpose. "Having faith in my Buddhist practice meant having faith in myself," said Ms. Cruz, who was declared cancer-free after her fifth surgery. "And I now have the courage to take action toward my dreams and goals."
SGI-USA members everywhere are endeavoring to introduce young people to Nichiren Buddhism this year based on the united focus: Each District, One Precious Youth. The ultimate aim is for each new youth to become a capable person, a protagonist who can transform their own sufferings and contribute to the positive transformation of their community and the world. 
Ikeda Sensei, in his New Year's message, says: 
Nichiren Daishonin writes, "I entrust you with the propagation of Buddhism in your province" ("The Properties of Rice," The Writings of Nichiren Daishonin, vol. 1, p. 1117). The Daishonin is telling his disciples, who were challenging adversity with unwavering faith, that he is counting on them to spread the Mystic Law in their communities. We can read this as a message to all of you today who have been sowing the seeds of the Mystic Law in the lives of one person after another in your respective lands while overcoming many hardships. You are all courageous Bodhisattvas of the Earth sharing deep karmic bonds. (Jan. 1, 2023, World Tribune, p. 1)
On the following pages, the World Tribune highlights 24 new youth members, plus the first 100 districts to welcome a youth into their Soka families this year.
---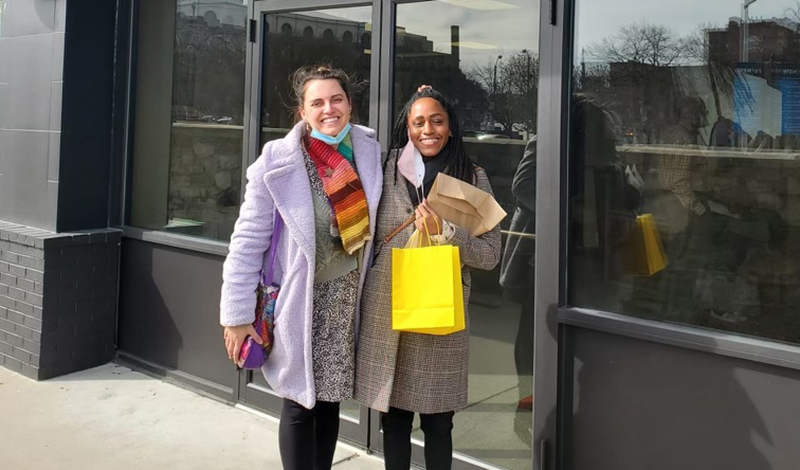 ---
East Territory
| | |
| --- | --- |
| North Zone | West Greenwich District |
| Belmont District | Mount Auburn District |
| Norwood District | Peekskill District |
| Providence District | River East District |
| Triple Cities District | University District |
| | |
| --- | --- |
| Brooklyn-Queens-Long Island Zone | |
| Stuyvesant Heights District | Queensboro District |
| Ditmars District | Woodhaven Boulevard District |
| Sunnyside District | Flatlands District |
| | |
| --- | --- |
| Florida Zone | Young Circle District |
| Doral East District | Edgewater District |
| Kendall District | East Boca District |
| | |
| --- | --- |
| Mid-Atlantic Zone | |
| Virginia Beach East District | Charles Village District |
| Capitol Hill District | Timonium District |
| West Cary District | Crofton District |
| Fairfax District | Montclair District |
| Arnold District | Springfield District |
| | |
| --- | --- |
| New Jersey Zone | Journal Square District |
| Grove District | Kennedy Heights District |
| Hackensack District | Rutherford District |
| | |
| --- | --- |
| New York Zone | |
| Broadway Heights District | Hunter District |
| East Houston District | Sugar Hill District |
| East Village District | UN South District |
| Waterside Park District | University Heights District |
| Grand Street District | West Village District |
| | |
| --- | --- |
| South Zone | Grant Park District |
| Columbus South District | Marietta District |
Central Territory
| | |
| --- | --- |
| Chicago Zone | |
| Arlington South District | East Hyde Park District |
| Bridgeport District | Logan Square District |
| | |
| --- | --- |
| Mideast Zone | |
| Capital District | Dublin-Marysville District |
| Southfield District | |
| | |
| --- | --- |
| Midwest Zone | |
| Downtown Kansas City District | Maple Grove District |
| Highland District | North County Diamond District |
| | |
| --- | --- |
| Rocky Mountain Zone | |
| Denver Tech Center District | Happy Valley District |
| | |
| --- | --- |
| South Central Zone | |
| Broadway District | Pontchartrain District |
| | |
| --- | --- |
| Southwest Zone | |
| Chandler District | Maryvale District |
| Manzano District | Paradise Valley District |
| | |
| --- | --- |
| Texas-Oklahoma Zone | South Creek District |
| University District | The Woodlands District |
West Territory
| | |
| --- | --- |
| Golden Gate Mentor and Disciple Zone | Emeryville Courageous Hearts |
| | |
| --- | --- |
| Los Angeles North Coast Lion's Roar Zone | |
| Aqua Vista District | Winnetka New Era District |
| Pasadena District | Mission District |
| | |
| --- | --- |
| Los Angeles Pan-Pacific Zone | |
| Gardena Blue Sky District | North West New Wave District |
| Long Beach Diamond District | Pacific Peace District |
| Main Street Mountain Warrior District | San Pedro Harbor District |
| | |
| --- | --- |
| Los Angeles Sunshine Zone | Leimert Hub Cities District |
| Angeleno Heights District | Never Give Up District |
| Culver Hope District | Olympic 2030 District |
| Diamond Grove District | Windsor District |
| | |
| --- | --- |
| Pacific Zone | |
| Hahaione District | Yigo District |
| | |
| --- | --- |
| Pacific Northwest Zone | Issaquah District |
| Bellevue Lotus District | Southwest Washington District |
| | |
| --- | --- |
| San Francisco Ever-Victorious Zone | |
| Mission Murals District | South Palo Alto District |
| | |
| --- | --- |
| Southern California Zone | Woodbury District |
| | |
| --- | --- |
| Southern California Mojave Zone | |
| Grand Crossing District | West Craig District |
| Seven Hills District | West Tropicana District |
July 14, 2023, World Tribune, pp. 6–8
You are reading {{ meterCount }} of {{ meterMax }} free premium articles
Subscribe for unlimited access