SGI-USA member Ken Lee, of Chateaugay, New York, is co-founder and co-CEO of Lotus Foods, a sustainable rice company that promotes human and environmental welfare. He and his wife, Caryl Levine, started the company in 1995 and have since been recognized for their efforts to mitigate climate change through regenerative rice production. Their company is credited with introducing black rice to the U.S. market under the name Forbidden Rice®. The World Tribune spoke to Ken about how his Buddhist practice has impacted his career. 
World Tribune: Thank you, Ken, for speaking with us about your journey to start Lotus Foods. How did you begin practicing Buddhism?
Ken Lee: I was 29 when I joined the SGI. After graduating from college, I had bounced around a bunch of jobs.
While bartending to make money on the side and meet people, a co-worker introduced me to Buddhism. She said to me, "I chant Nam-myoho-renge-kyo, and if you chant, you can become happy as well." I had just bought a new truck and owned a house that I was renting out. I thought these things constituted being happy. 
She had so many challenges and obstacles. I thought, How can she be so positive amid so much negativity? So, I decided to try it. 
WT: What happened from there?
Lee: From early on, I was inspired by Ikeda Sensei, especially his dialogues with leaders, captains of industry, philosophers and heads of state. The idea of achieving kosen-rufu by challenging my own human revolution sounded like something that I could dive into.  
I supported Sensei's movement behind the scenes when he gave his "soft power" lecture at the Harvard Kennedy School of Government [in September 1991]. I also participated in the gymnastics group and opened my home for district meetings. These were all faith experiences that stuck with me and propelled me forward, especially during difficult times. 
The foundation of my practice is having Sensei as my mentor in life. He taught me the stand-alone spirit and to find my own unique path forward—to neither give up nor be discouraged.
WT: How did you discover your career path?
Lee: Things changed rapidly after I started my Buddhist practice. One day while bartending, I met Caryl (who would later become my wife), and we decided to start a business together.  
We took a two-month market research trip, where we discovered black rice in the southwestern part of China. Long ago, it was offered to China's emperors as a tribute to their longevity. It was nutritious and delicious and was not yet available in the U.S. We saw this as an opportunity. During that trip, while walking in the Forbidden City, I thought, Let's name this rice "Forbidden Rice," the exclusive grain of the emperors. Now Forbidden Rice® is one of our best sellers. Our company has grown tremendously over these 28 years, as we have expanded into a line of rice noodles.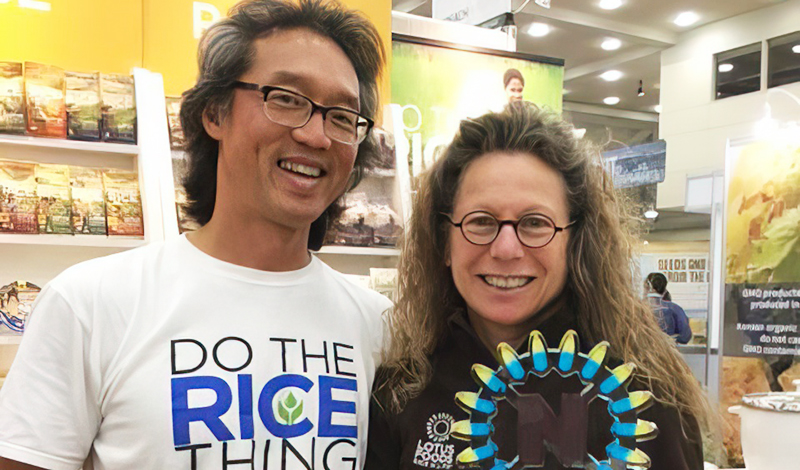 WT: Your mission statement focuses on mitigating climate change, promoting farmer's resilience and empowering women through rice-growing practices. Was sustainability a part of the business plan from the beginning?
Lee: At first, we were focused on preserving the biodiversity of rice. 
We wanted to create markets for these heirloom rice varieties that offered more in the way of taste, texture, color and aroma, and that were nutrient dense. People were not familiar with these exotic grains, so we had to educate consumers. In doing so, we learned about the detrimental effects of chemical farming and decided to promote organic rice.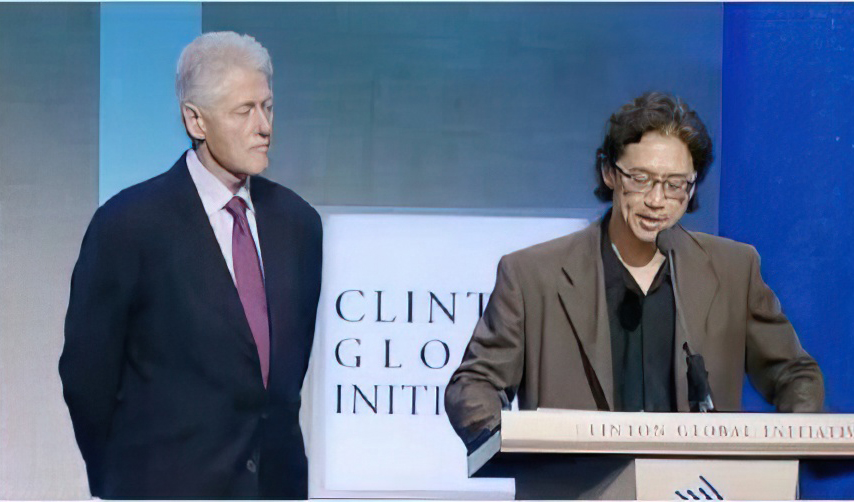 Then in 2005, we learned about a new way of growing rice called the System of Rice Intensification (SRI) through Cornell University. We market it as "More Crop Per Drop." It's a way to grow more rice with less water and seed. We felt it wasn't enough just to grow rice organically without chemicals; we had to grow it regeneratively, building soil health, sequestering carbon and empowering farmers to go from being rice deficient to producing enough for themselves and to export to Lotus Foods. 
WT: How does that differ from traditional methods?
Lee: The traditional way involves flooding rice fields, which is [a major] man-made reason for methane emissions, a main causal factor of global warming.
As a purpose-driven company, our mission now is to change how rice is grown around the world. By using 50% less water, younger seedlings, 90% less seed, a conical weeder and by not flooding the fields continuously, we reduce the drudgery of women's labor. We drastically cut planet-warming methane gas and malarial disease vectors, all while increasing crop yields. 
In Buddhism we talk about the interconnectedness of all things. Similarly, we see rice production as an ecosystem that impacts the health of people and the systems that sustain life on the planet. Cultivating that ecosystem includes prioritizing the livelihood of farmers, taking steps to make farming viable, providing a means for kids to attend school and reducing time in the field for farmers working outdoors amid record-high temperatures. 
WT: How has your Buddhist practice helped you navigate challenges in your business? 
Lee: We have faced many challenging moments with Lotus Foods that threatened the business's very existence. The question is: How do you react when obstacles arise? I take challenges to the Gohonzon and chant that we resolve the issue in the best way. Daimoku is key—combined with courageous action!
 I'm now the Burlington District men's leader in Vermont. I'm chanting and working on the ground in my district to raise youth. At times, it is tremendously challenging, especially in a rural area that covers a large geography. My determination is to hone my leadership skills in business by improving as a leader in the SGI. We are working to grow our district so that one day we will have enough members to open a community center here. 
WT: Last year you received a prestigious award. Can you tell us about it?
Lee: Caryl and I were both inducted into the Specialty Foods Hall of Fame for our pioneering work innovating the rice category with "better for you" products that are both delicious and nutritious. 
Also in 2022, the Ellen MacArthur Foundation did a video on Lotus Foods to highlight our circular economy impact as it relates to regenerative agriculture. The video debuted at COP27 [the 27th Conference of the Parties to the United Nations Framework Convention on Climate Change] to inspire other companies to take action and be a part of this movement.
It is heartening to know that our work is being recognized. The Buddhist principle "many in body, one in mind" works for climate solutions also. Working together, we can become the change we seek. 
WT: Do you have any advice for young people just getting started?
Lee: Inspired by Sensei, I once asked myself, What will my contribution be? By chanting sincere daimoku and taking courageous action, you can reveal your true self and the path forward that is uniquely yours. Challenge yourself and open up that pathway. 
June 16, 2023, World Tribune, p. 10
You are reading {{ meterCount }} of {{ meterMax }} free premium articles
Subscribe for unlimited access