The following are from Ikeda Sensei's April and May 1951 diary entries, prior to his mentor, Josei Toda, being inaugurated as second Soka Gakkai president. Until then, Sensei had struggled alongside Mr. Toda to resolve his financial struggles so that he could focus all his energies on the Soka Gakkai's growth as its president. These excerpts are from A Youthful Diary, pp. 108–10.
Friday, April 27. Clear.
Could observe, for the first time, the behavior of a court bailiff. Clearly witnessed the strictness of the legal system, or rather, the miserable state of the weak. Can only pity them—is this reality? Feel that I now know a bit more about society's harshness and complexity. Aware that I have been too innocent and idealistic until today.
The Soka Gakkai is advancing faster and faster. Our district must also try its best. Must make the propagation spirit and our organization's solidification the fundamental causes for our development. In any case, I myself must strive, I must be responsible.
The wind blew all day. Read a little from the complete works of Kyoson Tsuchida (1891–1935).
The "Letter from Sado" states: "When an evil ruler in consort with priests of erroneous teachings tries to destroy the correct teaching and do away with a man of wisdom, those with the heart of a lion king are sure to attain Buddhahood. Like Nichiren, for example." (The Writings of Nichiren Daishonin, vol. 1, p. 302)
To bed, after 2:00.                           
Saturday, April 28. Cloudy.
A sultry wind blew all day. Not feeling quite well. An empty day.
A meeting with T. Construction Company lasted through the morning. Attended an evening discussion meeting at S.'s. No guests came. A spiritless meeting.
In the same way, the renegade disciples say, "Though the priest Nichiren is our teacher, he is too forceful. We will spread the Lotus Sutra in a more peaceful way." In so asserting, they are being as ridiculous as fireflies laughing at the sun and moon, an anthill belittling Mount Hua, wells and brooks despising the river and the ocean, or a magpie mocking a phoenix. ("Letter from Sado," WND-1, 306)
Read for a while. To bed, after 3:00.
Sunday, April 29. Light rain.
Stayed in bed until 10:00. Feel as if this fatigue has been building up daily in my exhausted body. Could this be the accumulated fatigue of the past several years? Visited by N. and B. Strongly debated with them.
Went to the barber for the first time in a while. Stopped by the baths on the way home. A hot and humid day—my physical condition is not good at all. For our district's progress, I visited the home of W. of Magome District, a place that brings back fond memories. Lost two precious hours, since he was not home. Will visit M.'s on the fifth of next month, to introduce him to the Daishonin's teachings. Re turned home dispirited. Sensei, please forgive me, for I will definitely make our district advance next month.
Read before going to bed, after 2:00.
Thursday, May 3. Clear.
The second Soka Gakkai president, Mr. Josei Toda, was inaugurated. The place—Josen-ji in Mukojima.
Fine weather. The ceremony began at 2:00, and the day's events ended at 9:00, after a celebration.
At last, Mr. Toda has become president. This was the long-awaited, common wish of all his disciples. I will remember this day for the rest of my life. A thousand and some several hundred must have attended.
Advance! Holding high the banner of the Mystic Law, toward attaining kosen-rufu. Two billion people await us, await the Soka Gakkai's bold advance.
The leaders' faces were clear and bright as the new organization implementation was announced. Everyone was in high spirits, each determination, lecture and resolution statement filled with dynamic vigor. I sat by myself in the center of the meeting, quietly listening to my mentor and the other senior leaders, thinking that no one but Mr. Toda is aware that a lone youth's sights are firmly set on the Soka Gakkai's path 10 years into the future.
An unforgettable memory—to see my mentor joyfully tossed into the air after the ceremony. Cannot forget the eyes of H., who always ponders so deeply the Soka Gakkai's future. Before returning, stood at the temple door to gather donations for the Gohonzon that will be bestowed on the Soka Gakkai. Home, a little before 11:00.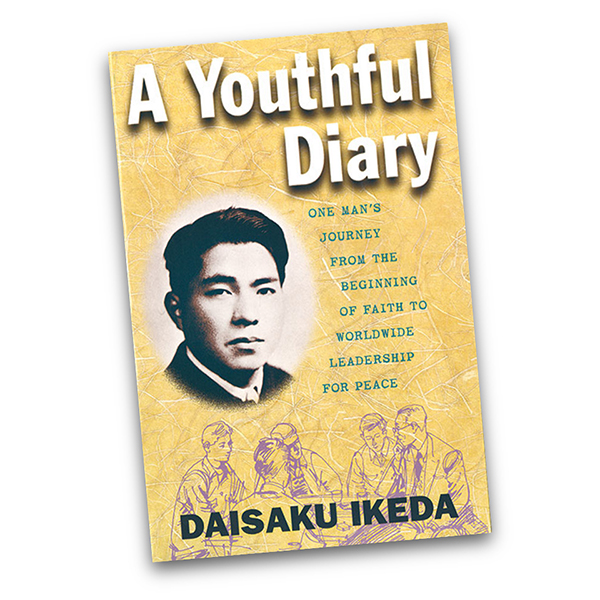 You are reading {{ meterCount }} of {{ meterMax }} free premium articles
Subscribe for unlimited access