by John Tedtaotao and Chris Alvarez
Sinajana, Guam
Travel inland from the Philippine Sea, past wetlands and betel nut and monkeypod trees, past two gas stations, a tire shop and a modest bridge—blink and you'll miss the landmark: a power pole painted blue. The Tedtaotao farm doesn't show up on Google maps, save for the coordinates.
Here, John Tedtaotao and Chris Alvarez welcome guests over a lunch of homemade CHamoru delicacies: mackerel, freshly caught and fried, flour titiyas, slightly sweetened with coconut milk and served with butter, kelaguen, a fish ceviche, and baked papaya turnovers.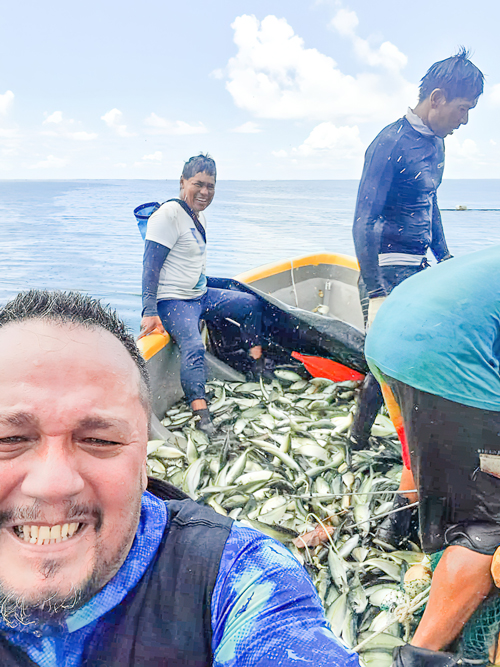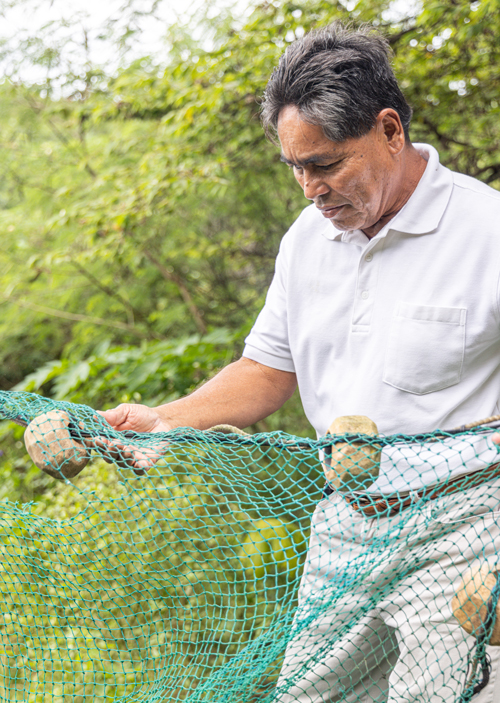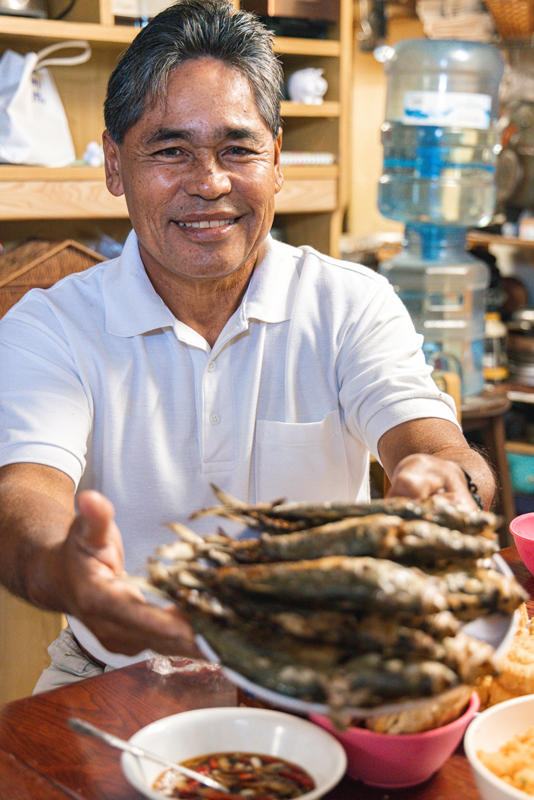 After a lifetime shared together, they finish each other's sentences, speak with one voice. In bits and pieces, over the clattering of dishes, in constant motion heaping more food on their visitors' plates, they share how a family changed its destiny through dedicating their lives to kosen-rufu.
John joined the Soka Gakkai in 1969, a year after his father, Jose. With only a handful of SGI families chanting on the island, Buddhism was not understood or appreciated. The family faced harsh criticism for embracing a religion different than Catholicism, which sank deep roots into the island after Magellan pulled his ships to shore in 1521.
Still, John's father stood his ground, sharing with his CHamoru relatives all the benefits they'd received from the practice—bountiful crops, strong poultry sales and a thriving livestock farm, all of which helped his extended family survive.
John recalls how his father taught his 12 children to fish so they could always sustain themselves. And, with a few of them always in tow, he sold his catch of the day and vegetables by the roadside before packing up his wares in time to attend their discussion meeting. Almost always, they sold whatever food remained on the way home. "We had no center," John says. "We didn't even have chairs. We were on our knees."
Years later, John and Chris would meet, and in January 1988, receive the Gohonzon together. Their families would eventually encompass nearly 40 people across four generations practicing Buddhism with the SGI.
But it was in the early '90s, long after John had returned safely from his U.S. Marine Corps service and left the police force, that the couple used their Buddhist practice to challenge their greatest dream: starting a fishing business.
"We chanted for a good-luck net, happy fishermen and an abundance of fish to feed the people."
It began with no net and no boat but a routine that continues to this day: Chris reading Ikeda Sensei's guidance to John. 
In volume 8 of The Human Revolution, they came across a story about a ship captain whose boat sank off the Aleutian Islands. They understood the import of that moment: among seamen, the unwritten code is for the captain to share the fate of his vessel.
The captain, a man over 50 with a sunken ship, could not find work. In despair, he encountered Nichiren Buddhism and began actively sharing it with others, despite his skepticism of all religion. Ten months into his practice, a ship owner hired him as a captain. Whereas other captains paid priests hefty sums to pray for safe passage, he continued to chant. To his surprise, his boat netted great catches of fish every day, so much so that he had amassed the most at the end of the season. He had, as Sensei put it, become "a grand champion of the sea" (see pp. 986–91).
"Chris and I wanted to show actual proof of our Buddhist practices to the community here on Guam," John recalls. With a fresh resolve, they purchased a massive 1,000-foot net from the Philippines, with no sinkers or floaters. Even getting it through several customs ports without losing part or all of the net required great ingenuity backed by daimoku.
"We were told to have specific goals," Chris recalls, "so we chanted for a good-luck net, happy fishermen and an abundance of fish to feed the people."
"With every catch we get, our first goal is to feed the Buddha's children. … We live on an island. We want to encourage people to enjoy eating fish. We want them to know they can live off the land and the sea."
When the massive net arrived, John and Chris sewed it together, chanting Nam-myoho-renge-kyo with every stitch. They found people with enough lead to make sinkers themselves. When they finally cast it into the ocean off Pago Bay, they chanted an hour each morning and an hour every night, doing their best to never miss their SGI activities and share Buddhism with others.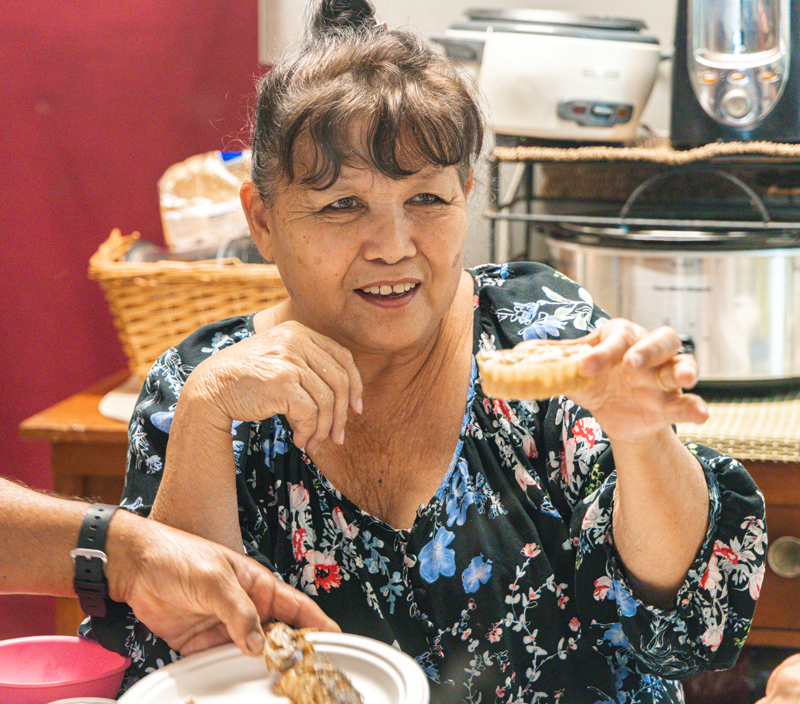 John used a traditional CHamoru fishing practice, where one casts a vertical net into the ocean to surround a dense school of fish. A diver then swims to the bottom to pull the net together like a drawstring purse.
Their first catch netted over 60 boatloads of atulai, or mackerel, which took over three months to harvest. In the spirit of inafa'maolek, a CHamoru concept that promotes interdependence, John began splitting the catch evenly among his family members.
Even today, John and Chris split the catch among family before selling their portion of the catch on the roadside. While others advertise mackerel for $7 a pound, they sell theirs for $3.50 and always throw in extra fish. "With every catch we get, our first goal is to feed the Buddha's children," Chris says. "We live on an island. We want to encourage people to enjoy eating fish. We want them to know they can live off the land and the sea."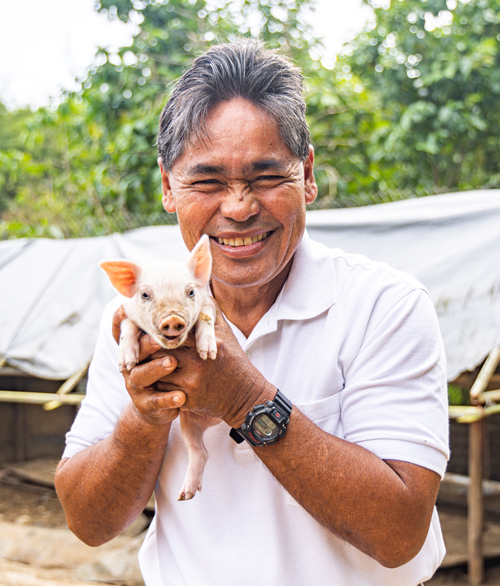 Their fishing business enabled them to build a farm home from scratch, with massive pens for their hundreds of pigs, roosters and chickens. Nearby, John keeps several cows, including a fully matured bull. 
That theirs is a kosen-rufu farm is further validated when John hands a piglet to a visitor. The newborn squeals until it hears the sounds of daimoku and then promptly drifts off to sleep. 
After 35 years together, John and Chris made their wedding vows on Jan. 1, 2023. They joke that, to each other, they represent the best catch of the day.
Just before the Guam Ikeda Peace and Culture Center opened, John found himself in the parking lot, sun beating down, water blasting the pavement. To him, being asked to do anything for the new center was a profound honor. "I was just so happy," he says, tears rimming his eyes.
The opening was something he and Chris could not have fathomed at the start of their journey—having in their backyard a world-class center designed to welcome SGI members from around the world.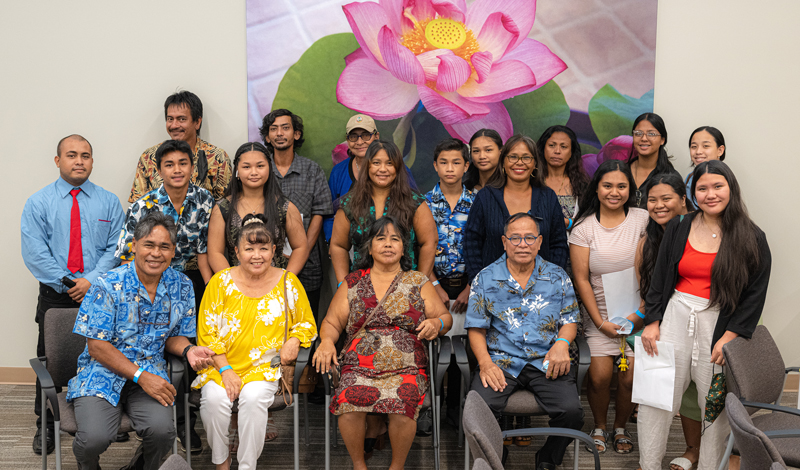 Twenty-three of their family members and guests attended the grand opening. Among them were four siblings, future division members, that Chris had unofficially adopted after introducing their single mother and her nine children to Buddhism.
On the morning of the opening, the siblings rose early at the Tedtaotao home and got dressed in their island finery. One said, "Let's go do the book," and they recited gongyo and chanted to the Gohonzon, of their own accord, for the success of the meeting.
As the grand opening drew to a close,  the family members gathered in the center auditorium for a photo, beneath one taken by Sensei, of a lotus flower, its brilliant pink petals vouching for strong, deep roots in the water below.
Feb. 10, 2023, World Tribune, pp. 8–9
You are reading {{ meterCount }} of {{ meterMax }} free premium articles
Subscribe for unlimited access