SANTA MONICA, Calif.—Some 1,200 youthful bodhisattvas from the Southern California quint zones[1] gathered on Jan. 29 at the World Culture Center to commemorate 30 years since Ikeda Sensei presented his timeless poem to the members of Los Angeles, "The Sun of Jiyu Over a New Land." The electrifying meeting, themed "EMERGE," marked the first time the poem was celebrated on this scale by youth. It also was the first gathering of this magnitude since the start of the COVID-19 pandemic, representing a fresh departure for West Territory and the SGI-USA.
"For the past three years, the youth battled their own personal challenges and struggled not being able to meet on this scale," said Mao Izumi Ross, West Territory young women's leader. "It was even more joyful, more powerful, than pre-pandemic gatherings. It was amazing to see Wilshire Boulevard flooded with youth."
The meeting was held inside the World Peace Ikeda Auditorium, the same place where, three decades ago, Sensei introduced the poem just months after the acquittal of police officers involved in the beating of Rodney King and the social unrest that followed. In the poem, Sensei expresses his wish for each person to awaken to their identity as a Bodhisattva of the Earth and shares his hopes for the SGI-USA to become the heart of the worldwide kosen-rufu movement.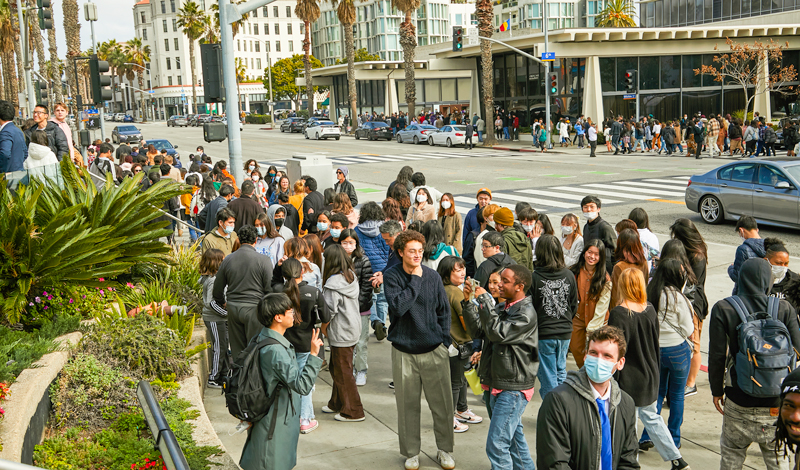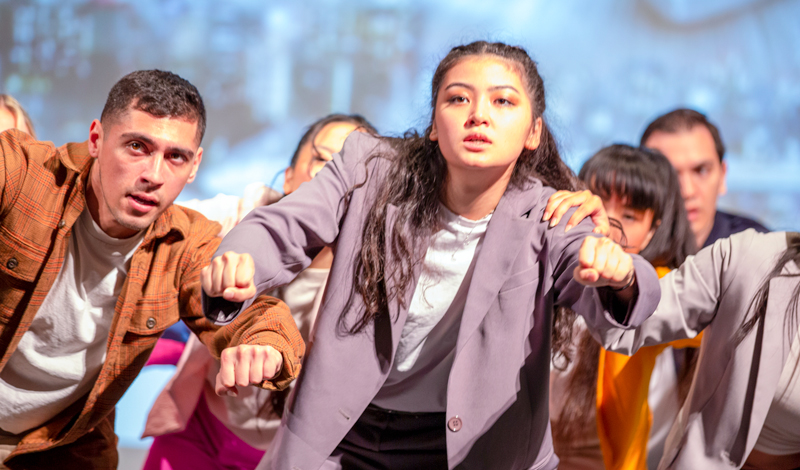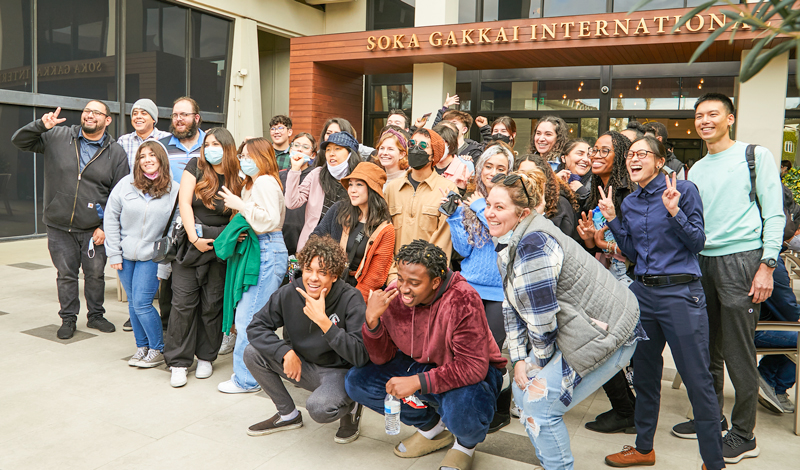 Thirty years later, Sensei continues to remind SGI-USA members of their profound mission. In a powerful message to the meeting, Sensei congratulated the youth on their gathering, saying that he and his wife felt as though they were attending alongside them. He continued: 
No matter how dismal the times may be, if you rise up courageously with a stand-alone spirit and shine brightly as a "sun of jiyu" in the place where you are now, a strong alliance of courage and hope is sure to spread. The mission you all possess is more important than ever. (Read the full message here)
In her opening remarks, SGI-USA Young Women's Leader Maya Gunaseharan spoke on the relevance of the poem now, saying, "Headlines this week read: three weeks, 33 mass shootings, this is America in 2023." She continued, "With all of you today, I'm renewing my own vow, that 2023 becomes a year when we change the trajectory of violence so that, 30 years from now, we can declare that respect for the dignity of life has sunk deeply into the fabric of America."
Many of the 917 members and 262 guests attending that day, most of whom hadn't been born yet in 1993, were studying and inheriting the spirit behind this poem for the first time. For Miho Saito, who shared her experience at the meeting, it was symbolic of her accepting the baton of kosen-rufu from her father who supported the meeting in 1993 and passed away last October (read experience here).
The participants gave a rousing applause for three performances by the Ikeda Youth Ensemble. The jazz band's soulful sounds set the scene for the 1990s, when the poem was written. A dance performance followed, embodying the spirit of youth emerging from the earth. At the conclusion: a moving choral performance of "Youth, Scale the Mountain of Kosen-rufu of the 21st Century," representing youth standing up based on their vow for kosen-rufu.
In his closing words, Shota Okajima, SGI-USA young men's leader, encouraged the participants to base their lives on chanting Nam-myoho-renge-kyo and doing morning and evening gongyo daily. "You don't need to wait for something to happen," he said. "You have control to change your life. Chanting Nam-myoho-renge-kyo enables you to bring forth limitless life force." He finished by saying the real challenge lies in our ability to believe we can transform ourselves and our environment. 
When asked about the significance of the meeting, Martin Saito, West Territory young men's leader, remarked how true and important Sensei's poem is to all of us today. "Thirty years later, society may look very similar, but we have 1,200 youth gathering to make a shared vow with Sensei," he said. "None of us were there then, none of us were at that meeting, but engraving Sensei's poem in our lives, we are standing up on our own feet."
—Prepared by the World Tribune staff
---
Voices from the 'EMERGE' Youth Meeting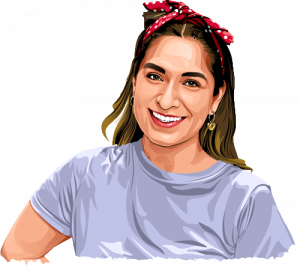 Chanting Like Galloping Horses
by Kate Acosta Diaz 
Las Vegas
Stepping into the auditorium at the World Culture Center, it was like a scene from The New Human Revolution. The Gohonzon, surrounded by a golden altar, left a deep impression on me. I looked around and the auditorium was full—more than 1,000 youth, all chanting in unison with a rhythm like galloping horses, just like Ikeda Sensei talks about. I felt like I was floating, and at the same time a beautiful connection: I belong here, I can contribute here, I can help here. The performances, the music, the dance, the energy—I could feel so much Buddhahood.
Just before the pandemic, I had to go to Colombia to take care of my visa, but I stayed connected with the SGI-USA virtually. Then, I was in Turkey visiting my boyfriend who I married while there. With fewer faith traditions recognized by the country, I was nervous to chant too loudly. I would just whisper, Nam-myoho-renge-kyo, Nam-myoho-renge-kyo. 
I've been chanting alone since 2020, listening to just my own voice all this time. Going to the meeting and hearing so many people chanting was like an awakening. My feelings toward all my goals and worries transformed—like, You got this! 
Sometimes I feel overwhelmed and skip doing gongyo, but since that day I feel so motivated and calm. I haven't missed a day of daimoku! My husband recently asked why I am so calm when difficult situations come up. If I didn't have this practice, I am sure I would be crying every day and over-worried. For the first time I have complete trust in the universe and the causes I make. I trust my practice. 
The biggest benefit of my SGI practice has been getting in touch with other people who are in the same rhythm, people who are working toward something much bigger—toward kosen-rufu.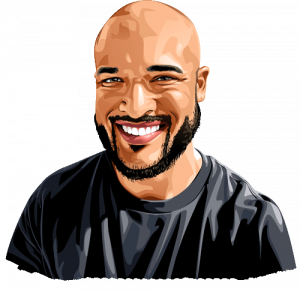 Living With a Patient Fighting Spirit
by Blake Levingston
Los Angeles
I'm no stranger to hardship. Addiction, unstable housing and financial problems were my reality only last year. I randomly met Michael, who mentioned Nam-myoho-renge-kyo. As a kid, my god mom told me about it, too. I don't remember much besides how calm and collected she was. Lacking patience and desperate for answers, I gave chanting a shot.
Over the months, I, too, became calm and collected. My health and finances stabilized. I got a home for my dog and me, a place to enshrine the Gohonzon.
The hardships persisted, but I now had daimoku to fight with patience. A propane accident put me in the ER with burns on my face, but I was protected. I shared my experience at an SGI meeting two months later, with faint scars that resembled only a light sunburn. Now they're barely noticeable.
After working a double shift before EMERGE, I got into an accident after falling asleep at the wheel. I woke up in my truck, airborne. As it hit the ground and skidded out, I thought at first, Here we go again, more woe for Blake. But then I realized the protection: No one was injured. The only harm done was a popped tire and a cracked rim.
Nonetheless, my ride to EMERGE was towed off. I thought, What are these devilish functions trying so hard to prevent me from achieving? I was determined to make it.
I took the bus. Roads were closed, and I didn't have enough for the fare to Santa Monica. Then, en route, I unexpectedly received money I was owed on a cash app, and I took an Uber the rest of the way.
I made it, arriving in time to hear the chorus sing the words, "Scale the mountain right in front of you; bravely give your all, step by step, one by one, holding high the banner of the Mystic Law." 
I realized then that I must stick with Buddhism—because life will continue to test me, and you can't fake human revolution; you've got to live it with a patient fighting spirit.
Feb. 17, 2023, World Tribune, pp.6–8
References
The Southern California quint zones are:1) Los Angeles North Coast Lion's Roar Zone, 2) Los Angeles Pan-Pacific Zone, 3) Los Angeles Sunshine Zone, 4) Southern California Zone and 5) Southern California Mojave Zone. ↩︎
You are reading {{ meterCount }} of {{ meterMax }} free premium articles
Subscribe for unlimited access