The World Tribune this month is launching its revamped website, worldtribune.org, plus a new mobile app that enables subscribers to read and listen to their SGI-USA publications on the go. Some of the exciting new changes:
Website: The new site includes sections for the weekly newspaper World Tribune and monthly study magazine Living Buddhism as well as expanded resources. Subscribers can enjoy one-stop shops for The New Human Revolution and Ikeda Sensei's annual peace proposals, plus the podcast series "Buddhist Solutions for Life's Problems." 
Audio companion: This new feature enables readers to listen to any article on the website or app.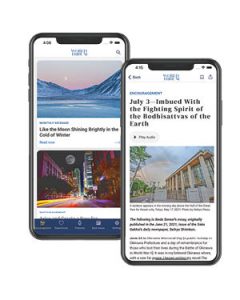 Newsletters: Receive curated encouragement straight to your email inbox by opting in to any of the three new monthly newsletters: 1) Learning From Nichiren Daishonin's Writings; 2) My First Year of Practice; and 3) Parenting.
App: Subscribers will have access to the Apple (iOS) version of the World Tribune app in early May, with the Android version to follow shortly. Features include the ability to save articles and increase the font size of articles, plus receive push notifications on your smart device when the latest edition is out.
Monthly option: The SGI-USA recently introduced a monthly $7 subscription option. To subscribe, visit portal.sgi-usa.org/subscription or reach out to Member Services at (855) 744-2030 or subs@sgi-usa.org.
Happy reading, and thank you for your ongoing support of the Voice of Courage and Hope!
—Prepared by the World Tribune staff
You are reading {{ meterCount }} of {{ meterMax }} free premium articles
Subscribe for unlimited access