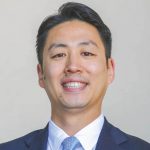 by Ryo Kuroki
SGI-USA Young Men's Leader
In December 2019, Ikeda Sensei conveyed the significant role SGI members would play to transform our global society toward the Soka Gakkai's centennial in 2030. Calling forth the need to transform great evil into great good, he said, "The 10-year period from the 90th to the 100th anniversaries of the Soka Gakkai will mark a period of vital importance that will be a turning point for humanity."[1]
Since then, the United States and the world continue to experience tremendous challenges: the first major land war in Europe since the 1940s; the highest inflation rates in the U.S. in 40 years; the tragic shootings at Robb Elementary School in Uvalde, Texas, the Tops Friendly Market store in Buffalo, New York, fueled by racism, and the more than 20 since. All of this is occurring with the backdrop of the global COVID-19 pandemic; the 2020 murder of George Floyd and other racially motivated acts of violence; and, in 2021, the hottest summer on record in the U.S., as scientists continued to warn of the irreparable damage the human race has placed on the environment. The cycle of violence rooted in anger continues to plague our country and our planet. 
In his message to Soka University of America's 18th commencement ceremony, Sensei quoted the exiled Iranian lawyer and Nobel Peace Prize laureate Shirin Ebadi, saying, "If the 21st century wishes to free itself from the cycle of violence … there is no other way except by understanding and putting into practice every human right for all mankind, irrespective of race, gender, faith, nationality or social status."[2]
I believe that the philosophy of Nichiren Buddhism and its view of human life provides us with a spiritual backbone synonymous with Dr. Ebadi's statement that all human beings have the Buddha nature. 
How can we free ourselves from the cycle of violence? How can we contribute to what seem like issues beyond our control? I have personally struggled to understand what we can do. Through fighting together with the young men of the SGI-USA, I have realized the following:
It is my belief that Sensei has taught us that the only way to overcome the lower world of anger is to bring forth our fundamental enlightenment. I take this to mean that we can address the root cause of violence, vengeance and war by pursuing our path of enlightenment and sharing with others a practice that enables them to do so. 
In the ""The Supremacy of the Law," Nichiren Daishonin states: 
You need not seek far for an example.[3]
And Sensei writes on the founding of the young men's division: 
Thousands of years of history show that it was always the youth who brought changes to their societies. Likewise, our great religious movement must be carried out by youth. Who are these youth then? They are none other than us.[4]
How each of us takes on this profound mission as disciples of Ikeda Sensei will define the heart of our young men's commemorative meetings on July 10. 
The young men will gather across the country to make a profound determination to break the cycle of violence with the spirit of "death-defying"[5] dialogue and burn with relentless passion to respond to our mentor's call as the youth who will bring change in our societies. 
---
Key Details for the July 10 Young Men's Meetings
Commemorating the 71st anniversary of the founding of the young men's division

Zone-level meetings held in person on July 10, 2022, at 10 a.m. local time

Open to all members and guests of the young men's division, including junior high and high school students and nonbinary youth

Contact your local young men's leader for details
You are reading {{ meterCount }} of {{ meterMax }} free premium articles
Subscribe for unlimited access