MINNEAPOLIS, May 14—The University of Minnesota, one of the world's leading research institutions, awarded Ikeda Sensei with an honorary Doctor of Humane Letters during the 2022 commencement ceremony for the Hubert H. Humphrey School of Public Affairs, for his enduring role as a global peace advocate and Buddhist philosopher.
In a ceremony at the university's Ted Mann Concert Hall, overlooking the banks of the Mississippi River, SGI Vice President Yoshiki Tanigawa accepted the honor on Sensei's behalf.
In a rare occurrence, not one but two colleges within the university system nominated the SGI president and Soka schools founder for the prestigious award: the Humphrey School, which ranks among the country's top professional public policy and planning schools; as well as the College of Food, Agricultural and Natural Resource Sciences, whose research and education investments center on food security, renewable energy and agricultural production, as well as other areas of concern for the world.
'Your momentous achievements have been guided by your central tenet of the dignity of life of all human beings.'
Humphrey School Dean Nisha Botchwey opened the ceremony by saying it would indeed be "difficult to adequately describe a person of such extraordinary caliber and immense accomplishments." In introducing Sensei's life and works, she referred to his efforts across seven decades to foster capable young people as humanistic leaders of the future, "fully trusting in their purehearted desire to create a peaceful and healthy planet."
Underscoring the responsibility that we each wield to bring about an age of nonviolence, Dean Botchwey then cited these words from Sensei:
Peace that is based on the forceful suppression of [others'] voices and concerns … surely … is not the peace for which humanity yearns. …
Great good can come of great evil. But this will not happen on its own. Courage is always required to transform evil into good. Now is the time for each of us to bring forth such courage: the courage of nonviolence, the courage of dialogue, the courage to listen to what we would rather not hear. …"[1]
In a citation, read by Regent Kendall J. Powell, the university said it conferred the honor on the SGI president:
• "because of your unwavering belief in the vital need to unite people of goodwill and conscience to promote peace, culture, human rights and education worldwide;
• because of your decades of leadership of Soka Gakkai International, one of the world's largest and most diverse Buddhist movements;
• because of your lifelong passion to work for peace and root out the fundamental causes of human conflict;
• because you have taken every opportunity to advocate and propagate the need for the improvement of society starting from within each individual;
• because you espouse education as a means of enhancing understanding and dialog across philosophical and ideological boundaries;
• and because your momentous achievements have been guided by your central tenet of the dignity of life of all human beings."
Creating new value for humanity.
In his acceptance message, Sensei extended his heartfelt congratulations to the graduates who had overcome so many challenges, including those arising from the COVID-19 pandemic, and he spent a great deal of it addressing the graduates themselves.
"The Mississippi River, which runs through your campus, has its headwaters in the state of Minnesota," Sensei said. "From this source, it ceaselessly flows off and away, and yet, its waters remain connected, in a continuous stream as it enriches vast expanses of land.
"In the same way, I believe that each graduate, fused with the life of the university and drawing on it as an inexhaustible wellspring of the spirit, will go on to create new value for humanity as you flow, lives brimming with wisdom and vitality, out into society, the world and the future. And you will do this in exquisite communion with your fellow alumni" (see here for full message).
Sensei noted that the bond he now shares with the university is also associated with the renowned British historian Arnold J. Toynbee, with whom he began a series of dialogues 50 years ago, in May 1972, which culminated in the book Choose Life.
In November 1955, Toynbee had spoken to an overflow crowd of 10,000 at the University of Minnesota, advocating that societies must learn to live together as a single family to avoid the destruction of humankind. "I believe that Dr. Toynbee's invitation to me, a person 40 years his junior, to engage in a dialogue from the perspectives of East and West, was a manifestation of this conviction, and I recall this gesture with a profound sense of gratitude," Sensei said.
'Golden laurels that I pass on to the youth.' 
The University of Minnesota is a leading research institution organized into 19 colleges and schools, with its main campus in the Twin Cities of Minneapolis and St. Paul, and a student body surpassing 52,000.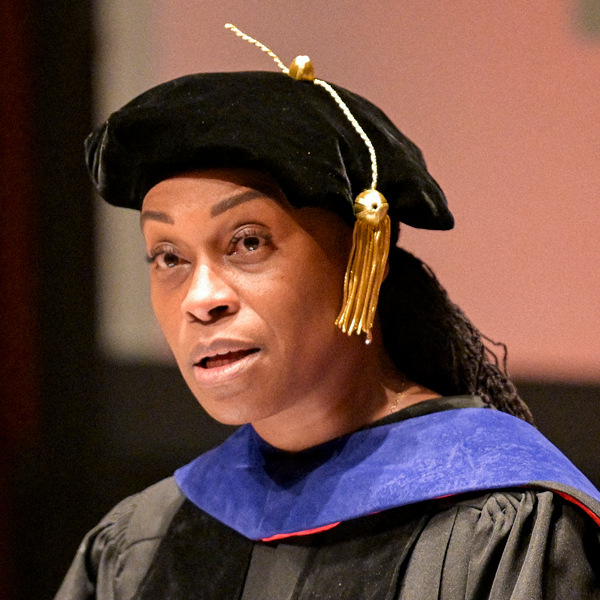 Among its most renowned graduates is the agronomist Dr. Norman Ernest Borlaug, who has been coined the father of the Green Revolution and received the Nobel Peace Prize for his work in reducing global hunger. In the mid-20th century, he developed and then led the introduction of high-yield, disease-resistant wheat varieties and modern agricultural practices that saved over 1 billion people from starvation.
Sensei in his speech called on the graduates to heed Dr. Borlaug's impassioned words: "You can't build a peaceful world on empty stomachs and human misery," as well as his call for "cooperation, not competition, to be the order of the day."
The ceremony included a tribute to another celebrated graduate: the late Walter Mondale (1928–2021), who served as U.S. vice president from 1977 to 1981. Mr. Mondale, who earned both a bachelor's and a law degree from the university, had a longstanding relationship with the Humphrey School, where he founded its highly regarded Policy Fellows Program and co-taught a class on the U.S. Constitution and national security.
Incidentally, while serving as U.S. ambassador to Japan, Mr. Mondale attended the May 1994 opening of the Soka University exhibition titled "The Courage to Remember" about Anne Frank and the Holocaust, at the Tokyo Metropolitan Government Office. The exhibition had been organized by Soka University with the support of the Simon Wiesenthal Center.
In receiving an honorary doctorate from this university, Sensei joins a storied list of national and international award recipients who have advanced society with their discoveries and contributions across disciplines and fields. They include U.S. Secretary of State Madeleine Albright ('98); architect and designer Frank Gehry ('99); primatologist Jane Goodall ('01); Archbishop Desmond Tutu of South Africa ('03); choreographer Merce Cunningham ('05); and poet, memoirist and U.S. Civil Rights activist Maya Angelou ('07).
Sensei has referred to the honors and awards he has received as "a sign of the high hopes that people around the world have for the humanistic principles of Nichiren Buddhism" as well as a testament "to how wide the path of kosen-rufu has been opened."[2] "I accept each of these honors together with my fellow members everywhere, for whom I have nothing but the deepest respect and appreciation," he said. "These awards are also golden laurels that I pass on to the youth who will carry our movement into the future."[3]
—Prepared by the World Tribune staff
You are reading {{ meterCount }} of {{ meterMax }} free premium articles
Subscribe for unlimited access