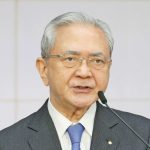 My warmest congratulations to you all on the Sixth Headquarters Leaders Meeting, where we set forth in achieving dynamic progress with youthful hearts toward our centennial. …
This May 5 marks the 50th anniversary of the start of Ikeda Sensei's dialogue with Arnold J. Toynbee, considered by many to be the preeminent historian of the 20th century. Choose Life, a compilation of their dialogues, has since been translated into 30 languages, is studied in university classes worldwide, and has become an influential book read by many heads of state, university presidents, cultural figures and thinkers around the world.
In his dialogue with Professor Toynbee, and in all others that followed, Sensei poured his heart and soul into treasuring the encounter, forging from each discussion genuine, unwavering friendship. And time after time, I have seen with my own eyes how that friendship has transcended time and national borders, dramatically opening the doors to kosen-rufu worldwide.
One clear example is when Brazil was ruled by a military government. Back then, detractors had spread prejudiced and false information about the Soka Gakkai. Sensei was already visiting neighboring countries, but the Brazilian government refused to issue a visa for him to enter the country.
Still, over the years, military rule gave way to a civilian government, and in 1984 Sensei was at last able to visit Brazil after 18 years. On this trip, Sensei met with then-President Jo o Figueiredo. In preparing for this meeting, a Soka Gakkai representative met with the president's chief of staff, Jo o Leit o de Abreu, one of the government's top officials.
That was when Mr. Abreu asked, "What kind of person is SGI President Ikeda?"
With Sensei's impending arrival in Brazil, those envying our rapid growth voiced protest, hoping to foil his visit. This was a make-or-break moment for Sensei's visit. In response to Mr. Abreu's question, our representative presented several of Sensei's dialogues and a photo profile of his activities. It was then that Mr. Abreu stopped suddenly when he saw a particular photo.
He exclaimed: "Ah, so that's him!"
It was a photo of Sensei with Professor Toynbee.
It turns out that Mr. Abreu, during a visit to London, had bought a copy of Choose Life. Finding it to be remarkably insightful, he said he had read it many times. With one look at that photo, whatever doubts Mr. Abreu may have had vanished instantly.
He then said, "There is one condition that SGI President Ikeda needs to fulfill in order to meet with our president."
On hearing the word condition, our representative braced himself for the worst.
Mr. Abreu continued, "After meeting with President Figueiredo, I'd like to meet with the SGI president, if only for a brief moment." His request was quickly relayed to Sensei, who agreed to it.
As planned, Sensei met with President Figueiredo, forming a friendship, and later had a separate meeting with Chief of Staff Abreu.
News of Sensei's meeting with President Figueiredo was televised throughout Japan. Since then, conditions for the SGI in Brazil have improved dramatically. The government later conferred the National Order of the Southern Cross on Sensei, and he has received numerous other honors.
A single genuine friendship forged through dialogue can create innumerable opportunities for kosen-rufu to advance. To achieve dynamic progress, let's solidly ground ourselves in our communities and do our utmost to develop genuine friendships.
The Challenge of Forming Genuine Friendships
In an interview with our Soka Shimpo newspaper, Waseda University sociologist Mitsunori Ishida offered keen observations about the state of social relations today in Japan as experienced by younger generations.
He suggests a trend that, as people flocked to larger cities, the social connections established in one's hometown or through kinship weakened. These ties were eventually replaced with relationships developed around work. But these relationships have also waned due to a stagnant economy since the 1990s.
As a result, relationships have grown more individualized in a sense. Instead of organically and readily forming connections where they live, or through their families or jobs, today people have to choose whom they connect with and have to work much harder to establish such bonds.
In addition, since the mid-2000s, with the growing use of social media, people are being confronted with the dilemma of forming relationships out of a desire for acceptance by others, while at the same time being tormented by the fear of rejection.
This being the case, Professor Ishida expresses his hopes that as relationships grow more brittle and uncertain, developing bonds in a faith community will not only support the individual, but it can provide an important foundation for better social ties altogether.
In this Year of Youth and Dynamic Progress, let's be aware of such major shifts in our society, carefully absorb the lessons they impart and enact bold changes so that we may fulfill our social mission in a timely manner.
Put another way, Soka Gakkai members in Japan who were adolescents in the 1990s and are now in their 40s have had to make more efforts to develop connections with others. For this generation, connections aren't formed so naturally in the course of daily life.
This is why we should encourage our members to meet new people and expand their circle of friends. We should ensure that they have the time to do so, understanding that there are various ways to go about this. Let's make creating friendships the core of our kosen-rufu activities.
I, therefore, ask all districts and respective divisions to use your ingenuity in tackling this new challenge so we can achieve truly dynamic progress.
Josef Derbolav, a German authority on education and Greek philosophy, once asked Sensei, "What led you to engage in dialogue with other thinkers?"
Sensei replied, "People who feel deeply and pray for world peace, for the happiness of humanity, they just seem to naturally encounter one another."
So together with Sensei, our hearts united with him toward our goal of kosen-rufu, let's engage in a great whirlwind of dialogue to summon forth many Bodhisattvas of the Earth one after another. Thank you very much!
This is an excerpt from Soka Gakkai President Minoru Harada's speech during the Sixth Soka Gakkai Headquarters Leaders Meeting Toward Our Centennial, held on Jan. 8, 2022, in Tokyo. The text appeared in the Jan. 15, 2022, issue of the Soka Gakkai's daily newspaper, Seikyo Shimbun.
You are reading {{ meterCount }} of {{ meterMax }} free premium articles
Subscribe for unlimited access