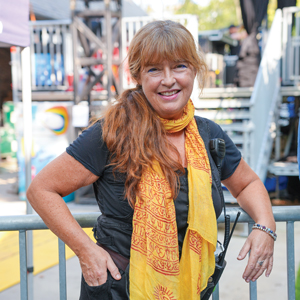 Jennifer Armstrong
New York
Live Production Coordinator
As a production coordinator, I make advanced contact with point people for every aspect of an event: food caterers, sound crews, performers, you name it. From start to finish, producers know they can reach out to me for whatever comes up. Given that a one-day show can take 10 days of on-site prep, even the youth in my crew tire out.
"Just a few more hours!" I say. "Let's power through!" Like a swan who looks calm on the water's surface while paddling madly underneath, I keep my cool in the havoc.
On the other side of challenge, the greater self is revealed—the one who's not swayed, who can help others keep going. It's to reveal this self that I chant and Nam-myoho-renge-kyo. At the end of the most difficult day is when I most naturally share Buddhism.
---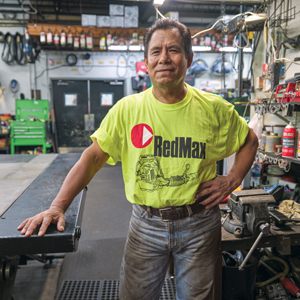 Augusto Palacios
New York
Small Engines Mechanic
Do you know what is the best music? Salsa. Also merengue, bachata and anything '80s. But there were none of these in the shop when I got there.
"Good morning!" I called out on my first day, but not everyone answered back. How can I bring the Buddha here? I thought.
The next day I brought my speakers, CDs and my big "Good morning!" I played my music and people liked it. Now, when they get to work, everyone gives a big "Good morning!"
Where there's camaraderie, there's opportunity to share Buddhism. Everyone in the shop knows that the source of my joy is chanting Nam-myoho-renge-kyo, and they ask about it. They tell me that I make them happy to come to work.
---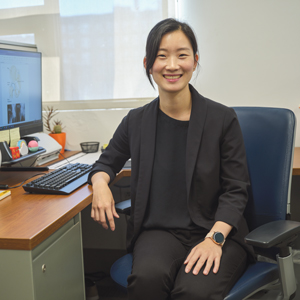 Jeeyeon Kang
New York
Surgical Coordinator
As an orthopedic surgical coordinator, I am the bridge between patients and their doctors, which puts me in contact with people experiencing pain and anxiety.
Last year, I began to ask myself if I should go back to school to become a clinical professional to improve the healthcare of my clients on the frontlines. However, in being so caught up in the future, I wasn't focused on the present. I realized while chanting: If I don't win today, how can I win 10 years from now? Applying Ikeda Sensei's guidance to be 100% present at work, I began asking myself what I could do now for those suffering in the present. How can I reassure this person and give them confidence? 
At this year's review, I "exceeded expectations." My practice keeps me focused on the present as the place to lay the foundation for a great future.
You are reading {{ meterCount }} of {{ meterMax }} free premium articles
Subscribe for unlimited access