SALT LAKE CITY, July 3—For three years, Joel Shelton waited for this day. He had, in late 2019, searched online for "Buddhism without meditation" amid a career crisis. What he found was the SGI-USA community in Salt Lake City, where he learned how to create change and find happiness within.
Mr. Shelton was among the members and guests who, on July 3, attended the first hybrid Kosen-rufu Gongyo Meeting to be held at the Salt Lake Buddhist Center since the pandemic. He not only shared his experience at the meeting but also became an official SGI-USA member.
The day, with its many face-to-face reunions, was made possible by the incredible efforts to identify enough members of the youth behind-the-scenes training groups, Soka Group, Byakuren and Gajokai, to safely open the center.
Since the SGI-USA began reopening Buddhist centers last September, it has emphasized having enough youth training group members to both adequately staff centers and raise future leaders of kosen-rufu in America toward 2030.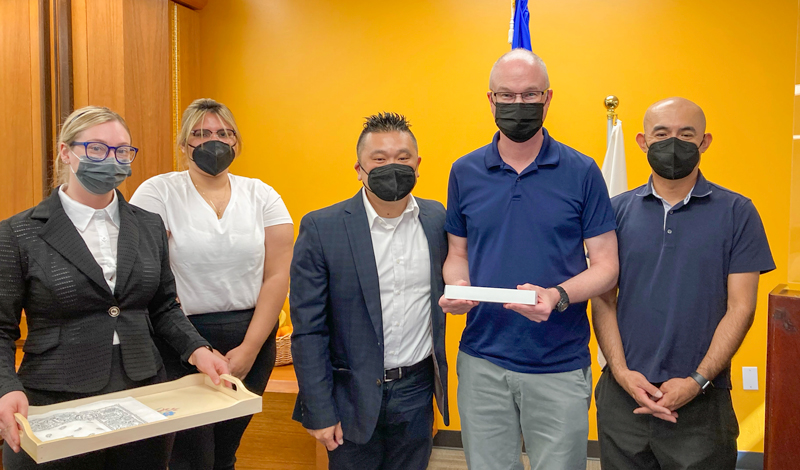 Rocky Mountain North Region Men's Leader Kiyoshi Nagahama, who served as a Gajokai member in his youth, said that these opportunities to support in-person activities are just as important for today's youth members.
"We may have said, 'Oh, let's have the men cover for them,' thinking that's the best way to support the youth, but we would be wrong."
Among the many members striving to ensure the meeting's success was Tanu Bhasin, Salt Lake Chapter's recently appointed young women's leader. For several weeks, she recruited young women to join her in supporting the meeting as Byakuren Group members. "I had personal challenges leading up to the meeting, but I knew
I had to do my best to make Sensei proud and support the members," she said. "On the day of, it was so successful. The room was full of members."
Through such diligent efforts, youth began eagerly helping to reopen the center. In the process, a fresh crop of Soka Group, Byakuren and Gajokai members emerged. Many were so new that they didn't have their uniforms for their first shift. 
"I have never seen so many youth supporting in Utah," Mr. Nagahama said. "I feel this is how it should be. This picture is the future of kosen-rufu."
In his closing words, Central Territory Leader Paul Niihara also emphasized the importance of raising young people. "Whenever we see a youth, let's embrace them." he said. "Let's always think about our precious youth and work side-by-side with them. Can we do that?" The members cheered in enthusiastic approval. 
The meeting was a gathering of friends, of longtime pioneers, of guests and everyone in between. Arriving in high spirits, with new friends in tow, all were adding to the bright future of the Utah members.
—Prepared by the World Tribune staff
You are reading {{ meterCount }} of {{ meterMax }} free premium articles
Subscribe for unlimited access