SGI-USA member Aarti Jain, of Irvine, California, is a researcher who focuses on COVID-19 projects and training workshops for visiting scholars and medical students at the University of California, Irvine. The World Tribune spoke with her about her Buddhist practice and experience as a vaccine researcher during the coronavirus pandemic.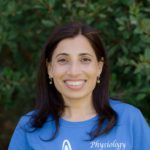 World Tribune: Thank you, Aarti, for sharing a few words with our readers.
Aarti Jain: I am very grateful for the opportunity.
WT: Could you share a bit about your journey?
Aarti: In India, I studied science and eventually received a double master's in biology and biochemistry. Even though I was fortunate to have parents who supported my education, their top priority was for me to find a good husband. They found a match for me, and I moved to the U.S. in 1998 on a fiancé visa to marry a near stranger.
The next three years were unbearably hellish. My husband divorced me right after we were married, and my family told me not to come back home. I had no green card and no means of support.
When I reached rock bottom, a stranger introduced me to Nam-myoho-renge-kyo. Chanting lifted me up and taught me to see my obstacles as opportunities and believe in the power of my own life. Through support from my young women's leaders, I sustained my determination to stay in the U.S.
My roommate, who is now my husband, helped me with my resumes, and I got a job at a pharmaceutical company. I later got my green card and was able to start a family in the U.S.
WT: Incredible! Could you share about how you became a vaccine researcher?
Aarti: I chanted about my mission and decided to switch to academia. I started working at a university radiation oncology department. My decade of research there helped develop treatments for skin cancer. The director of the university's Vaccine Research & Development Center was impressed by my work and wanted to take a chance on me.
WT: What has it been like working on COVID-19 over the past year?
Aarti: Our lab specializes in a specific procedure that is being used to understand the virus that causes COVID-19. So, when COVID hit the U.S., we already had a head start with our research.
But we were working with a new virus, a global pandemic and no known cure. Every day was a struggle. To get to the right answers for my research and a quick turnaround, I needed to process thousands of patient samples. Keeping 6 feet of distance from others meant very few people could be in the lab at a time, so I worked long hours. To keep my family safe, I had to isolate myself at the beginning of the pandemic. I had panic attacks and was even rushed to the emergency room. There were times I wanted to make excuses to avoid coming in to the lab. But my husband and kids reassured me that we have the Gohonzon's protection.
WT: What sustained you during this time?
Aarti: Every time I wanted to give up, I returned to Ikeda Sensei's guidance, especially this excerpt I keep at my workspace and read to my team:
In life when we feel we have reached a limit, that is when the true battle begins. Just when you despair and think it is impossible to go any further, will you become apathetic, or will you say it's not over and stand up with an unyielding spirit? The battle is decided by this single determination.
I vowed to Sensei that I will never give up, and knowing that I'm here to fulfill that vow keeps me going. My team at the lab even calls me "The Never-Give-Up Queen."
In late 2020, our lab had a tremendous breakthrough with COVID-19 research. I'm proud that our lab played such a critical role. Our research results were used to help the Centers for Disease Control and Prevention develop guidelines to combat the spread of the virus.
WT: What are your thoughts about COVID-19 vaccines as a researcher?
Aarti: The science underlying the COVID-19 vaccines is the culmination of decades of work by hundreds of scientists and numerous biotechnology companies. Dedicated people have worked on different aspects of their efficacy and safety, and the technology itself.
The trials and research show that the virus strengthens as it's circulated, but vaccines serve as a shield against the virus, limiting its circulation.
As far as the safety and development of the vaccine, I can assure you that they are safe. Yes, we are still learning, and a lot more work is needed. We are going to continue learning about the immune system and be better prepared for future viruses. That's what vaccine research centers do. And we are just one lab in the whole globe. There are countless labs putting out peer-reviewed research about vaccines proving their effectiveness and safety.
WT: Any closing thoughts?
Aarti: My family and district members have been strong throughout the pandemic. And the local youth leaders have done an incredible job keeping my kids' spirits high. That support from the SGI community was critical. With all the gunk coming out in society, people, especially the younger generation, are learning valuable lessons. I hope that through seeing how interconnected we all are and using the resilience they're developing, young people will create the change that the world needs.
You are reading {{ meterCount }} of {{ meterMax }} free premium articles
Subscribe for unlimited access