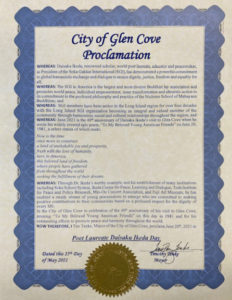 The City of Glen Cove, New York, proclaimed June 20, 2021, Poet Laureate Daisaku Ikeda Day in commemoration of his visit there 40 years ago, when he penned the iconic poem "To My Beloved Young American Friends—Youthful Bodhisattvas of the Earth."
Mayor Tim Tenke called the proclamation "a great honor" not only for the city but for the United States. "We want to honor him for all his humanitarian work," he said during the May 25 city council meeting, where the proclamation was introduced and unanimously approved.
Forty years ago, on June 20, 1981, Ikeda Sensei attended a U.S.–Japan Goodwill Exchange Meeting in Glen Cove, where he crystallized his hopes and expectations for the SGI-USA youth in the form of a poem read at the event. In it, Sensei stresses that the youth who uphold the Mystic Law in America have a mission to revitalize their land and the entire world, defining the power source for accomplishing this mission with the single word faith (see June 2021 Living Buddhism, pp. 6–9).
Earlier that same day, Sensei had traveled to nearby Town of Huntington, N.Y., to visit the birthplace of Walt Whitman, whose book Leaves of Grass was his constant companion as a youth. On the 30th anniversary of his visit there, the Walt Whitman Birthplace Association conferred on him The Walt Whitman Champion of Literacy Award.
Glen Cove is situated 30 miles northeast of New York City on Long Island's North Shore. The city's Pratt Park has a stone monument bearing a stanza from Sensei's June 1981 poem, also in honor of his visit.
—Prepared by the World Tribune staff
You are reading {{ meterCount }} of {{ meterMax }} free premium articles
Subscribe for unlimited access