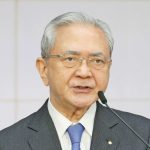 Many members, including our men's division members, both in Japan and worldwide, are facing what is surely a most difficult time. It is at such a time that our friends in northeastern Japan inspire hope in us through their victorious proof of faith.
On March 16, 2011, Ikeda Sensei sent this message to them following the massive March 11, 2011, earthquake and tsunami: "Nothing can destroy the treasures of the heart. Every adversity is but a trial for us to overcome so that we can attain eternal happiness. Nichiren Buddhism, our practice of faith in the Mystic Law, enables us to transform all poison into medicine without fail" (March 25, 2011, World Tribune, p. 1).
Just as they have risen up [over this last decade], it is time for us to ignite our indomitable spirit to never be defeated and declare with courage and hope: "Watch us these next 10 years. We will undoubtedly make this the most spectacular decade toward the Soka Gakkai's centennial!"
Sensei is an enduring model for the men's division. Our daily Soka Gakkai activities are where we can learn from, deepen faith in and give expression to our mentor's spirit. This is not a theoretical exercise. Learning how to apply Sensei's spirit starts from treasuring what Sensei treasures and, without yielding, striving to achieve what he aims to achieve.
Sensei has above all cherished women and young people. He has, in fact on many occasions shared exacting guidance, especially regarding how to treasure the women's division. In The New Human Revolution, he writes:
The [women's division] is the strongest driving force behind Soka Gakkai activities. … It's important that men's division members respect women's division members, appreciate their efforts and listen to their opinions.
Men's division leaders should strictly avoid deciding things on their own, without conferring with others, and then just announcing the results. That is not the way to engage in a shared struggle. When there are strained relationships between co-leaders, the organization is often lacking in communication. …
Nor should men ever look down on women, treat them arrogantly or reprimand them. (vol. 25, pp. 126–27)
No matter how intensely he battled the three obstacles and four devils[1] or the three powerful enemies,[2] Sensei's care for women and youth has been boundless.
While continuing to stand tall as golden pillars of kosen-rufu and your families, many men, including those in leadership positions, are dealing with an inordinate degree of stress during these difficult times. This is precisely the moment to respect and appreciate women and young people, taking the opportunity to honor their opinions as a way to develop a deeper rapport with Sensei, elevate our life state and undergo human revolution.
Living amid these unprecedented times will bring even more diverse circumstances and views. While praying for the success, happiness and indivisible unity of many in body, one in mind with our fellow members, let us develop into men whom the women and youth can fully trust and feel free to discuss any issue.
This is an excerpt of Soka Gakkai President Minoru Harada's address given on Feb. 28, 2021, at the Second Headquarters Leaders Meeting Toward Our Centennial, held in conjunction with the Nationwide Men's Division Leaders Meeting, commemorating the division's 55th anniversary. The full text appears in the March 1 issue of the Soka Gakkai's daily newspaper, Seikyo Shimbun. 
You are reading {{ meterCount }} of {{ meterMax }} free premium articles
Subscribe for unlimited access