This Ikeda Sensei's essay was originally published in the June 10, 2021, issue of the Soka Gakkai's daily newspaper, Seikyo Shimbun.
In this year celebrating the 800th anniversary of Nichiren Daishonin's birth,[1] I am reminded of his profound connections to Tokyo, an area then known as part of Musashi Province and the Musashino Plain.
The Daishonin likened the Lotus Sutra's assembly in the air—where innumerable Bodhisattvas of the Earth vow to carry out kosen-rufu in the Latter Day of the Law—to the vast plains of Musashino (see "The 'Entrustment' and Other Chapters," The Writings of Nichiren Daishonin, vol. 1, p. 911).
And he brought his lifetime's work to a close in Ikegami (present-day Ota Ward, Tokyo) in Musashi Province, giving a final lecture there to disciples on his treatise "On Establishing the Correct Teaching for the Peace of the Land" (WND-1, 6) and leaving an enduring spiritual legacy for all future generations.
My mentor, second Soka Gakkai President Josei Toda, saw deep significance in the fact that the Soka Gakkai, as heirs to Nichiren's undertaking, appeared by wondrous circumstance some 700 years after his birth, with Tokyo as its place of origin.
Today, our vibrant gathering of Bodhisattvas of the Earth sharing the great vow for kosen-rufu is like a modern-day assembly of the Lotus Sutra. Our members everywhere are exerting themselves energetically to build treasure realms embodying the Daishonin's ideal of "establishing the correct teaching for the peace of the land." What a great and thrilling sight this is—perfectly matching Nichiren's vision for the future!
It was also in Tokyo that our movement's founder, first Soka Gakkai President Tsunesaburo Makiguchi, born on June 6, 150 years ago [in 1871], died in prison for his beliefs, after a life of unstinting and selfless dedication to propagating the Law.
In his personal copy of the Daishonin's writings, Mr. Makiguchi underlined the following passage from the Lotus Sutra: "If one of these good men or good women in the time after I have passed into extinction is able to secretly expound the Lotus Sutra to one person … , then you should know that he or she is the envoy of the Thus Come One. … The Thus Come One will cover them with his robe" ("On Reprimanding Hachiman," WND-2, 925).
When we share the Mystic Law with even one person, we are the "envoys of the Buddha," he says, individuals tasked with the important mission of carrying out the Buddha's compassionate work.
Since the Soka Gakkai's founding, with presidents Makiguchi and Toda leading the way, we have carried out this work of the Buddha by giving our full attention to each individual. This has been exemplified in our intimate, face-to-face, small-group discussion meetings and frank one-to-one dialogues.
"Let us discuss the question at length" (WND-1, 7), says the host [Nichiren Daishonin] in "On Establishing the Correct Teaching," and we have done just that, initiating conversations based on our prayers for the happiness of others and the security of our societies.
Records show that over a two-year period during World War II, Mr. Makiguchi conducted more than 240 discussion meetings. In addition, every week he would meet with individual members either at his home or some other place and offer them guidance in faith. Though under pressure from the militarist government, he continued to go out among the people, sincerely engaging in countless one-to-one dialogues. And even after being jailed for his beliefs, he shared Nichiren Buddhism with the prison guards he interacted with. Mr. Toda did the same.
No matter what our circumstances, it's important we keep trying to reach out and engage in Buddhist dialogue with those around us based on our vow as Bodhisattvas of the Earth. By doing so, taught presidents Makiguchi and Toda, we can help others form connections to Nichiren Buddhism, sowing the seeds for happiness in their lives, and open the way to the triumphant development of kosen-rufu.
When we forge ahead with "pride as the Buddha's envoys," we find ourselves brimming with "the power to joyfully triumph," just as we sing in the Tokyo Soka Gakkai song "Ah, Our Inspiring Members!"
While confined at the Tokyo Detention Center in Nishi Sugamo, Toshima Ward, Mr. Makiguchi sent letters to his family in Mejiro, also in Toshima Ward.
He wrote to his wife and other female family members, who ranged in age from today's members of the Many Treasures Group to the young women's Kayo-kai. He stressed the importance of having the heart of a lion king determined to change all poison into medicine and hoped they would live with this spirit.
Bookending Mr. Makiguchi's birthday on June 6 are SGI Ikeda Kayo-kai Day on June 4 and the 70th anniversary of the women's division's founding on June 10, today.
I can imagine how delighted Mr. Makiguchi would be to see the dynamic and vibrant activities of our women's and young women's division members.
Perhaps because of the profound oneness of mentor and disciple, around the time of Mr. Makiguchi's death in prison in November 1944, Mr. Toda experienced within the same prison walls an awakening to his identity as a Bodhisattva of the Earth and made his great vow to achieve kosen-rufu.
At the end of June the following year, Mr. Toda was transferred to Toyotama Prison in Nakano, Tokyo, and on the evening of July 3, he was released, springing forth like a lion king whose chains had been severed. On his way home, he got off at Meguro Station, its elevated location offering a view of the charred expanse of the Meguro and Shinagawa areas.
It was from there that Mr. Toda stood up alone for kosen-rufu. I, too, have endless memories of Meguro, including on one occasion walking along Meguro-dori Avenue's Gonnosukezaka slope with Mr. Toda in the rain.
The first discussion meeting Mr. Toda attended in his postwar drive to rebuild the Soka Gakkai was held in Kamata Ward [which became Ota Ward in 1947], 75 years ago [on May 5, 1946]. The following year, at a discussion meeting in Ota Ward [on Aug. 14, 1947], at which Mr. Toda gave a lecture on "On Establishing the Correct Teaching for the Peace of the Land," I pledged to follow him as my mentor.
Mr. Toda often said that even if only two or three people attended a discussion meeting, we should talk about how wonderful it is to practice Nichiren Buddhism and ensure that everyone goes home inspired and filled with joy. That, he said, promotes the growth of the frontline organization.
Inspiration is the driving force of of human life.
The pioneering Japanese entrepreneur Eiichi Shibusawa (1840–1931) said, "Setting to work each morning with a sense of joy and inspiration makes us feel excited and enthusiastic."[2]
The Soka Gakkai's present global development can be traced back to Mr. Toda's awakening in prison, which inspired him to dedicate his life to the mission of kosen-rufu.
One of the places that saw an explosive chain reaction of inspiration in our movement is Tokyo's Sumida Ward. It was there that both Mr. Toda and I were inaugurated as Soka Gakkai president and launched our efforts to advance kosen-rufu.[3] The shared struggle of mentor and disciple is a source of joyful inspiration; it makes "the dawn of life from time without beginning"[4] shine brilliantly.
In the pioneering days of our movement, Mr. Toda attended an Adachi Chapter general meeting near Oji Station [in Tokyo's Kita Ward]. The venue was adjacent to Asukayama Park, to which Eiichi Shibusawa had a profound connection [his main residence being located next door].
The meeting took place in May 1953, during a period when the Soka Gakkai was experiencing remarkable growth. Mr. Toda called out to the members, champions of the sincere ordinary people, who had joyfully gathered with a vow for kosen-rufu from Adachi, Kita, Arakawa, Itabashi and other areas of Tokyo: "If you have deep faith, your life will change radically. You will be able to transform your destiny."[5] And he declared: "We of the Soka Gakkai, carrying out the Buddha's work to help all people become happy, cannot fail to attain benefit!"[6]
Many of those who worked alongside me, hearts filled with joy, in the summer guidance campaign in Arakawa four years later [in 1957] had attended that general meeting.
It was the Ikegami family who hosted Nichiren on that final visit to Musashino. The two Ikegami brothers had weathered the ordeal of the elder being disinherited twice by their father, who had been negatively influenced by self-serving priests hostile toward the Daishonin. The brothers went on to show brilliant actual proof of victory, thereby repaying in part the profound debt they owed their mentor.
During their hardships, the Daishonin had written to them: "Now more than ever, you must neither show nor feel any fear. … You must grit your teeth and never slacken in your faith" (see "Letter to the Brothers," WND-1, 498). The Ikegami brothers were roused to action and successfully overcame their troubles. Nichiren praised their victory achieved through unity: "Could there ever be a more wonderful story than your own [that will be recounted by future generations]?" (see WND-1, 499).
The faith of the women of the Ikegami family was especially strong. The Daishonin commended them as well, predicting that they would "become a model for women attaining Buddhahood in the evil latter age" (WND-1, 502).
My wife, Kaneko, and I will never forget how 30 years ago, when the Nichiren Shoshu priesthood revealed the full extent of its ingratitude and duplicity toward the Soka Gakkai, the women of Tokyo led our members around the world in speaking out to set the record straight, holding high the banner of a new Soka Renaissance.
The spiritual unity of our diverse membership is the key to progress in our efforts to realize the Daishonin's ideal of "establishing the correct teaching for the peace of the land."
When we hear that a friend is struggling, we pray for and support them with all our hearts as if their problems were our own. With the spirit of "sharing as one a friend's joys and sorrows" (see "Reply to the Honorable Konichi," WND-2, 964), which the Daishonin emphasizes, our Soka family has rebounded triumphantly from every adversity through the warm support and friendship of fellow members.
The Japanese author Saneatsu Mushanokoji (1885–1976) hailed from the Chofu area of Tokyo, close to the Tama River, which the Daishonin also crossed on his travels. Embarking on a difficult enterprise, he declared that now was the crucial moment, stressing: "We must take another step forward. We must strive with determination on every front."[7]
The more challenging the times, the more precious are our bonds of mutual encouragement.
Members throughout Japan and around the world treasure Tokyo as our organization's main bastion for kosen-rufu and establishing the correct teaching for the peace of the land. They are all chanting Nam-myoho-renge-kyo as one for the success of our Tokyo members' efforts and sincerely supporting them. How truly fortunate we are to have such inspiring fellow members!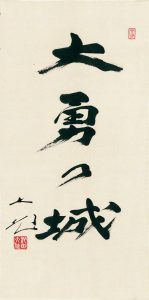 Great Tokyo is the "Citadel of Great Valor" (see calligraphy) exemplifying the courage of Soka.
I was born and raised in Tokyo. It is my hometown and, as such, I owe it a profound debt. I continue to pray that we will build it into a vibrant center of value creation, brimming with happiness, security, peace and prosperity, and illuminating the entire world.
Since my youth, I have taken as my motto the words "The greater the resistance waves meet, the stronger they grow." With Tokyo as the main stage of my endeavors, I have summoned a resolve like fiercely surging waves and fought back dauntlessly with each challenge I have encountered.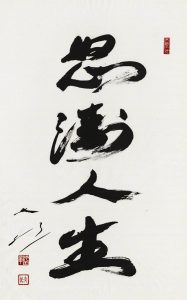 "A Tumultuous Life" (see calligraphy)—this is what Soka mentors and disciples are prepared for. Let us break down the unyielding boulders in our path with an invincible spirit, like roaring, crashing waves.
Let's advance with renewed determination toward July, the Soka Gakkai's month of youth and month of mentor and disciple.
With our high-spirited gathering of inspiring fellow members, let's ring the bell of hope for a new dawn of peace throughout each land based on the humanistic principles of Nichiren Buddhism!
You are reading {{ meterCount }} of {{ meterMax }} free premium articles
Subscribe for unlimited access